Reflect
Company: Griffin Technology
Price: $24.99
www.griffintechnology.com
The Reflect case for the iPod with Video and the 2nd Gen iPod Nano is hard shell case that protects your iPod with a touch of style. I had the chance to try the Nano model, but I imagine the full sized model would not be much different.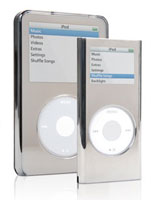 The name Reflect comes from the fact that the front of the case has a mirrored finish. Even the portion that covers the screen has the mirrored finish. When your turn your iPod on, the backlight shines your screen through the front of the case. It's a pretty cool effect.
The case itself is two pieces which are the mirrored front and the back. The back has a translucent rubberized finish. The rubberized back is a nice touch. It prevents the iPod from sliding around on smooth surfaces.
To assemble the case, you insert your iPod into one half, and snap the other half on. It is really easy. It is just as easy to get your iPod out of the case. There are notches at bottom of the case. Griffin recommends inserting a quarter into the notch and twisting it to open the case, but I found my fingernail worked fine. Once again, this was really easy to do.
As for protection, the Reflect protects the entire back of the iPod, and everything on the front- except the click wheel. It would have been nice to see some type of adhesive overlay for the click wheel. The top and bottom of the iPod are open, which allows for easy access to ports and switches.
Another nice aspect of the reflect is that it is very light weight. It adds minimal weight to the Nano, and many people buy the nano because it is so light.
My major complaint about this case (and regular readers of my reviews can see this coming) is that there is no belt clip. I'm not a lanyard fan, but there isn't even a lanyard system for the Reflect. This essentially eliminates the Reflect as a case for many people who use their iPods when working out, hiking, or exercising and they don't have the luxury of a pocket. Plus, there are those who don't like carrying around their iPod in a pocket for any reason (I'm one of them).
With the exception of the lack of belt clip/lanyard, the Reflect case is a nice iPod case. If you don't need either of these features in an iPod case, you might want to consider it. At $24.99, you are getting a nice looking case that does a fairly good job protecting your iPod.