Interwrite Software
Company: Interwrite Learning
www.interwritelearning.com
Price: Free with hardware
One of the biggest pushes in education these days is technology, and how to use it in the classroom. Not only is it important for the students to have access to technology, but the teacher can use technology to enhance his/her teaching methods. I feel like I'm writing the intro to a term paper.
Anyway, Interwrite Software is one of the products on the market to help teachers enhance their (I guess I should say our, since I am a teacher) teaching methods. It is made to work with the Interwrite hardware (white board, drawing pad, and more), but it can also be used with a laptop hooked up to an external monitor. It could be used on a stand alone computer, but it is really made for projecting a lesson to a class.
So what is Interwrite? It is software that allows the teacher to, simply put, write on anything on the monitor of the computer. There are highlighter and pen tools which draw on top of any window without interfering with what is below that layer. You can even use a text tool for typing text on the display, or a rubber stamp tool for putting little clip art images (i.e.. Smiley face) on the screen. If a teacher wanted to, there is even a tool to record a message on a screen. For example, if a teacher displayed a photograph and wanted to point out a certain area, he/she could highlight or circle that area with one of the Interwrite tools.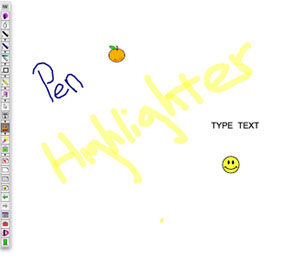 Another nice touch is that the package includes many files or worksheets a teacher can load onto the screen. After loading, these images are also able to interact with the Interwrite tools without being tampered with. Below is a color wheel from the Art files. There are files for all subject areas.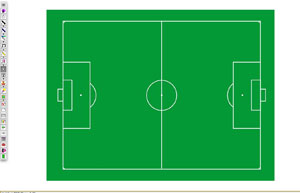 In addition to these images, there are also backgrounds that can be loaded which work the same way. There are sports fields/courts, like the soccer field below. Imagine being a coach and describing a play to your team with the computer instead of the chalkboard.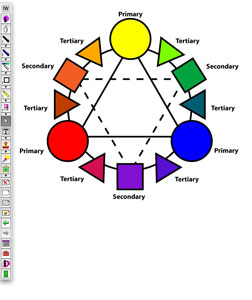 The software package comes with all of the Interwrite hardware, and there are free downloaded upgrades available here: www.gtcocalcomp.com/supportinterwrite.htm. Unfortunately, there is not stand alone version of the software. It might be nice to see something available without the hardware integration for those of us that could use the software through a laptop and a monitor; almost like a "lite" version.
The Interwrite software package is extremely easy to use and figure out. Unfortunately, I do not have access to any of the Interwrite hardware (or another company's similar hardware) to see how it interacts with those. However, as a standalone teaching tool, and as a teacher, I think this is a great teaching tool. I personally know many teachers who would love to have something like this.