Most current Macintosh computers are self-contained sound studios. Every new iMac, MacBook, and MacBook Pro has built-in microphone, speakers, and recording/mixing software. Why bother purchasing additional gizmos that do the same thing Apple includes?
When you speak or play music into the Garage Band application, your voice or instrument is recorded accurately, but often with less quality than you expect to hear upon playback. Output is clear, but not very robust, using a computer's built-in speakers. Skype, iChat, and many other recordings exhibit latency echo, because of an inherent delay caused when audio travels over the Internet.
What to do? Spend a little more, and get a lot more!
MyMac.com reviewed Samson Audio USB microphones here and here, and their studio speakers here. The more Robert Hazelrigg and I use Samson products the more we appreciate them and rely on them for top-quality sound reproduction and delivery.
Following our initial coverage of Samson's CO3U microphone, I was asked the following questions (with answers in CAPITAL letters):

• How does it get power? VIA USB FROM THE COMPUTER
• Does it take a battery, or is it completely USB powered? THE LATTER
• Does it work with a mix board? NO — DIRECT POWER ONLY
• How does it perform in a noisy environment? SURPRISINGLY WELL, BUT PROXIMITY TO AUDIO SOURCE AND QUIET SURROUNDS DRAMATICALLY IMPROVE QUALITY OF INPUT
• How long is the USB cable? NICE AND LONG, A COMFORTABLE 6′ OR 2 METRES
• Is it sturdy? YES — DON'T USE IT TO POUND IN THE TENT PEGS ON YOUR NEXT CAMPING TRIP, BUT IT IS CONSTRUCTED TO A PROFESSIONAL STANDARD
• Would a user need a POP filter or not? ROBERT AND I DIFFER HERE — I DON'T USE ONE AND HE DOES — LISTEN TO EACH OF US ON THE MYMAC.COM PODCAST AND DECIDE FOR YOURSELF
• Standard mic stands work with it? YES, AND A EUROPEAN FITTING IS INCLUDED
• What makes this a great mic? PLUG AND PLAY — INSTANT ACKNOWLEDGEMENT BY YOUR COMPUTER — VARIABLE PATTERN OPTIONS AND OTHER USER-DEFINED SETTINGS
• Is the sound very much better than a USB headset? YES! – NO CONTEST HERE
(All such questions are valid, but both Robert and I were so impressed with Samson's CO3U that we got straight to work using it, which is more than you can say about any other microphone or headset used previously.)
Latency echo is treated with simple medicine: earphones or headphones. Once playback is via them and not audible room speakers, any playback delay disappears. Most computer owners have iPod headphones or other units, so again no extra cost is required for basic cheapo studio setup.
But wait, there's less! All audio output is colored by the delivery device (speakers or 'phones). This was discussed at length in our evaluation of Samson's terrific RESOLV 50A studio monitor speakers. Should we be similarly concerned when listening to playback via earphones, expensive or free?
Samson manufacturers a complete range of professional and consumer headphones. Here is a chart to help you make sense of their lineup:
I've been using CH70 affordable studio reference Closed-Back Headphones (inexpensive!) and they are v-e-r-y different from any other set I've used during the past forty years. Ear cushions are spacious and comfortable, cable is long, and sound reproduction is consistent throughout the audio spectrum. Warning: fit is snug, and if you wear eyeglasses you'll need to tip up the ear section so they don't become embedded into your skull.
I did not appreciate CH70's finer points until I used these 'phones during a very long podcast interview and playback. Typical earphones and headphones enhance certain parts of the audio sound and diminish others, but CH70 bundles it all together without any fanfare. These are NOT recommended for consumer audio. Samson and about a million other companies cover that marketplace.
"Flat. Dry. Unembellished. Neutral. Clean. Clear. Uncluttered. Direct." These adjectives describe how playback presents itself via CH70. When this is your goal, Samson's CH70 or CH700 are worth a listen. In the company's words: Flat is a reference point. If your recordings are good, when EQ'ed or processed, it is all in a positive direction. If we create a "sound" with our monitors or phones, and our "idea" of what good sound is does not match yours, your media will never sound correct.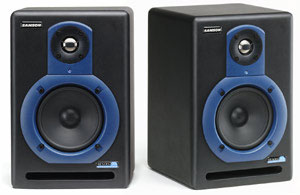 Let's go shopping for their CO3U microphone Podcasting Kit, RESOLV 50A reference monitors, and CH70 (or 700) headphones. Samson does not give retail prices on the company's web site because "Our website is informational only. We do not sell directly to consumers." Many online and retail dealers carry Samson Audio equipment. Zzounds.com is one of our favorites, and you can obtain all of the above for less than $500. That's a lot of great gear for not a huge chunk of change, and shipping is free (no joke on the H-E-A-V-Y monitor speakers).
Samson Audio equipment is well-constructed, built to perform, easy on your ears-eyes-budget, and used by your friends here at MyMac.com. This is not a review, but if it was we'd lean toward a highly-recommended 4.5 out of 5 overall. It's not every day Apple gives us something for free that is worth paying $500 more for, so when you are serious about your audio, start with a "Samson Sound Studio" that may be the best, and last, audio equipment purchase you have to make.