Intego Internet Security Barrier X4 Antispam Edition DP
Company: Intego
Price: $99.95 (US)
http://www.intego.com
When John Nemo asked me to review this product, I wound up having to buy a copy of Parallels for my Intel Core Duo Mac mini. I had put it off for a while, but in hindsight, I'm glad I did it. As I reported previously, the Parallels and Windows XP Pro installations went extremely smoothly, as did all the zillions of Windows security patches that had to be installed.
First, a little about the products. Intego, a friend of the Macintosh community for a number of years (my employer had literally thousands of copies of their old product DiskGuard installed on our Macintoshes–until our Macs went away…), revamped their product line and rather brilliantly put together a package of their products to support the growing number of Intel Mac users who were experimenting (and productively using) products like BootCamp, Parallels, and VMWare's "Fusion", which permit Macs to run alternative operating systems like Windows and Linux, among others. Intego's Internet Security Barrier X4 Antispam Edition DP product was specifically designed to support Mac users who also run the Windows OS on their computers, by bundling their key products for both platforms into one inexpensive package.
Internet Security Barrier X4 Antispam Edition DP (Dual Platform) includes the following products:
Macintosh
* Intego NetBarrier X4 (advanced firewall protection)
* Intego VirusBarrier X4 (anti-virus protection)
* Intego Personal Antispam X4 (protects email accounts from spam attacks)
Windows BitDefender Internet Security v10 includes:
* BitDefender Antivirus (includes antivirus, rootkit and antispyware protection)
* BitDefender Firewall
* BitDefender Antispam
You can also purchase VirusBarrier X4 DP for $79.95, which includes
* VirusBarrier X4 (Macintosh)
* BitDefender Antivirus v10 (Windows)
That said, I downloaded and installed the files from Intego's website. That part wasn't as easy as it seemed, as there was a single Windows download that contained all three BitDefender modules, while it required three separate downloads to get the Macintosh modules.
Installation was similarly a bit of a chore. On the Windows side, the installation went very easily, with a single executable installing all three modules. On the Mac side, not only was it necessary to install each module individually, but the administrator password had to be entered each time, and finally, the computer required a reboot after each module installation.
As my Mac mini was inconvenient for doing serious evaluation and note-taking, I installed the Mac product on my dual 2.0 GHz G5 tower, running Mac OS X 10.4.8 (fully-patched). Again, the Windows version was run on my 1.66 GHz Core Duo Mac mini, through Parallels (one release version lower than the current release version), running a fully-patched version of MS Windows XP Service Pack 2.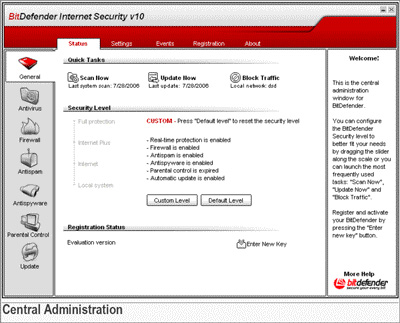 In operation, the Windows version was much better integrated, with a single application window controlling all the functions of the BitDefender. The Macintosh version required locating the three modules in the Applications Folder. Of course, you could make an Intego folder inside your Applications Folder to better organize the pieces.
With your purchase you get one year of free updates for virus signatures and for program updates. There is a separate program that manages the updates, but it can be invoked from any of the Mac modules.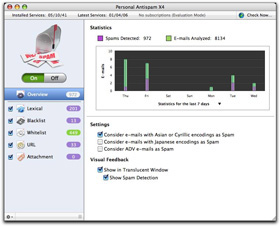 In operation, I have to say that I wasn't able to evaluate the Antispam products, as my ISPs all have very effective antispam programs that prevent nearly all spam from getting through.
The Antivirus modules were a mixed bag. I scanned my PC and found nothing, which I would have expected, as it was just configured, and seemed quite stable. Interestingly, the VirusBarrier discovered an old 2001-vintage Windows file sitting on my Mac that was infected. Unfortunately, when I told the program to deal with it, VirusBarrier crashed. After relaunching, I went back to the file in question, and VirusBarrier was able to eradicate the virus–by deleting the contents of the file. I am rescanning as I write this report (it takes a while to identify and scan over 850,000 files). The VirusBarrier product user interface was at least interesting to look at, with kind of a radar display as the product is scanning. Buttons surrounding the "scope" include schedules, selections (which drives to be scanned), NetUpdate (accesses the software and virus signature file updaters), log, and secure and unsecured zones. As problems are discovered (viruses, corrupt files, etc.), a computer-generated voice advises of the latest discoveries.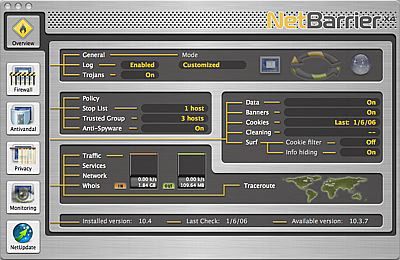 The firewall setups were straightforward, if different between the two platforms. Again, the product was much better-integrated on the Windows side with a series of tabs on the top and left sides of the window. The user interface of NetBarrier was, well, a little odd at first glance. Intego has created a single screen to monitor all firewall activities, including NetBarrier Monitor, which puts a small bar graph at the lower right of your screen. This provides a quick visual representation of data entering and leaving your computer. If the bars are moving a lot and you aren't doing anything, it would probably be a good time to launch NetBarrier to see if it can aid in identifying what's going on.
Help on the Mac side came from downloadable PDF manuals, accessed by going to the Help menu item. The Windows product had a conventional Windows Help System, accessible from a common location at the lower right hand corner of the screen ("More Help").
I really wish the Macintosh products were as well-integrated as the Windows product. I really liked the user interface of the Windows product, and was indifferent about the Mac user interfaces (each being different). The VirusBarrier product user interface was at least interesting to look at, though my initial experience with a crash didn't exactly leave me with a warm, fuzzy feeling about this program. It could have been a one-shot occurrence, and I may put out a blog at some future date with a follow-up, because I want to be completely fair with this review. The NetBarrier X4 user interface was pretty entertaining, too, if confusing at first glance. I also want this product to succeed because we need some real competition in this space.
Bottom line, because these are really two completely different products for two completely different platforms, I feel it necessary to give two ratings, so here it is:
MyMac.com Rating: 2.5 out of 5 (Intego NetBarrier X4, VirusBarrier X4, and Personal Antispam X4 bundle–the Macintosh product line)
MyMac.com Rating: 4 out 5 (Intego Windows BitDefender Internet Security v10)