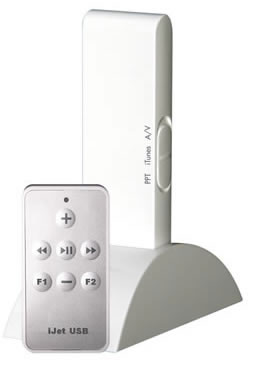 iJet USB
Company: ABT
www.abtech2.com
$39.95
Do you have the need for a remote control on your Mac to control iTunes and/or Powerpoint presentations, but your Mac did not come with an Apple Remote? If so the iJet USB from ABT might be for you.
The iJet USB is a two part system. The first part is the receiver which looks like a first generation iPod Shuffle. It can plug directly into a USB port of your computer, or you can use the included dock (which connects via a USB cord).
The second part of the system is the remote control. The remote control is about 1.5×2.5 inches, and about a quarter of an inch thick. The range is stated to be 150 feet, and I was able to use the remote from pretty far away in my tests without a problem.
There are no drivers required for the iJet USB, and it will work with OS 10.3 or higher. It also works fine on Intel Macs. (If you have a Windows machine it is also Windows compatible.)
All you have to do to use the remote is plug the receiver into your computer, and set it for iTunes or Powerpoint. There is a third A/V setting, but that is for Windows only.
As an iTunes remote, the unit performs as you'd expect. You can skip tracks, pause tracks, raise the volume, lower the volume, pause the audio, etc. For those that don't have an Apple Remote, but play music from your computer all day this could be very useful. Instead of going back to your computer every time you want to change the volume, or skip a track, all you have to do is push a button on the remote.
The remote is also designed for Powerpoint presentations. Want to play Steve Jobs giving a keynote presentation? Run your slide show from your computer and use the remote to move through the slides. I tested the remote with a Keynote presentation, and an iPhoto slide, also. The remote had no problem controlling both.
My only complaint is that the iJet USB doesn't work with other software, like DVD Player. The ABT website states that the iJet USB "comes with additional software that allows the remote to be customized to any application's predefined keyboard commands." However, this software is not available yet and is still in development. I'll be looking forward to the release of that software to add more functionality to the unit.
Overall, the iJet USB does a good job doing what it is made for: controlling iTunes and slide shows/presentaions. It is a great remote for those who can use it. $39.95 seems a bit expensive, but I found it online at several retailers for under $30.
If you are looking for a remote for your computer, you might want to check this one out.
Pros:
Does a great job controlling iTunes and slide shows in Powerpoint, iPhoto, and Keynote.
No drivers needed, it just works.
Great for those without an Apple remote.
Cons:
A little pricey.
Customizable software mentioned on the website is not yet available.