Fontifier
Human-Computer Interface Ltd
Price: $9 per font
www.fontifier.com
Imagine being able to type a letter on your computer and the font is in your own handwriting. Fontifier is a web-based application that allows you to do just that. For only $9 you can have your handwriting turned into a font that works on both Macs and PCs.
The Fontifier process could not be any easier. First you go to www.fontifier.com.
The website walks you through the seven step process. Basically, you need to download and complete the Fontifier template. Once completed, you scan the template into your computer following the specs on the site. Next, you upload the scanned image through the website, and your handwriting is ready to be Fontified.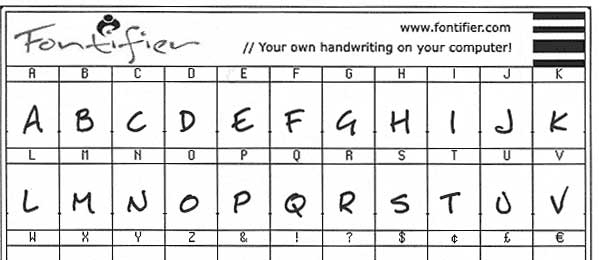 Once uploaded, steps four and five transform your template into a preview of your font. If you don't like what you see, you can re-upload the template as many time as you need.
This is the point where you'll find any problems with your font. I had black lines on one attempt. The help section of the website explained to me that I had cut off part of the template and needed to rescan, Once I did that, everything was fine.
If you like what you see in the preview, you purchase your font, and it is instantly ready for downloading. The website even gives directions for installing the font, and making the font compatible with an older OS9 Mac.
I was expecting to wait a few hours or days for the font to arrive in my email, but this was not the case. My handwriting was converted into a font instantly! The entire process takes less than 5 minutes (unless you're like me and constantly have to redo the template to make sure your handwriting looks right).
Printed text works best. You can do cursive letters, but don't count on them connecting when you type, unless you plan on sitting for hours to get the starting and ending lines of each letter in the right spot.
Here's two samples of the fonts I created:
Fontifier isn't just for handwriting. You can turn drawings and symbols into fonts also. Basically, anything you can draw onto the template can become a font.
The only negative I can find with the final font is that you cannot apply bold, italics, or other styles to it unless you use the advanced process. You can make a bold and italic version of the font through the advanced section of the site, but each time will cost $9. Not a huge problem, but something to be aware of.
There is just something really cool and exciting about being able to turn your handwriting into a font and then type with it. I'm 34 years old and I think it is really cool. Just imagine how excited a kid would be to type in his/her own handwriting.
If you have a scanner, or access to one, I highly recommend trying this out.

Get Fontified!
MyMac.com Rating: 4.5 out of 5
Pros:
Only $9 to turn your handwriting into a font
Simple to do and easy to understand website
PC and Mac compatible font
Just plain COOL.
Cons:
Can't apply styles to your fonts in a word processor