Product: Adium 0.89.1
Company: Adiumx
Price: Freeware
http://www.adiumx.com/
System Requirement:
Mac OS X 10.2.7 ("Jaguar") or later; Mac OS X 10.4 ("Tiger") or Mac OS X 10.3.9 ("Panther") is recommended

Instant Messaging (IM) Systems were starting to get big, when I started to use the internet – back in 1996. A few folks invented ICQ and they were soon joined by many other IM Systems. Today the market is fragmented, so much so, that many of us have more than one IM client installed at the same time. Each of these clients of course comes with their own set of cool features, but the feature I personally use most, is the basic text based chat. Having many IM clients open, means a drain on system resources.
Back in my windows days I used Trillian, whenever I used Linux, I'd have GAIM running, on my Macintosh I'd have… well three or four IM Clients (iChat, MSN Messenger, Yahoo & Skype) open at the same time. I started to look around and found Adium.
WHAT IS IT AND WHAT DOES IT DO?
Adium is a free instant messaging application for Mac OS X, released under the GNU GPL. It supports some of the most popular IM protocols, such as:
AOL Instant Messenger (including ICQ and .Mac)
Jabber (including Google Talk)
MSN Messenger
Yahoo! Messenger
Bonjour (compatible with iChat)
Gadu-Gadu
Novell Groupwise
What it does is real simple: It offers you a single user-interface to interact with all your friends, no matter which of the above services they use or prefer. In a way it tries to bridge a gap these providers so carefully try to avoid bridging. Many of the above protocols aren't interoperable, that means a user of one system doesn't get to chat with another user on a different system. Adium cannot undo the interoperability gap, however by offering you the option to setup multiple accounts, the gap just doesn't seem quite as big any longer – since it is one application for many accounts.
INSTALLATION
Adium is a 11.2MB download and installs just like any other Mac OS Application. Open the disk image and drag the application icon to your application folder and they kindly provided an alias for you, so it isn't a pain. I personally appreciate it, when the disk image comes with the application folder alias, I am lazy you have to know.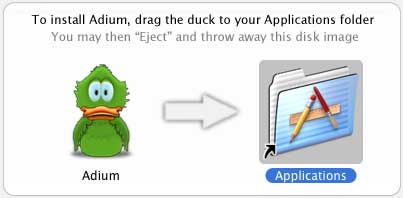 After that you are done and get get on with the fun task of setting up your individual accounts. Files > Preferences allows you to add these. All you really have to do is enter your user-id and your password, if you'd like adjust some of the personal information, like your preferred avatar or your preferred display name. That's it – simple to use as anyone would expect
DAILY USE
You will have two Adium icons, one (hopefully) in your Dock and it will change according to your status. If you set "Away" as your status the little "duck" in the dock will hold up an "away" sign. If you receive an IM the little duck will start flapping its wings. It is a bit of fun and an application like this is allowed a bit of fun. There is however a second icon for you, up in the Menu Bar, which let's you switch your status quickly for one or all of the services you have setup to use. Maybe you don't want Joe on MSN to see you are online, while Mary on AIM sure is encouraged to contact you.

The main Adium window might at first appear a little empty, especially if non of your pals are online at the time. I personally like the list of friends to show, even if they are not active and for that you have to hit the "Show/Hide Toolbar" button and then hit the little "red duck head", which will toggle the display of your offline contacts.
When one of your contacts signs in and you are unfortunate enough to have your speakers on, be aware that the sound schemes of Adium will alert you, but it might not be a pleasant experience at all. Even every new message is announced acoustically in the most annoying way. I strongly recommend you take a few seconds to go through the Events list in Adium Preferences. I fear you might not enjoy this tool much, if you don't.
Otherwise it does precisely what I want it to do. One application, holding a good number of my pals on different IM systems and letting me chat with them. Chat windows are clean and fully customizable, should you dislike the color scheme: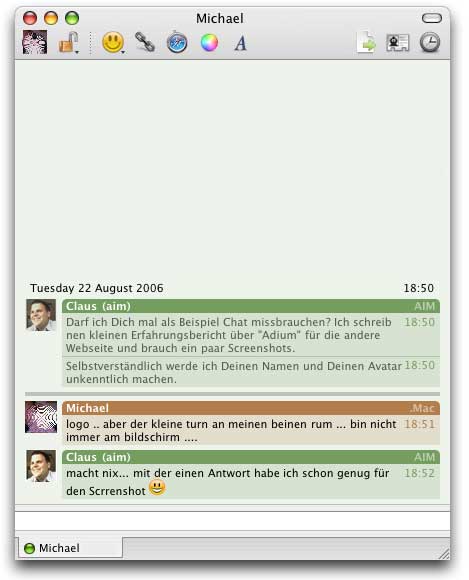 To be fair, I have removed some of the information that is displayed in these windows above. Most notably the eMail addresses of the users. For example the entry "mike" would really say "mike@domain.com"…
Really that is all I have to say, it just works. You can transfer files, if you like, but the more advanced features like VoIP (Voice over IP) aren't supported and implemented. Not a major issue at all. The same is true for video conferences and the likes.
CONCLUSION
Adium does what it promises to do, it gives you a single user-interface to the majority of IM Services. If what you want to do is text based chats and maybe the occasional file transfer and you are tired of having more than three IM Clients open – then Adium is most certainly for you.
Adium isn't for you, if you cannot imagine to work without Video Conferences and Voice Chats. Adium isn't for you either, if all your friends very kindly support your IM System of choice.
Adium has a rather annoying sound scheme, so much so that it was pretty much one of the first things that I changed, after installing it and using it for a while. However everything else is fine and I now only have two IM Systems running: Adium & Skype. Skype isn't supported by Adium, the protocol is closed and most people really want to use it for Voice over IP component, so this is quite okay with me.
Thus in the end, Adium is one of the applications that I would definitely install on a new Mac right away, if I bought one.
RATING
MyMac.com Rating 5 out of 5
This is a niche application, if you have a use for it, you will love it. If you don't have use for it, it is well useless. I felt very awkward giving it 5 out of 5, especially as I so much disliked the sound scheme, but I figure it is a personal preference, and other people might like it, so I decide to not hold it against the Adium Developers. They did a fab job.