Image Tricks
Company: BeLight Software

www.belightsoft.com
Price: Free or $14.95 Pro Version
Do you want the ability to add cool effects to your photographs, but don't have the money to spend on a program like Photoshop or even Photoshop Elements? If so, Image Tricks might be the program you're looking for.
Image Tricks is a very simple to use program that can apply forty eight filters and effects to your images (and that is in the free version!). These effects range from standard filters, like adjusting color and focus, to more fun and strange filters for distorting and changing your image. Many of these filters are the same filters you would fine in Photoshop (Gaussian Blur, Crystalize). Others, like Starshine, are unique to Image Tricks.
To apply a filter you choose the effect you want, click it, and it is applied instantly. Each filter has a set of controls to set how much of each you want applied to your image. To keep the changes you click the Apply button. It doesn't get any easier. The image below has several filters applied to it.
Image Tricks would be a great program if it stopped right there. But BeLight has gone even further. There is also an image generator, which produces designs and patterns that you can use in your artwork. The free version comes with twelve image generators. Need some 3-D blobs? Use the Atoms generator. Clicking render will randomize the design created. Once again, all of the generators have controls to change the way they look, and it is as easy as clicking the generator you want and making the adjustments in the settings.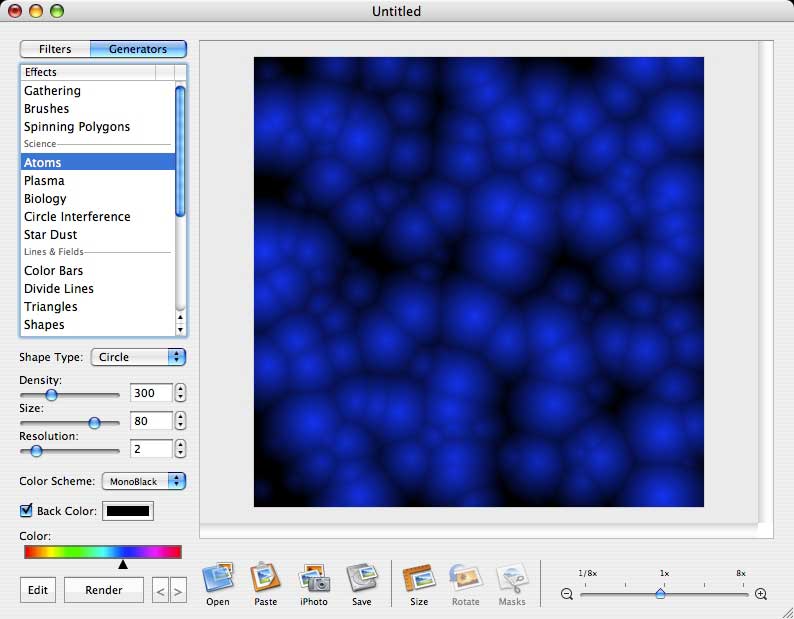 Want more? How about thirty different masks that you can apply to your image. Give it a heart frame, or fame your photo in an Apple logo.
Or how about zoom, rotate, and scale features? All here. You can also copy an image from another source and paste that into a window for editing.
Samples from many of the included filters and generators can be found at: http://www.belightsoft.com/products/imagetricks/samples.php.
Image Tricks also has what BeLight calls iPhoto integration. Calling this feature iPhoto integration is a stretch, and the weakest part of the program. There is an iPhoto button in the Image Tricks window, but clicking it does not display your iPhoto library in another window the way iWeb would. Instead, iPhoto opens and you can drag an image onto the Image Tricks icon for applying filters. Not true integration in my book.
Would you believe there is more? Image tricks allows you to import a file from over 20 different formats. If your Mac did not come with Photo Booth, there is no need to wait for Leopard. You can import photos into Image Tricks and make your own Photo Booth. It will also export files into TIFF, JPEG, PDF, PNG and GIF formats. Plus, it is a universal binary!
Did I mention that these features are all included in the free version? (I'm starting to feel like I'm writing an infomercial)
For $14.95 you can upgrade to the Pro version. This gives you five more filters and eight more image generators, and two years of free upgrades. Not much to entice most people to make the purchase, but the free version is worth $15 or more by itself.
Whether you get the free version or the Pro version, Image Tricks is definitely something worth downloading. Kids of all ages will have fun with Image Tricks.
MyMac.com Rating: 4.5 out of 5
Pros:
Tons of filters and effects for your photographs for free!
Simple to use
Imports and exports in numerous formats
Universal Binary
Cons:
iPhoto integration is not true iPhoto integration
$14.95 for the Pro version does not add enough features to make it worthwhile when the free version has so much