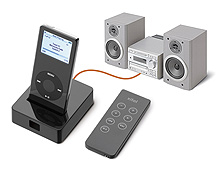 HiFi-Link for iPod nano
Company: Xitel
Price: $69.95
www.xitel.com
Few of us are fortunate enough to have a major stereo sound system, TV of some kind, and a computer workstation co-located and wired up. So, for many, the only alternative is to connect an iPod nano to a PC or Mac and play the songs via iTunes through the computer's speakers. In many cases, I suspect, the computer speakers pale in comparison to those of even a decent home stereo system. Another technique might be to go wireless, but that requires a base station, an additional Airport Express with AirTunes, some expertise setting all that up, and some additional capital.
I can think of many situations, in a family or college dorm room environment, where it makes more practical and economic sense to simply connect the iPod nano directly to a small stereo system, and that's what this product does with the greatest of simplicity. For example, imagine a family in which one of the kids has an iBook and an iPod nano. Listening to the nano via the iBook speakers or the nano's headset jack will absolutely not provide the same experience as connecting it to dad's surround sound system in the family room via the nano's dock connector with a cleaner (but still analog) signal.
(Note: Xitel also makes a product called the HiFi-Link for iPod that supports the 5G iPod and audio+video to your TV and sound system. This product came out earlier in the year.)
In those cases where the nano is, say, a second iPod in the family, it could just lay around loose on a table, with no dock as a home, not staying fully charged, and subject to accidental damage. The HiFi-Link provides a handsome dock that keeps your iPod nano charged and, if desired, nicely placed with your sound system.
Out of the Box
The first thing I noticed was the very nice packaging. If necessary, it's actually possible to repack the product as it came without being a national Rubik's Cube champion. The second thing I noticed was that the audio cable is first class, shielded, and the connectors are gold plated. I was impressed.
All you have to do is plug the power adapter into the dock, the audio cables into your stereo system, and place the iPod nano in the dock. It's so simple, no instructions are really needed.
Even though set-up is a breeze, there is a small pamphlet that steps you through installation, explains the remote control operation, and gives an e-mail address for technical support. The card that suggests registering at their website is low key and has a nice sense of humor about it. What more can one ask?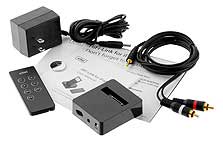 Features
– Powered dock for charging. – Full featured infrared remote control that operates up to 15 meters away. – SRS TruBass: Described as follows: "One of the biggest issues with audio compression is that it tends to make the music sound thin. TruBass psychoacoustic technology greatly enhances the lower frequencies, adding back the warmth and depth…. TruBass works like this because of the underlying physics surrounding fundamental frequencies and their resonant harmonics. It should not be confused with simple bass boost…" – Can be connected to powered speakers, boombox, bookshelf system, or home stereo.
I tried the TruBass wheel and, while I'm not an experienced audiophile, I could easily hear the effect described above. It's quite pleasing.
Bottom Line
This is a first class product, well conceived, well built, and well packaged. Like the iPod itself, you get an immediate sense for the quality of the product. It makes you feel that your money was well spent. If I were to make any recommendations, I would suggest that there be a small section in the manual that describes how to change the battery in the remote. But if I could figure it out, anyone can, so that's just a nit. Also, the TruBass wheel doesn't have a direction indicator. But then, if you can't hear the effect, knowing the sense of the wheel direction won't help much either. But it would be a thoughtful touch.
For those who have a need to direct connect their iPod nano to a sound system, want to keep it safe, always charged, improve the sometimes thin sound of compressed audio, and enjoy listening to the music from their easy chair with a remote control, I couldn't think of any way to improve the quality or design of this product. I give it my strongest recommendation.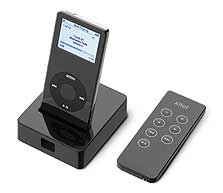 Note: this product only comes in black, so if you're considering an iPod nano purchase in tandem, you may want to consider getting a black nano to maintain the color theme.