Travel Monster! I'm not talking about Godzilla wreaking havoc on Tokyo and moving on to Osaka, but people that spend a lot of time out and about and want the best overall experience from their road gear. So many decisions to make about what to keep and what to leave behind. Because of the nature of portable computing, there are certain sacrifices that have to be made, but for those of us fortunate enough (or smart enough) to have chosen the Mac platform, those choices don't have to be nearly as painful as they're sometimes made out to be.
The nature of my former job required that I travel.. A lot. It didn't actually entail that I use a laptop or computer programs while in route, or at my hotel, but I did enjoy carrying my Mac computer everywhere with me. What do I do with it while on the road? Depends on where I am and how long I'll be gone. If I'm going to be gone for more than a few days, I might need to use GarageBand to record the "Dashboard Minute" for the MyMac.com podcast. If it's family related travel, I'll need to download pictures from a digital camera or DV camcorder. More about what you might want to do with all this gear in another article.
The nice thing about Macs and the biggest reason I have chosen to use them instead of a PC is their versatility. Apple includes all the software I need for the activities mentioned when you purchase a new Mac. The programs I use on a regular basis include the iLife suite (iMovie, iTunes, iDVD, iPhoto, and GarageBand), QuickTime Pro, various Dashboard Widgets (the subject of an upcoming Dashboard Minute), DVD Player, Roxio Toast, PhotoShop Elements, VLC Media Player, and of course some simple games. A future segment will go into what I use these and other software programs for while traveling.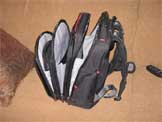 First things first. When traveling with tech gear, you need something to put it all in. Some people like hard-shell briefcases that have some versatility for accessories. That's all well and good if you're traveling light, but I carry a lot of stuff and need something with more slots and pockets. Something that will fit in standard Airline overhead bins or under the seat. I also like having my hands free and a regular briefcase style case wasn't going to do. I decided I needed a strong and sturdy backpack with lots of zippered compartments. The one I chose was the Wenger Swiss Army Synergy Notebook Computer Backpack. Multiple compartments with space for darn near anything you might want to put into a backpack. Be advised that if you're the kinda guy (like me) that likes to carry everything, this backpack will get quite heavy. That's not necessarily a bad thing as carrying all your stuff would be heavy no matter what backpack or case you might have chosen. You can carry this case on your back of course, but it also comes with a strong double-stitched handle (two handles actually), along with sturdy, padded straps. It also has a small zippered compartment on the top for an iPod or other MP3 player with a handy rubberized access sleeve for your headphones. A nice touch. Every compartment has additional sleeves or zippered areas for additional accessories. It most likely wouldn't protect your laptop if you dropped it off a building, but if you do that regularly, you have other problems to deal with first.
Also bear in mind that if you're traveling by air, you'll need to go through one or more airport security checkpoints. Whatever case you decide on needs to have two characteristics to get you through without having to meet the dreaded rubber glove. One, you need to be able to remove the computer quickly and easily. Almost every airport I have gone through lately requires you to remove your computer from its case, and place it in a plastic bin before going into an X-ray machine. Two, what material the case is made from must not be impervious to the aforementioned X-Ray machine. Unless of course you enjoy pulling everything out of it for a visual inspection and earning the glares and almost inaudible curses from your fellow travelers. Those trendy and sharp looking metal briefcases, while certainly making a fashion statement, will most likely slow you down while going through the lines. Lastly, if you are traveling by air and have a lot of gear, leave yourself a lot of time to get to the gate. Airport Security personnel really don't care and have little sympathy for you if they need to manually inspect your carry-on items and you're running late. That's your fault, not theirs.

The point is, choose a container for your traveling gear wisely, Take your time and pick the one that fits what you like to do best. You'll probably end up spending a lot of time with whichever one you choose, so don't go and spend a lot of money on something you won't use later. The Wenger backpack is less than $70 in most places. Chances are you can spend a lot more if you want to.
Believe it or not, this is not intended as a review of the backpack. This is the one I decided was the best for me. Your mileage may vary. Next time I'll discuss power options and storage solutions. Happy trails.