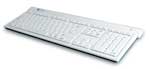 IceKey USB Slim Keyboard
Company: MacAlly
Price: $60

http://www.macally.com/spec/usb/input_device/icekey.html
How much is there to say about a keyboard? Not much, if it's attractive, well-designed, good for typing, solid construction, fully-compatible, warranted for three years, and affordable.
Why would an owner of a new G5 tower (that's me) set aside a gorgeous Apple keyboard in favor of a competing product? The answer, stated without prompting by David Weeks, is: "Hey, Nemo, this new keyboard sure looks great. And it types well. Feels good to the touch. Who makes it?"
Using exclusively MacAlly's IceKey USB Slim Keyboard for over a month (and I do a LOT of typing), I would purchase it in an instant if I preferred its look and feel to the G5's included Apple Pro keyboard for touch-typing. IceKey's subtle but positive response (and pleasant clicking sound) is now second nature. Apple keyboards feel spongy in comparison.
USB ports are at the upper rear corners, which I prefer over Apple's placement in the center. Green LEDs indicate, respectively, power, caps lock, and num lock, when appropriate.
Out of the box you don't get full functionality with OS X, so make sure you download IceKey's driver for your system from the MacAlly web site (do NOT attempt to install the software from the included CD).
IceKey is low profile, for slipping under desks, and high tactile, for accurate typing. It should work with all USB computers. Want to test drive one? Drop in any time. We just had our pool replastered, and the water is a delicious 84°F. IceKey handled that degree symbol easily (OPTION-SHIFT-8), and it's a pleasure to award MacAlly our 4 out of 5 rating and recommendation.