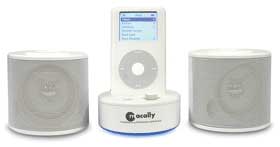 IceTune Speakers and Dock
Company: MacAlly
Price: $69.99 US
http://www.macally.com
IceTune is one of most clever, useful items of iPod-Ware ever produced. It's a three-module iPod speaker + charger with different inserts (three are included) for each current and most previous models of iPod, including the Mini but not the Shuffle. If you want a battery-powered iPod speaker, buy something else, but if you want a stylish, versatile non-audiophile powered stereo speaker + charger, IceTune is a very good choice.
What it isn't: super loud, or adjustable for treble and bass.
What it is: compact, easy to use, adaptable, neat looking, well designed, and fairly sturdy. (You don't need an iPod, because a Line In socket is included in the base module, but IceTune screams iPod at full voice.)

How it works is simple. With all cables attached and plugged into a wall outlet, set your dock connector equipped iPod in the appropriate fitting on top of the small, round control module, turn on IceTune's power, adjust its volume control, and enjoy your audio files. The two cylindrical stereo speakers can either stack under the power module or be split apart, as you desire. The entire trio is lightweight and a brilliant white in color, except for a glowing blue ring of light that projects subtly from underneath IceTune's power puck.
With iPod and IceTune volume at maximum, playback will fill a room with audio to spare. Sound quality is clean, with minimal distortion, but not much bass response (as expected from the modest specs, 1 watt per channel and 20 – 20,000Hz frequency response).
When your iPod is resting in IceTune's built-in cradle, charging is taking place during playback. This adds value and convenience to an already fine compact speaker system.
In real world listening tests, Barbara "Mrs. Nemo" — who is not easily impressed — was raving about IceTune's appearance and sound without any prompting from your friendly reviewer. She likes this set because it is small, with decent audio; easy to adjust and easy on the eyes.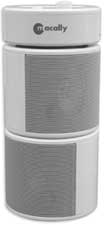 Speaker wires could be doubled in length to 3' each, and the hexagonal stacking notches could be a little more pronounced, but those two are the only suggestions I have, aside from requesting a more robust bass response. I'm listening to oldies pop music while I'm writing these comments, and 50's rock sounds much better on IceTune than it ever did in my youth. Earlier I went through an entire playlist of classical, jazz, pop, and more, and iPod's "Small Speaker" EQ setting provides the most consistently good sound.
MacAlly provides detailed views of IceTune on its web site, at: http://www.macally.com/spec/ipod/ipod_03.html. Have a look, then decide if you think that $70 US is fair value for such a clever product. I do.
Specifications:
1 Watts/channel @ 8 ohms
Frequency Response: 20- 20000 Hz(-3dB)
Net Weight: 1.57lb
Dimensions: 4″ (L) x 4″ (W) x 8″ (H)
Designed for all iPod, iPodMini, iPod Photo with 30 pin dock connector
AC adapter included
MyMac.com rating at 4 out of 5 for listeners who value appearance and design more than a booming bass.