MyMac.com PodCast 3-3-05

Download the show here in MP3 format.

Show Notes
Jef Raskin, the man who started the Macintosh project at Apple, died this past week.
Check out our new PodCast graphic! Thanks to Todd Long for creating it! See the full, larger by Clicking Here!
.
Our scheduled interview with Ken Ruettgers from GameOver.org has been postponed for at least a week. In the meantime, head over to GameOver.org and take a look around.
Apologies to Chris Seibold. For what, you ask? Well, you will have to listen to the PodCast to understand.
TellOnApple.com is mentioned and discussed on the PodCast today.
The music industry wants more than 99-cents for downloadable tunes. Yeah, who did not see this coming?
SmallDog.com is an official sponsor of the PodCast! Listen to their first commercial on our PodCast today! How cool is that? An actual commercial!
Contest Time! The Apple Quiz is here! Listen to this weeks contest, and submit your answers to contest@mymac.com.
This week, the prize is a set of RSL Digital Fidelity One Speaker System from Rogersound Labs. (List price: $99 US) As a MyMac.com reader put it; "Best sounding speakers under $100 on Earth"
Check out Rogersound Labs here for more information on the speakers! And listen to this weeks PodCast for your chance to win a set! Submissions will be accepted until next Tuesday, 3-8-05, midnight.
You just knew we could go this week without talking about Bill Gates being knighted, did you? HA! Listen for our take on Bill Gates becoming a knight, and what we think this should mean.
As always, email us at either tim@mymac.com or chadperry@mymac.com with your feedback. And hey, if you want to send some MP3 audio feedback, send it to mymac.com@gmail.com.
Contest News! Win the RSL Digital Fidelity One Speaker System
Starting with this Thursdays MyMac.com PodCast, you have the chance to win a brand new RSL Digital Fidelity One Speaker System from Rogersound Labs. (List price: $99 US) As a MyMac.com reader put it; "Best sounding speakers under $100 on Earth"
For your chance to win, simply listen to the Thursday, March 3, 2005 MyMac.com PodCast. Show hosts Tim Robertson and Chad Perry will introduce the new contest, the Mac Quiz. Listen to the four audio clips from past Apple Computer, Inc. commercials during the PodCast and answer what Apple Computer the commercial to wins!
All contestants are directed to submit their email answers to contest@mymac.com. The winner will be drawn randomly from all the correct submissions. Only one submission per person, please. The winner will be announced on the next PodCast, as well as being contacted via email.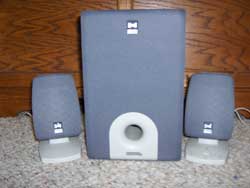 Rules: Only listeners of the MyMac.com PodCast are eligible. Prize can only be shipped to the Continental North America. (United States, Canada, Mexico, etc.) By participating, the winner agrees to allow MyMac.com to use his/her name for promotional purposes as the contest winner on both the website and audio PodCast broadcast. Those affiliated with MyMac.com and their families are ineligible. The prize will be shipped directly from the manufacturer, not MyMac.com. The winner will be responsible for supplying their shipping (mailing) address in a timely fashion to MyMac.com for shipping purposes. We will not use your email address for any other reason, you will not be added to any list, nor will we supply your email address to anyone, ever. You will not receive any spam for entering this contest. All contest email will be deleted after the winner has received the prize. All prize winners are restricted to one prize per 30-days. MyMac.com is solely responsible for determining winners. We reserve the right to cancel and void this or any other contest for any legal reasons.