When the UPS delivery arrived during dinner on Thursday night I nearly jumped out of my skin. The Small Dog Electronics shipment was here, a full day early. But my extra RAM was missing, so I had to wait until Saturday morning to set up my new supertoys.
Here is a photo essay in thirteen pictures of the process of going from old iMac and new heavy cartons to new G5 + 20" Cinema Display. Tremendous thanks to:
MyMac.com publisher Tim Robertson, for encouraging me to "Get a computer that's up to your skills, finally, John!"
Colleague David Weeks, who hassled me for years to "Get yourself something more substantial than that old G3 iMac, Nemo!"
Casio Exilim Camera for their terrific camera used to make these photos, and to
Don and Dawn and Ed at (MyMac.com long-time sponsor) Small Dog Electronics, for their personal assistance and ongoing support of our publication. (Next time you want to order anything online, call Ed at 1-800-511-MACS, tell him Nemo sent you, and ask for his best possible price.)
Each photo has its own brief caption, and here are some additional comments: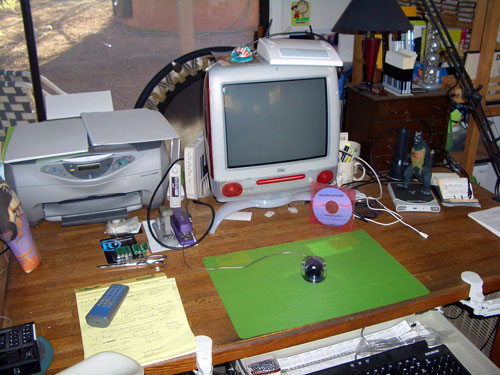 My desk with Epson printer-scanner-copier and G3 iMac, for the last time in prime location.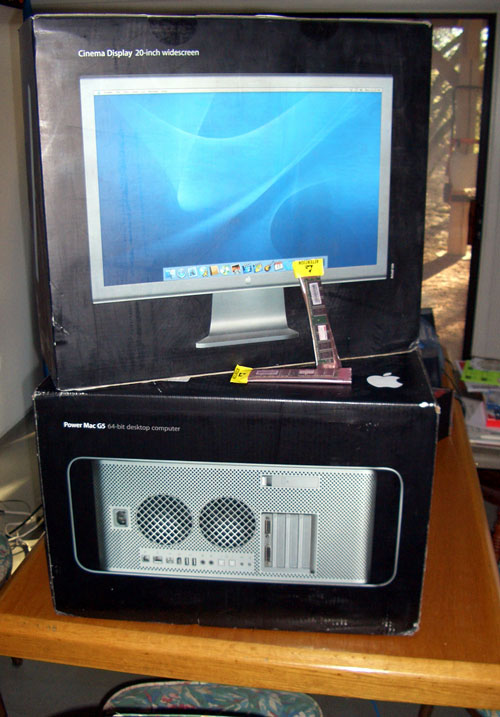 G5 carton underneath, 20" Cinema Display on top, and four 512MB memory chips in the middle.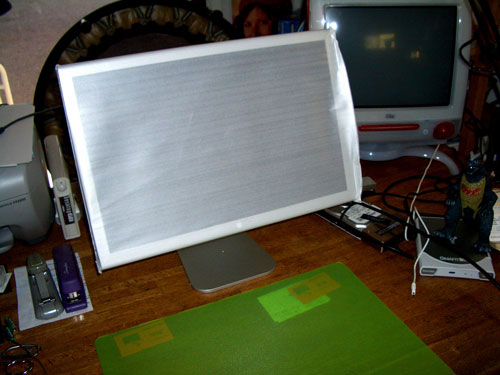 20" Cinema Display awaits unveiling. iMac in background is jealous.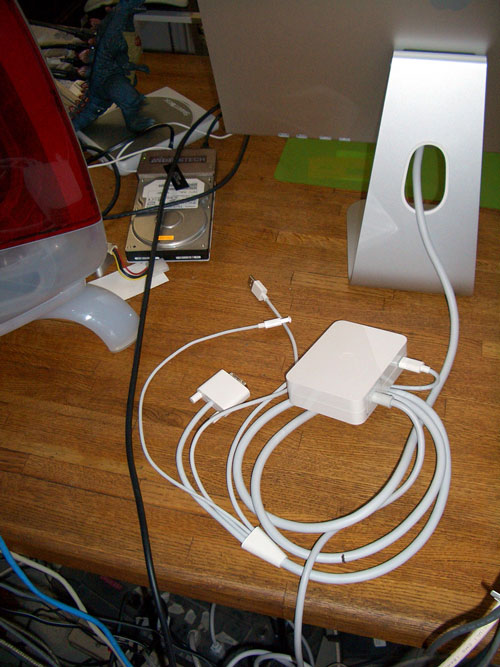 DVI, USB, and FireWire cables before their first encounter with G5 tower.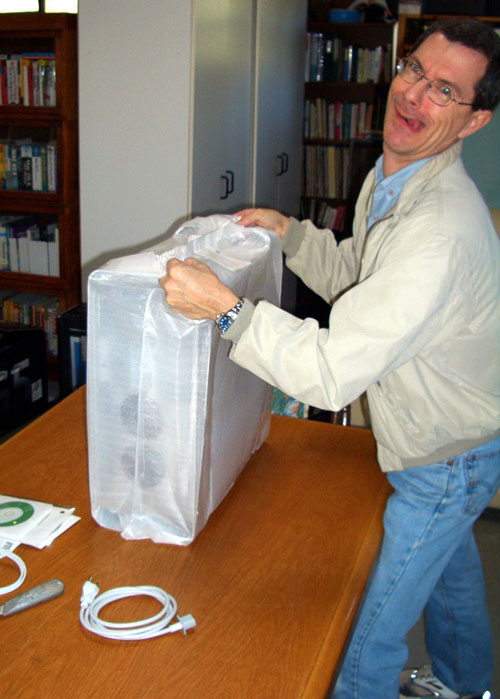 "Nemo, this thing is really heavy!" says pal David Weeks.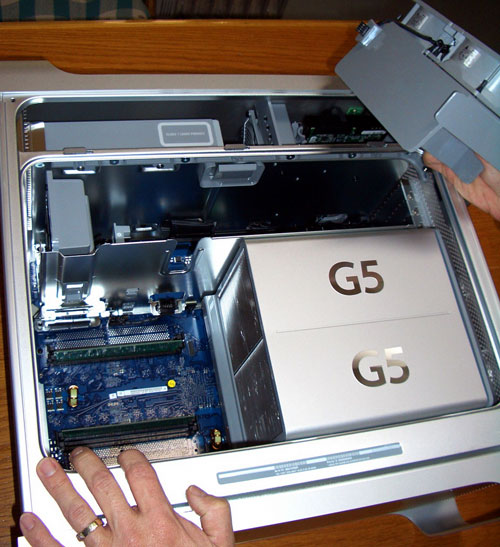 Easy removal of fan unit allows for instant access to memory cards below. Yes, Apple ships its heavy-duty dual-processor 1.8 GB G5 tower with a mere 256MB of included memory (2 x 128MB chips). Give me a break!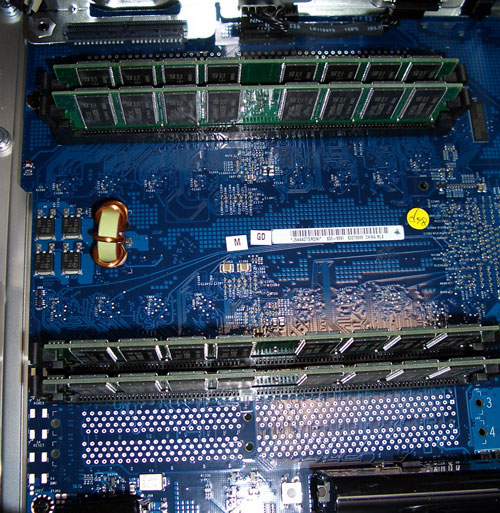 After removing the puny 2 x 128 RAM chips and inserting 4 x 512 MB memory, for a total of 2 GB. That's more like it, to match this mighty dual processor.

Closing the case lid after replacing the fan unit.

Plugging in a blue Ethernet cable, for Internet access.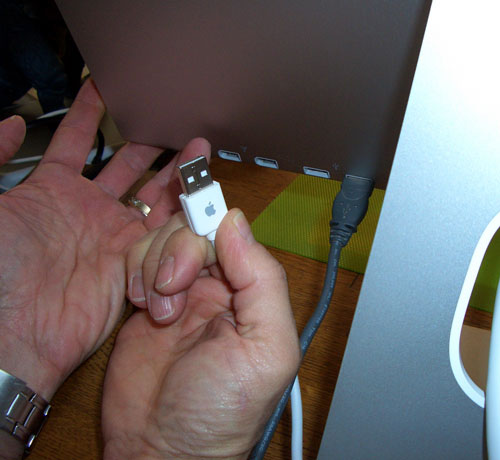 Which way is up on this darn USB plug? The rear of Cinema Display has (hooray!) two each FireWire 400 and USB ports.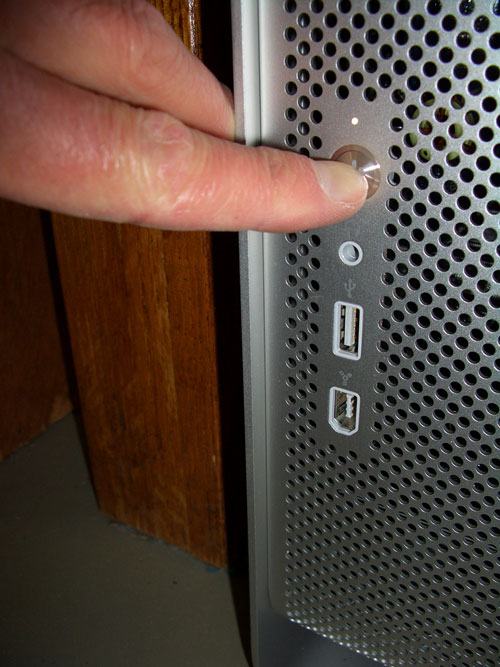 With all cables and plugs attached, I press the G5's power button for the very first time. Chimes! The display displays. Life is grand.

Using a FireWire target mode connection, all 6 GB of nearly ten years of my data is transferred from old iMac onto new G5 in 16 minutes. Try to do that in Windows, ho hum.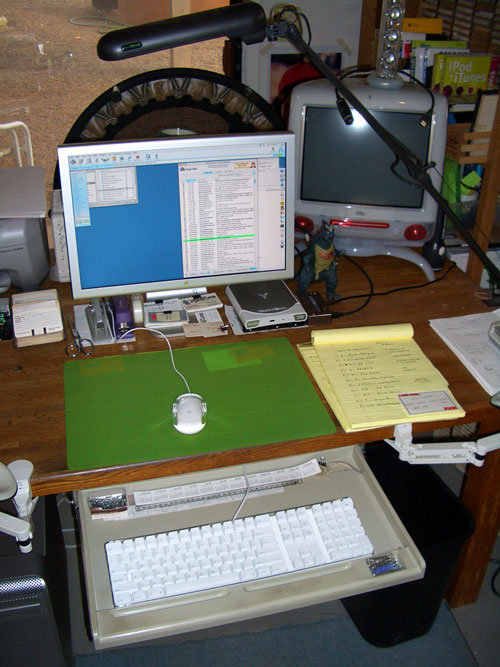 Proudly at center stage, Cinema Display is ready to rock and roll, and G5 is happily tucked under my keyboard to the left. Old iMac is feeling discouraged, being used as a base for my SoundSticks speaker.
I spent the entire afternoon installing software, setting preferences, and configuring email accounts, before CLONING THE ENTIRE NEW G5 DRIVE onto a WiebeTech external MicroGB+ portable FireWire 800 disk drive.
Today was one of the best day's of my computing life. I followed all instructions, used years of Weeks / Nemo experience, and can now play with the big kids.
The Cinema Display is sensational. I was concerned that its 20" size would be insufficient or inadequate. No worries. G5 tower, to my left on the floor, is powerful, quiet and surprisingly handsome. I had thought these metal boxes were ugly, but now that I own one, it's very attractive.