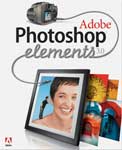 Photoshop Elements 3
Company: Adobe Systems Incorporated
Price: $89.00
Previous owners can upgrade for $69.99 (CD-ROM) or download the 300.2 MB file for $59.99
(Rebates are available, check around for some great deals!)
http://www.adobe.com
This is Adobe's third incarnation of Photoshop Elements. I've had the pleasure of reviewing Photoshop Elements 1 and 2 and I can tell you that Adobe has not let us down with its latest release.
Not all of us can afford to spend large amounts of money for Photoshop particularly when all one is going to do is work with images from your digital camera or preserve those images from the past in old photographs. Photoshop Elements provides us with that capability at a very reasonable price.
This time around Adobe has added an improved file browser system that when you want to search for something, you'll get thumb nail images of what's contained in the files that you're searching. With this new system, you can flag photos in the File Browser to narrow the display to just those you want instead of every one in your files. You can work to quickly organize your files, and then set up your own categories and data to search out photos anywhere in your system. Photoshop Elements has a new automated menu that allows you to start batch processes from the File Browser before you even open a single photo.
For example, you work in construction and you take pictures of the projects that you do so that you can have a catalog to show prospective customers. Adobe's browser lets you open up your catalogs and select what you want without having to dig through each and every nook and cranny of your hard drives.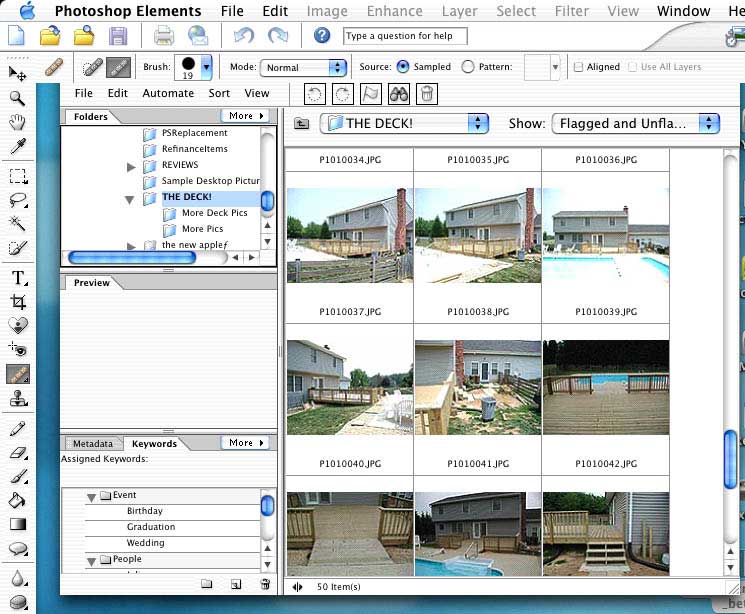 A number of new and enhanced user controls are also now part of Elements. One click on the toolbar and you can switch to the new Quick Fix or Standard Edit workspace. You can also view multiple windows and have them automatically tiled on your display. "Healing Brush," previously available only in Adobe Photoshop CS, is now part of Elements. The Red Eye removal tool that I liked in previous versions has been improved again. Photoshop Elements now also includes full compatibility with iPhoto.
How easy is Elements to use with its improvements? Here are some examples. You have some family photos that go back in time and as it usually happens, the color had changed dramatically in that picture over the years. Not at all what you or the family remember what it looked like in real life. Take for example a picture of a young boy who was photographed on Christmas morning in 1953 standing in front of the new set of Lionel trains that he had received as a present. Scanned into Photoshop Elements, the photo on the left shows what the image looks like today, aged yellow and the colors all drained and dreary. The photo on the right shows what it looks like after just clicking on QuickFix. Imagine being able to do that with all of your family's photos that you have stuffed in a box somewhere in a closet. Have the kids see what their parents, grandparents and great grandparents looked like so long ago in realistic color images.
Another great use for Photoshop Elements is with your digital camera. We are not all award winning photographers, we are click and shoot specialists. So even our best photos can come out not looking like what we remember the scene looking like. Here's another great example of how to use Photoshop Elements. A friend took the picture on the left in Ireland on a visit to the land of his ancestors. He's sent you the picture of the cemetery where his ancestors are buried and he's raved about how the scene looked but for some reason the picture just doesn't seem to match the description. Using Photoshop Elements again, the picture on the right shows what happens with a little bit of tweaking. More in line with his description of the old sod…
And when you're finished doing all that you wanted to with the pictures, click the email button in the toolbar to quickly send your photos on to family and friends. If you have multiple photos that you want to send by email, just select them in the File Browser window and create a PDF Slide Show.
If you're looking to do more with your digital camera, your scanner or just looking for the perfect gift, then give Photoshop Elements 3.0 a try. It's well worth the investment.
Unlike previous versions, the CD-ROM that has the software for Photoshop Elements 3 on it now has only a Mac version on it. Registered owners of previous Mac versions of Adobe Photoshop Elements, Photoshop Album, Photoshop LE and PhotoDeluxe, who upgrade before February 28, 2005,will save US $20 instantly off the standard retail price. Visit http://store.adobe.com/store/products/master.jhtml?id=catPhotoshopElementsMacUpgrade to get all the pertinent facts.
System Requirements:
• PowerPC G3, G4 or G5 processor
• Mac OS X 10.2.8 or 10.3
• 256 MB of RAM
• 200 MB of available hard disk space
• Color monitor with video card capable of thousands of colors
• 1024×768 or greater monitor resolution
• CD-ROM drive