Shoulder Case Pro 17" by Brenthaven
By Owen Rubin
Shoulder Case Professional 17"
Company: Brenthaven
Price: $149.00 (17" and 15"), $139.00 (12") from Apple Store
http://www.brenthaven.com

My search for the perfect case for my new 17" PowerBook continues (please see my comments from the MacWorld Expo and my review of another bag on this site.) As I reported in the past, I am the proud owner of a new 17" PowerBook. That is the good news. The bad news is that it is so big, actually finding a comfortable, well made, useful case to carry it around has been an on-going challenge. As I have said in the past, there is no perfect bag, but I plan to keep looking until I get close.
So, for my next look, I tired the Brenthaven Professional 17" Shoulder Bag. Many have told me that this is the bag of choice for PowerBook users, so I had to try one myself. Obviously Apple feels the same way it seems. The Professional series comes in sizes specifically designed for each of the 12", 15" and 17" PowerBooks, and is ONLY available from Apple, Apple stores, on-line at Apple's web site, and Apple's authorized resellers. Each bag is designed specifically to hold a specific size PowerBook, as well as a good deal of additional "stuff" it seems, so this looked like a great candidate for the perfect bag.
This is a classic, black, over-the-shoulder "briefcase" style bag, typical in overall style to many of the other computer-carrying bags I have owned in the past. The bag is constructed of military grade ballistic nylon throughout, and feels amazingly well designed. I exclaimed once before, "Damn, this is one big case!" and that same exclamation applies here as well. The extra size of the 17" PowerBook obviously demands a larger bag, and this baby comes in at 17 3/8" W x 13 1/2" H x 7" D, slightly larger than my last trial.
The Good: Like almost all bags from Brenthaven, this bag comes in strong, lightweight black ballistic nylon, and feels strong and sturdy. It is textured on the outside and smooth on the inside, but lacks any soft padding seen on some other bags. This bag weighs in at over 4 lbs, a bit heavier than other bags in its class, but there is more to this design that adds to its empty weight that makes it worthwhile. The bottom of the bag is well padded to offer extra protection for the PowerBook when this bag is set down. The large, flat bottom stands well, even when full, something I welcome greatly, as I set down this bag often.
The bag has a basic two-compartment design. One compartment holds the computer, its hardware and accessories, and also has an accordion file section for basically flat items, while the other compartment has a number of organizer pockets. Access to the computer compartment is via a wide, double zipper that runs across the top of the bag and half-way down each side, allowing it to open wide for very easy access.
Inside the computer compartment sits a removable PowerBook protection sleeve specifically designed for the size PowerBook you choose. This sleeve is held securely in the bag by a long strip of Velcro right across the top and allows the laptop, and also has a flap that closes over the front of the sleeve. The design allows the PowerBook to be inserted and removed fairly easily when the bag is set down, but is a bit more of a problem when carrying the bag. However, to my delight, this sleeve is easily removable for those times when you wish to leave the main bag behind and carry just the PowerBook itself yet still keep it well protected. Made of smooth, black nylon inside and out, this section is made with a rigid, corrugated polyethylene shell and reinforced on all sides with a high-density foam designed to not only help it hold its shape, which makes inserting and removing the PowerBook just that much easier, but offers amazingly good protection for the PowerBook inside. The sleeve has a small carrying handle as well, but I did not feel secure carrying this sleeve by the handle with the PowerBook inside for fear it might tear off. That said, this sleeve offers an amazing amount of additional protection, and Brenthaven's web site shows dropping the bag (assuming the sleeve is enclosed) from over 15 inches without damage to the PowerBook inside. Sounds good to me, but I think I will take their word on this rather than test the theory myself with my new PowerBook. "Hello Apple, well, you see, I was testing Brenthaven's bag by dropping it from 15"" Suffice it to say that under normal use, your PowerBook should be quite safe tucked inside.
Also inside the computer compartment are 7 open-top pockets specifically sized for holding the PowerBook AC adapter, cables, and a spare battery. These pockets are also perfect for holding your eyeglasses case, a Palm, cards, or cell phone. There is also a 3 section accordion file, with plenty of room to hold books, letters, files and other tall, fairly flat items. I also found there to be room at the bottom of this section to hold larger items, including a SMALL bottle of water, but only if the accordion section is not too full.
The front "rectangular" compartment also has a double zipper that opens up on three of its four sides allowing it to also open quite wide for easy access to its vast array of pockets. Along the front flap are three deep, webbed, open topped pockets that again hold mainly flat items, and here I stored a good deal of DVDs and CDs out of their jewel cases. Opposite this flap along the front of the bag, on another divider are 2 additional deep, open top pockets, places for 3 pens, business cards, a small zipper pocket which holds credit card sized items, and a clear plastic pocket for a business card to display your personal information. Just behind this divider is another flat, full width pocket for more flat items and files. Lastly, a small key lanyard sits in this pocket as well.
But that is not the only place to put things inn this bag. There is a small zippered outside pocket along the front of the case behind the "middle" section of the bag (see the picture to make more sense of this.) Additionally, along the back of the case is an open top large pocket that can easily hold more flat papers or small book, bills, or other papers. It closes with a Velcro strip so things seem to stay put in here quiet well, even with the bag laying on its back.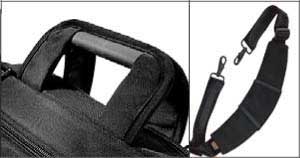 This bag appears very well made with strong stitching, reinforced corner padding, and extra large, well-padded non-slip handles that are quite comfortable. The shoulder strap is also amazingly comfortable with a wide, fully padded, non-slip contoured strap that makes carrying this bag very comfortable, reducing neck and shoulder strain by balancing the weight across the entire area. Speaking of balance, to help keep this bag balanced on your shoulder and against your body, the strap attaches to the bag via metal D-rings and quick release metal clips that attach to opposite, diagonal sides at the top of the bag. This design works very well, as the full bag seems much more stable at my side as I carry it. All the hardware including the zippers are made of black anodized metal which blends well and disappears into the black nylon, giving this bag a very clean look overall.
As a last note here, it was raining cats and dogs today, and I had the chance to carry this bag in the rain as well, once again without an umbrella. Typical of nylon of this type, the bag seemed to shed away the water just fine, as did the zipper closed compartments, and everything inside was nice and dry. And even if water had seeped into the main computer section (had I left a zipper open), the computer, snug and protected in the sleeve would have remained very dry in any case, as this also offered additional protection from the elements.
The Bad: The reality of my no bag is perfect statement continues to hold true even here. While I find this bag extremely easy to carry, it has some annoying design problems as well. While I love the removable pocket, if the center compartment is full of other stuff, it is quite difficult to put the pocket back into the bag. This is partly due to the design of the center, and a separate divider that isolates this space might have been an improvement to keep other "stuff" from falling into the pocket space. That said, using this bag without the PowerBook pocket does give plenty of additional room, so this is a reasonable trade off in the end. However, the usability of the space in the computer sections is still rather limited if you wish to have easy access to the sleeve.
I am also not happy with the one and ONLY outside zipper pocket on this bag. In previous bags I have owned, I love the front horizontal zipper that allowed a place to quickly store and access items without opening the main part of the bag. I want a place for my cell phone, keys, glasses, wallet, change, and Palm Pilot that I can quickly access while carrying the bag, and that means NOT in one of the two main sections. Unfortunately, this pocket is not it. While they did add a front pocket to this bag, a step in the right direction, they decided to make the zipper run horizontally up the middle of the bag, hidden under a small flap. I was told at MacWorld that this was done to hide this pocket as a security device. Since smaller items will fall to the bottom of this vertical pocket, you will have to open the zipper fully to get to them, rendering this pocket fairly useless, as anything larger will (and did) simply fall right out when open. Secondly, all you will want to put in here is small items as anything thicker than a cassette tape protrudes and bulges significantly out the front, again making the pocket useless, and rendering "the secret" not much of one. My wallet, while not very thick, did not fit well in this pocket, and fell out twice while trying to get to my keys.
There are also no pockets on the outside small edges where one could put a water bottle or umbrella for quick access, and they are badly needed. Given the internal design of this bag, putting a regular water bottle inside was almost impossible. I opted for a very small bottle at the bottom of the accordion section. But as soon as I started to put some DVDs, papers, a notebook, plus a few small other things inside, getting at the water bottle was almost impossible, and the bag began to bulge again.
This bag also lacks sufficient inside zipper pockets as well. In fact, it lacks them all together! All but one of the inside pockets in this bag are open top, and the one zipper pocket is so small it is useless for anything but a few credit cards or business cards. If you need a place to store small items, say watch batteries, or digital camera accessories, coins, or anything else that would easily fall out of an open top pocket when you lay the bag down, you are out of luck. The few small items I do carry and ALL my change are now at the bottom of the accordion section, which means they are probably lost there for a long time.
I also found that items do not sit well inside the front section of this bag, and its design makes the bag bulge outward if you put anything on the large side in these pockets. Large, in this case, means things like my eyeglass carrier, which is a hard glasses case only 2 inches thick, or more than about 10 CDs (out of their jewel cases). I had to "steal" one of the inside PowerBook accessory pockets in the computer section to hold them in a place that did not bulge the case. Unfortunately, access to them is not difficult when carrying the case.
Lastly, this bag is even heavier than the last one I tried, meaning that I am carrying around well over 17 pounds of stuff when I carry it loaded. Lucky for me, this bag has a great carrying handle and shoulder strap, and stands up well when I set it down, because at this weight, I set it down often.
The not so ugly: Again, I really like the looks of this bag too, even though it is a much different style from the messenger bag I tried earlier. And notwithstanding the pocket issues, the good features of this bag outweigh any of its negatives, all of which have work-around solutions in any case. For me, it means carrying a little less "stuff" with me, which is OK as it makes the bag lighter. And I KNOW my PowerBook is going to be safe in my travels. So while my search for a perfect bag continues (I am open to suggestions if you want to post them below), I now have two perfectly good solutions to tide mo over in the mean time.
You can read more about this bag on Brenthaven's website at http://www.brenthaven.com.