Altec Lansing 2100
Company: Altec Lansing
Price: $99.95 US
http://www.altecmm.com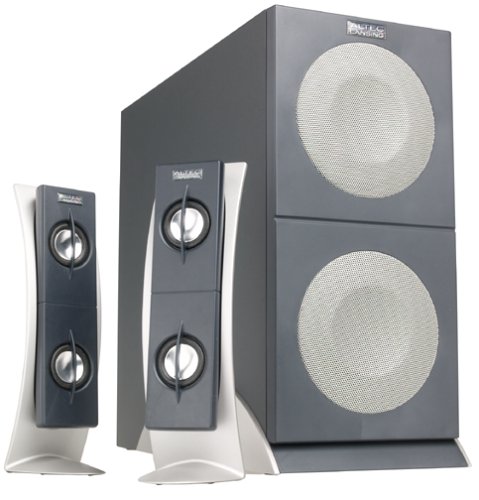 My first impression upon seeing the 2100 series speaker from Altec Lansing was "sweet!" Yes, I like the look of these speakers, but looks are but one of the many important factors into making your decision on what speakers to buy.
Sounds quality, I hope, is the number one factor. In that regard, the 2100's sound great. While not as loud as the just-reviewed Monsoon PlanarMedia 9 speakers, they do have about the same clarity of sound. That is to say, very good in both audio reproduction and imaging.
The 2100 series are a three-piece speaker system, consisting of two satellite speakers, and one powered sub-woofer. Like most other computer speaker systems, this one also has a remote control (wired) that has a Mute button, as well as two volume controls. Nice, but what I especially enjoyed was the metal stand the remote control rests on. This may seem a small thing, but not after you have had to deal with the remotes on most other computer speakers, which usually lay on the desk. The remote stand shows forethought on Altec Lansing's part.
The satellite speakers are very small, half the size of the Monsoon speakers reviewed a few weeks ago. If you have a cluttered desk, and a pair of large flat-panel speakers would have a hard time finding a home on your desk, take a look at these. Each speaker is set into a metal stand, making them harder to accidentally move. Even with the metal stand, the speakers are still tiny.
They say good things come in small packages. This is proven true here, as I was really impressed with the sound quality of the two desktop speakers. The sub-woofer is equally great sounding, but is anything but small.
The sub-woofer sports not one, but two 4″ speakers, which do a respectable job of reproducing low base sounds. The sub is made from sturdy, well-crafted wood. They are also ported, meaning better bass response.
Obviously, sub-$100.00 speakers are not going to rival a home entertainment system in pure volume, clarity or base, but the sound level the average computer user will listen to the 2100's at will not be disappointed.
Specs:
Power: 35W RMS Ð 50 WATTS total peek power. (Look for distortion when pushing anything close to their peek.)
Front Speakers: 5.5W/Channel at 4 ohms.
Subwoofer: 17.5W at 4 ohms.
Overall impression: I like these speakers! If I were doing a head-to-head comparison with the aforementioned Monsoon's, I would have to give the Monsoon speakers a slight edge in sound quality. In workmanship, the winner would be the Altec Lansing 2100.
A good value speaker that sounds more expensive than they are. A true audiophile will want to look elsewhere, and spend more money. For the average computer user who wants better sound than the built-in speakers on your computer, these will make you smile.
MacMice Rating: 4 out of 5
---