QuickBooks Pro 4.0
Company: Intuit
Estimated Price: $199.99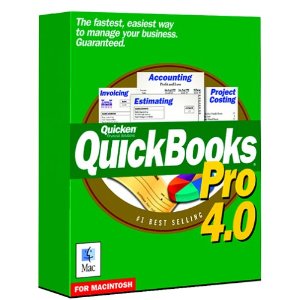 If you have needs that go beyond simple bank account records, and Quicken is not enough, then this is the program for you! Feature rich, but the ease of use makes all of them even better. Many programs that have every feature under the sun tend to be cryptic and hard to use, like they were created for the Wintel environment. As Mac users, we tend to have easier to use products, and QuickBooks Pro 4.0 is one of them. (Although it is also available to the Windows side.)
QuickBooks Pro will automatically track customer payments, create professional Invoicing in no time at all, print reports of every type, and much, MUCH more. Some other features include: Advanced project reports (Job profitability, Time reports by name, item, and activity, Job administration, and more). Balance sheet Accounts receivable. Sales reports. Payroll reports (Prepares and prints 940, 941, W-2 and W-3 forms!) Tax reports. (Prints on 1099 forms!). Inventory reports. And, yes, even more.
In fact, QuickBooks Pro has (almost) TOO many features! I myself have only needed the use of half of the power in this program. Half! But it sure is nice to have all those other features there, waiting for me to use them when I need to.
Learning to use QuickBooks Pro is a snap. The Help system is one of the best I have ever seen, rivaling (and in some respects, surpassing!) the help system found in FileMaker Pro. No small feat, that. But QuickBooks Pro's help system is intuitive, easy to use, and will point you in the right direction in a matter of seconds.
Yes, it does it all. And no, it's not hard to use. But if you are not running a small business, you really will have no need for this program. If all you are doing is keeping track of your savings/checking account, you will be better off with Quicken. But, if you are doing more than that, and have a need for a more feature rich program, you cannot go wrong with QuickBooks Pro. And if you are already using Quicken, it is a simple matter to import that information into QuickBooks Pro.
Yes, the price may scare some away. But don't let the price fool you. This program is worth every penny, and then some. Intuit deserves all the praise they get for this superb program. Of course, no review would be complete without SOME criticism, so I would point out that QuickBooks Pro does not support online banking. This will soon become a standard feature most large banks will offer, and Intuit missed the boat by not supporting it. (Quicken, of course, has that feature) QuickBooks Pro also wants 5 MB for RAM, and a full install will gobble over 14 MB of hard disk space.
If you have the needs of a small company, QuickBooks Pro 4.0 is worthy of your consideration. It is simply a great program.