Apple Color StyleWriter 1500
Estimated price: $299
Company: Apple Computer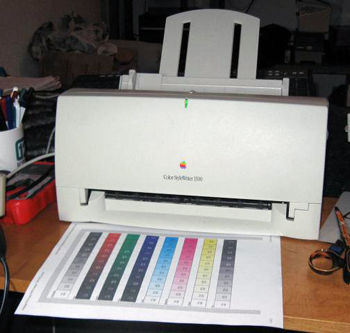 If you have ever gone shopping for printers, you know how many options are out there. Printers range anywhere from $7000 to $150. But which one is right for you? Which one has the best results, and which ones actually are worth the price tag. The Color StyleWriter 1500 is a welcome addition to Apple's imaging line. With excellent results for $100 dollars less than a normal color ink-jet printer, the Color StyleWriter 1500 is an excellent choice for the home or small business user.
Printing to please
The Color StyleWriter 1500 has excellent color printing capabilities. Printing black and white documents at 720 by 360 dpi, and color images at 360 by 360 dpi, the 1500 will please anybody looking for better printing results. Even though it doesn't break any speed records, the 1500 will print 3 pages per minute in black and white, or one page for every three minutes in color, which is acceptable for the price you pay. And with its ColorSync color matching capabilities, which allow you to match the colors on your screen with the exact colors that come out, the 1500 is a real bargain.
The Color StyleWriter 1500 comes with one black and white cartridge, and one color cartridge. As with all Apple ink-jet print cartridges, the ink runs out fast, and when you run out of one color, you have to replace the whole cartridge. When I was printing, I ran out of Cyan and Yellow ink, but I still had plenty of Magnenta ink left. This is a problem that has plagued all of Apple's color printers, and one that should definitely be addressed. The Color StyleWriter 1500 also comes with a PowerPC native driver and a QuickDraw GX driver. Also included with the 1500 are 64 True Type fonts, which provide a wide range of choices for text.
Options
The Color StyleWriter 1500 comes with the Apple Color Printing CD, which features 12 bitstream True Type fonts, and software that allows you to design calendars, cards, and a whole bunch of other neat stuff. The CD also includes a $99 offer for the Adobe/GDT Personal Publishing Toolkit. In addition to the GDT Post Script interpreter, the toolkit also includes clipart, Adobe's Home Publisher, Art Explorer, and WildType programs.
The Color StyleWriter 1500 can be networked through multiple Macs, but true LocalTalk is only avalible with the Color StyleWriter 2500. You can connect any stylewriter to an EtherTalk network via Apple's new $199 StyleWriter EtherTalk adapter. This is really not for the home user, but if used in an office, it is a great way to connect to your office LAN.
THE SUMMARY
The Color StyleWriter 1500 is the definite value leader. It is the only color printer for the Mac under $300. And with its stunning results, the 1500 will become the standard for low cost color printing. If you are looking for more speed, and better results, the Color StyleWriter 2500 is a great option. But if you are looking for a printer to produce sharp text and color documents, at an affordable price, the 1500 is your ideal printing solution.