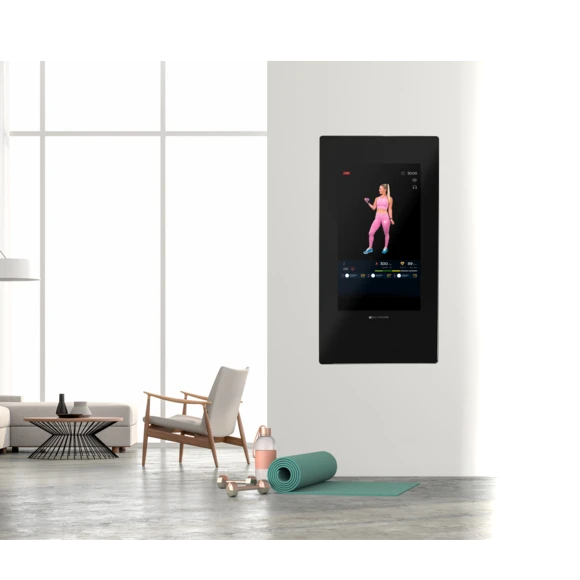 First of all, what are MIRROR and Echelon? So, these are, as the name says mirrors but, smart ones. Both these are devices for working out at home. These devices give you the comfort of being at home while working out. As not anyone can afford a whole gym at home, so these devices give you that benefit in less space and price. In this article here, you will see a comparison between Echelon Reflect and MIRROR. Let us get started, Shall we?
1) Features
Echelon Reflect offers a 50-inch touch screen display with a 90-Degree rotation. It also allows Live and On-Demand classes. All you need to do is go to the device, touch here and there a few times, and you are good to go. To know more about the features, reviews, and details of Echelon Reflect, check-out this article at DynasysTech.com. The unique feature of Echelon Reflect is its big screen that MIRROR does not offer. Another feature that separates Echelon Reflect from the MIRROR is its ability to communicate with your friends. With Echelon's Point-Based system, you can compete with your friends remotely. It is always more fun to compete with your friends, and also it motivates you to work out more often and longer. For every minute you spend working out, it records your heartbeat rate, and you get points for different levels of your heartbeat rate. In the end, the friend with more points wins.
When using Echelon for its Live and On-Demand classes or its unique Point-Based system, it is important to prioritize the security of your internet connection. One way to do this is to download and use a Virtual Private Network (VPN). A VPN encrypts your internet connection, making it almost impossible for anyone to intercept or track your online activity, ensuring that your personal information remains secure.
On the other hand, MIRROR offers Smart-Phone integration. Not everyone likes to go to the device to change something and then come back and continue working out. Moreover, you can access multiple exercises after syncing your Smart-Phone with the device. MIRROR offers a 40-inch display. The unique feature that Mirror offers is custom exercises. Now, what does that mean? It means that the device asks you a few questions, and you answer them, and it recommends the daily dozen that will help you achieve your goals.
2) Pricing
Echelon Reflect offers two different sizes. The 40-inch model stands around $950-1050 depending on where you live, and the 50-inch model stands at a whopping $1640 because it offers a touchscreen that a smaller size model does not have.
MIRROR, on the other hand, offers only one model, which stands at $1450. It is cheaper than the bigger size model of Echelon Reflect.
Other than their price, both Echelon Reflect and MIRROR offer a monthly subscription of $39 for fitness classes. Echelon Reflect also provides an option of using a fitness pass system on your television for an additional $99.
3) Workouts Offered
MIRROR offers almost all kinds of workouts except for partner workouts and Zumba. The workout list it offers contains arms, abs, boxing, cardio, dance, family workouts, meditation, stretching, yoga, strength, Pilates, kettlebell, and almost everything you can imagine.
On the other hand, Echelon Reflect also offers many workout options but not all you can imagine. Its list includes barre, boxing, cardio, meditation, Pilates, strength, Zumba, yoga, stretching, and many more. However, it does not contain Pre and Post Natal, partner workouts, kickboxing, kettlebell, family workouts, dance, and a few more. Overall, MIRROR provides many more workout options as compared to Echelon Reflect, but there are, of course, some that Echelon Reflect provides, but MIRROR does not.
4) Space Requirements
You can mount your mirror on the wall so it can almost fit anywhere from your bedroom to your garage. You only need a 40-inch free space on a straight wall, and you are good to go.
You can also mount your Echelon Reflect on the wall, but you will need a little extra space for bigger size Echelon Reflect. The difference between the two is height and width. Mirror has a height of 52-inch with a 22-inch width. Echelon reflect, on the other hand, has an altitude of 39-40-inch, 47-50-inch with a width of 20-40-inch, 24-50-inch for smaller and larger models, respectively.
5) Decision/Recommendation
In the end, no one wins. Both have their perks and downsides. Echelon Reflect is good as it offers two different sized and priced devices, so you have an option to choose between the two. With a big screen, it is more fun to work out. Mirror is upstanding because it provides more kinds of workouts, and especially that unique custom workout option is useful. It is now your preference which one you will choose and want to use. Nonetheless, make a point of conducting quick research. This will help greatly.