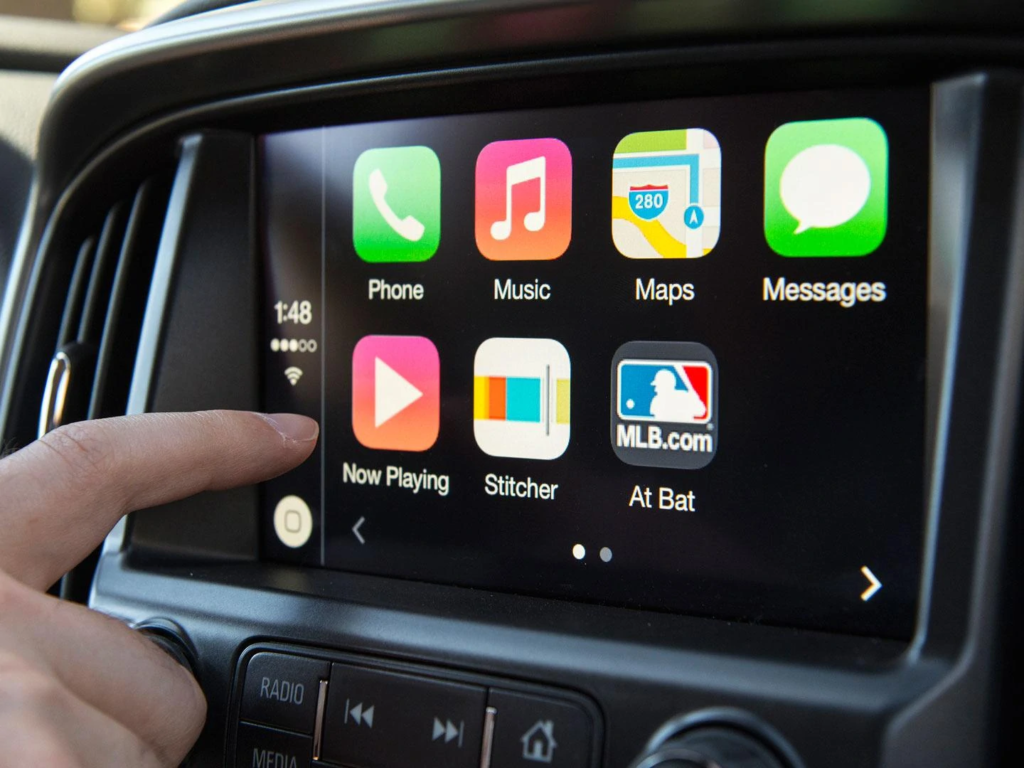 Modern cars aren't just vehicles. They're real computers on wheels. So it's no surprise that leading software developers are reaching out to car companies to bring their original solutions on board. What is Apple CarPlay?
Apple CarPlay – the basics
Apple CarPlay is a mobile application developed by Cupertino for drivers. It allows the integration of the iPhone with the multimedia system installed in modern cars. This gives you access to a virtual assistant Siri, the function of making phone calls, sending and receiving messages, getting navigation instructions and your favorite apps while you're driving. The most important applications include Apple Music, Apple Maps, Podcasts and Audiobooks, Audible, Google Maps, YouTube Music, NPR One, WhatsApp, ChargePoint, PlugShare, as well as Waze or Spotify.
Using Apple CarPlay is child's play. This practical solution can be operated either via the car's control system (a touch screen on the console or a joystick located between the seats) or by voice – via Apple's virtual assistant Siri. Just say "Hey, Siri" or press the voice control button on the steering wheel to activate the voice assistant on your smartphone. It's worth noting that you don't need to use the latest iPhone to enjoy the benefits of Apple CarPlay – you just have to own an iPhone 5 or newer.
What if your car doesn't support Apple CarPlay?
Older cars (even a few years old ones) may not support Apple CarPlay. If you own an Audi car, you can use dedicated Apple CarPlay modules that will make it possible for your Audi to use the system. For example: https://carsie.net/product-category/audi-apple-carplay/.
How to set up Apple CarPlay?
Start the car, then make sure your smartphone's Siri voice assistant is enabled.
Pair your iPhone with the car:
If your car supports CarPlay via USB cable, connect your iPhone to the USB port in your car. The USB port on your car's console should be marked with a CarPlay icon or a smartphone icon. To quickly connect to Apple CarPlay this way, it's a good idea to get an extra Apple cable with a Lightning to USB connector.
If you don't know if your car supports Apple CarPlay wirelessly (or if the feature is supported both wired and wirelessly), then you can also connect your iPhone via a USB – Lightning cable. You'll then see a message letting you know that you can connect your device to your car without having to use an impractical cable.
If your car supports wireless CarPlay, press and hold the voice command button on the steering wheel. At this point, your car will enter mobile device pairing mode. Next, you'll need to select the appropriate voice command on your iPhone to connect to your car. For this, you will have to use the following path in the settings: Settings > General > CarPlay. Your car should appear in the last menu. By selecting it you will initiate the pairing and after a while you will have access to the wireless CarPlay.