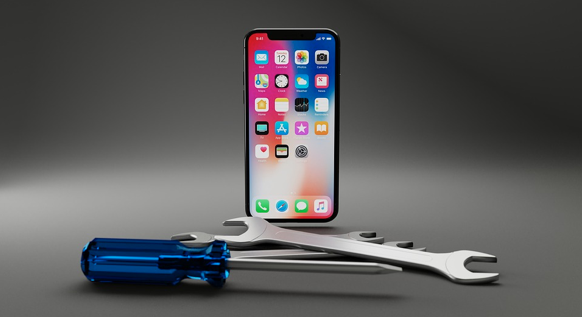 Gaming on your phone takes a lot out of the device. Unless you have a phone that's built to withstand the stress of gaming, all those Google Play Store downloads will be your downfall. You need beautiful screen displays, amazing graphics, and most importantly: a processor that can handle it all. Phones have come very far in the past 10 years, but only certain models are able to handle the modern standard of gaming on your phone. That being said, here are the best gaming mobiles for anyone looking to use their phone as a console.
1.The iPhone XS and XS Max
Unlike its predecessors, the new iPhone is ready to play. Not only does it have the best chipset for gaming, but it's also connected to one of the best gaming networks out there. Though it's a bit more expensive than a lot of phones on the market currently, the powerful chipset in the XS and XS Max will allow you to play games on your phone for years to come. If you're serious about gaming on your smartphone, this is the best option for you.
2.The Samsung Galaxy S9 Note
A lot of people haven't given Samsung's Galaxy S9 Note the credit it deserves. Though the smartphone's design isn't too different from the last model, the chipset is much more impressive. In fact, we'd even say this is the best Android gaming phone on the market. This phone has one of the best displays on the market and can boast processing Fortnite better than most PCs. Better yet, it has the same kind of smooth design that you comes with iPhone at a better price.
3.The iPhone 8 Plus
Can't quite stomach the price of the iPhone XS or XS Max? The iPhone 8 still has plenty to brag about. With much of the same chipset and a slightly different display, this phone is still a monster at gameplay. The only downside users are reporting is that the size of this iPhone makes it awkward to play on at times. If your thumbs can adjust, this phone is a great way to get the power of Apple's more impressive phones without needing to digest a steep price. Chances are you won't miss all of the new features on the iPhone XS and XS Max- largely because you're more concerned about gaming than how many people you can fit in a Facetime chat.
4.The Samsung Galaxy S9 and S9 Plus
With only a slight difference in screen size, these two phones also make our list of best gaming mobiles. The chipset may not be the best on the market, but it's certainly competitive. Additionally, this phone has the Game Tools from Samsung. This feature makes recording during gameplay and screenshots easy, as well as protects the gamer from pesky notifications when launched. With a quick download of the Twitch app, you can streamline your whole channel through your phone. For many gamers, that's a 'SOLD' tag appearing.
5.The Sony Xperia XZ2
Looking for something outside of the Samsung VS Apple argument? The Sony Xperia XZ2 is your phone. With an amazing sound system that features 2 speakers, this feature to the Sony phone really elevates the gaming experience. Much like a lot of the Samsungs, the Snapdragon chipset is what pushes this phone to the 'best gaming mobiles' list. Plus, who doesn't want the makers of PlayStation to make their gaming phone?
Conclusion
Buying a phone for gaming is a lot different than buying a phone for day-to-day use. Gamers take their phones to the limit and they need their mobile device to be able to handle running games. When it comes to gaming ecosystems, that's a matter of preference. The best gaming mobiles all have a few things in common:
A gorgeous display

A powerful chipset

A great gaming system

Enough RAM to handle the games
If you're considering buying a smartphone for gaming, make sure that whatever you choose checks all of the boxes on the list. After all, you want something that will last you a few years- not just something that works until you've burnt it out. If you still need more guidance or are ready to make your decision, talk to suppliers like Fonehouse to get a little more guidance on what you need to have the best gaming experience on your smartphone.
Did you buy your phone for gaming? What hardware does it utilize? Share your specs and thoughts in the comments.