Cyberattacks are no longer the preserve of governments and major corporations, every business needs to be aware of its cybersecurity.
While your IT department may be hyper-aware of security, you need to filter that message down to all employees.
Hackers will target even smaller businesses, knowing you have valuable data stored on your systems. Everyone working in your organization needs to learn about cybersecurity in ways that are:
Understandable
Relatable
Accessible
Here, we'll give you our six best tips to train your workforce on cybersecurity.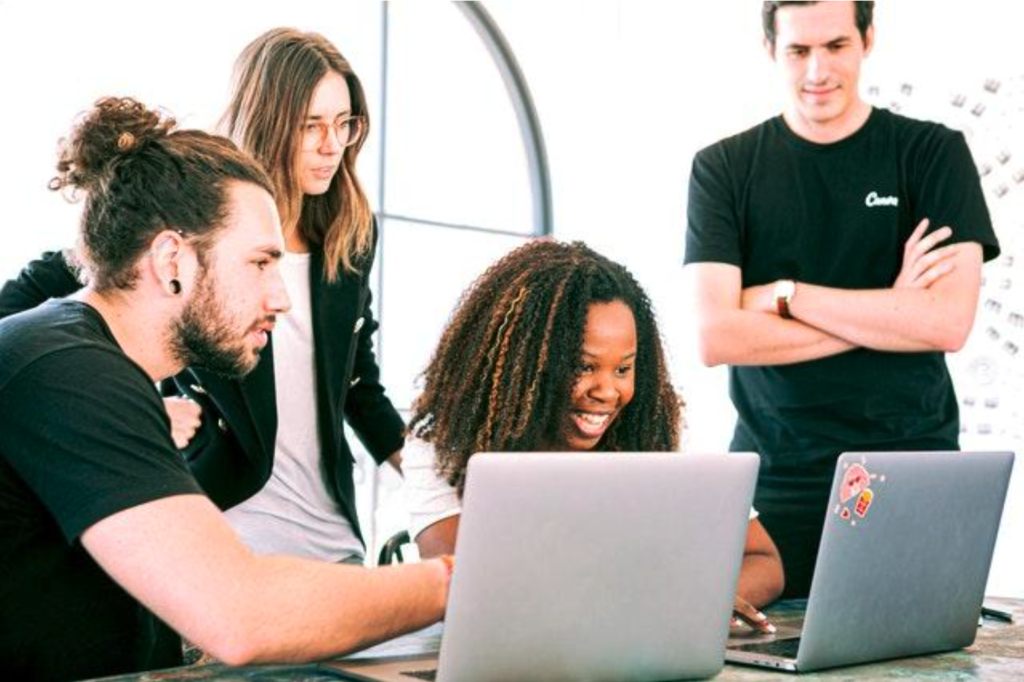 Photo by Canva Studio
Run ongoing education
Cybersecurity training needs to be more than a quarterly CBT; it needs to be an ongoing process. Online threats evolve constantly so you need to make sure that you have regular updates.
This messaging needs to be consistent, too. If you allow your cybersecurity messaging to wane, this could be a sign to your team that it's no longer a priority.
The more tech-literate your workforce is in general, the better equipped they will be to spot a cyberattack.
Use hands-on training
It's important that everyone in the business fully understands what a cyberattack looks like. Describing an attack in a simple email or blog post does little to educate people so you need to demonstrate how cybersecurity works.
For example, you can run role-plays during team meetings to bring to life a new breach and you can create an offline environment that can demonstrate how malware and viruses can affect a computer.
The warning signs that something isn't quite right – a laggy window or a dead mouse, for example – will be more memorable than a quick warning or read through if people have seen what it means in real life.
Target your training
The way you talk about cybersecurity needs to match the people you're talking to. How you discuss the issue with your IT team compared to your customer service team, for example, can make all the difference.
Your training needs to be relevant to the job role and to the potential attacks they could face. There's no point talking to the sales rep about a DDoS attack and bring-your-own-device principles probably won't be relevant to your in-house tech team using desktops.
Encourage device care
According to Forrester, two-thirds of workers use at least two devices at work. That's a lot of potential attack points that you need to be aware of and manage.
When your team knows the basics of device care, like keeping the OS up to date, you can be more certain they will spot an issue. It's also important to have them use VPNs to keep their work browning safe. You can learn more about how a VPN can secure your business, too.
Make cybersecurity cultural
Keeping the business and your customers safe should be your number one priority. That's why embedding cybersecurity deep into your company culture is vital.
You need to instill the importance of online vigilance from the C-suite down. It needs to be a part of your company values: from how you chat internally to how you process customer payments.
Give real-time feedback
If your company falls victim to a cyberattack, your tech team will analyze and understand what happened. That information then needs to reach every corner of your business, fast.
Showing your team exactly how security breaches can occur will better prepare them for future attacks. It will also bring it home to everyone that cyberattacks are real and that your business can, unfortunately, be seen as a target.
Cybersecurity training and education
The cost of a breach in your online security could be catastrophic to your business. You could lose:
Customer information
Financial data
Trade secrets
All of which could come at a huge reputational cost.
You can prevent much of this with strong cybersecurity training that's embedded across the business and gets into your core values.
Offering a mix of training, roleplays, real-world feedback, and targeted information, you can be confident your team is fully aware of the threats from cyberattacks and how they can play their part in preventing them.