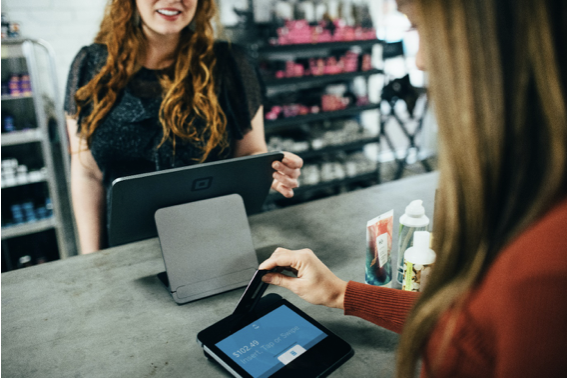 Credit: Blake Wisz – Unsplash
The last few years have changed the consumption landscape for good. From the democratization of social shopping platforms to the unstoppable rise of e-commerce giants, digital experiences are now an integral part of the way customers approach shops and marketplaces.
And as prospective customers gradually turned away from brick-and-mortar stores to take to their online counterparts, their needs and expectations shifted, prompting organizations and retailers to rethink their attitude toward new technologies.
Meanwhile, statistics show that a majority of buyers are willing to pay extra for a great customer experience. A positive experience with a brand might even go a longer way than big-budget advertising. So, can digital transformation pave the way for next-level customer-centric experiences? Let's take a look at some practical applications of new technologies that may help increase customer satisfaction.
Chatbots
Chatbots have been around for years, but the rise of Open AI's ChatGPT arguably ushered in a new era for AI-powered service tools. Garnering over a billion page visits in less than six months, what started as a simple conversational tool is now a go-to resource for IT professionals and casual net surfers alike. From writing code to suggesting easy dinner recipes, ChatGPT is essentially an all-knowing personal assistant. And its mainstream adoption and widespread media coverage might have convinced some reluctant users to open up to this new technology.
While chatbots still lack a human touch, generative AI has evidently taken robotic interactions to the next level. Computerized chatbots are now able to provide comprehensive responses to even complex queries. For customers, this means a quick and seamless resolution to their problems. Better yet, they no longer need to waste time waiting in line or listening to cringe-inducing hold music before a customer service employee eventually picks up the phone, as chatbots offer 24/7 customer support.
But chatbots can do more than handle complaints and tackle generic requests. Paving the way for ever more detailed and responsive interactive agents, retailers like Aerie and H&M have developed chatbots that offer product suggestions to clients based on their fashion preferences and shopping profile.
AR and VR shopping
Are augmented reality and virtual reality the future of customer engagement? High-profile brands like Adidas and Ikea seem on board with the idea. Both European retail giants have long jumped on the AR bandwagon to let their customers fiddle with 3D visual representations of their products. The Swedish furniture company leveraged AR technology for customers to envision where their next couch may fit inside their living room without ever leaving the comfort of their homes.
Other brands are betting on the metaverse to spice up their virtual customer experience. Testing the ground for fresh and innovative ways to reach shoppers, Walmart forayed into the virtual world on the gaming platform Roblox. The American retail corporation launched metaverse-exclusive merchandise, games, and events.
But from apps unlocking rich video content to VR stations allowing clients to explore virtual environments, these state-of-the-art technologies can also enhance in-store experiences. Customers visiting Nike stores can now scan items and enter a VR world letting them in on the intricacies of the sports goods giant's supply chain. German car manufacturer BMW also experimented with virtual reality, offering shoppers to sport VR goggles and feel the heat of driving the car of their liking.
Tech features that reward customer loyalty
A study conducted by Adobe in 2022 on e-commerce businesses showed that 40% of all revenue came from a mere 8% of a company or brand's most loyal customers. Digital transformation can therefore help businesses cater to the needs of repeat shoppers and retain them in the long term. For one, machine programming and deep learning may be implemented to better predict customer behavior and offer personalized incentives.
Many companies have also chosen to roll out loyalty apps, such as Starbucks Rewards. Accessible on any given smartphone, the program allows users to upload gift cards or money, which they can use at the register or for mobile ordering. Each purchase earns them points. First-time users can even grab a free drink upon downloading the app.
Loyalty programs work similarly in the gaming sphere. Several iGaming websites reward them with VIP bonuses to keep their regular players invested. Juicy promotions and welcome packages also await newcomers, giving online casinos an edge over land-based venues. To filter through the countless options around, thus, platforms like CasinoReviews.com help players pick the most profitable casino. Comprehensive guides also lay out the different types of bonuses players might claim. No deposit offers and cashback bonuses are ideal to alleviate the risk of counting too many losses, while reload bonuses help making more value for every buck put into an account.
Technological innovations are steadily going mainstream, from super-powerful AI chatbots to immersive virtual reality devices. Consumer adoption of cutting-edge emerging technologies is booming, driven by a deepened understanding of the benefits of digitalized experiences. If used right, therefore, such technologies can give the upper hand to the most forward-thinking businesses out there amid raging competition.