Macs often get a bad rap from the PC gaming community, but things aren't as bad as they used to be – in fact, things have improved considerably over the years for Mac gaming.

As most gamers know, some of the most important hardware components for intensive 3D gaming are RAM, CPU, GPU, and an SSD. And in most Macs, only one out of three of those things can be physically upgraded (the RAM), though some Mac models allow you to upgrade the SSD as well.

This is the core reason why PC gamers generally 'hate' Macs, because they typically cannot be upgraded with the latest gaming hardware. Or as you'll see in the rest of our article, investing in a eGPU is ludicrously expensive compared to buying a GPU for PC. But you already own a Mac, so money is probably no concern to you, right?
Your Mac may already have powerful hardware
Despite their overall inability to be upgraded, high-end Macs do come with powerful hardware already. Some of the best Macs available on the market, and the hardware they use:

MacBook Pro 15in: Radeon Pro 555X with 4GB (2.6GHz, 6-core), Radeon Pro 560X with 4GB memory (2.3GHz, 8-core)
iMac 21.5in: Radeon Pro 555X with 2GB (3.6GHz, quad-core), Radeon Pro 560X with 4GB (3.0GHz, 6-core)
iMac 27in: Radeon Pro 570X with 4GB (3.0GHz, 6-core), Radeon Pro 575X with 4GB (3.1GHz, 6-core), Radeon Pro 580X with 8GB (3.7GHz, 6-core)
iMac Pro: Radeon Pro Vega 56 with 8GB (standard), Radeon Pro Vega 64 with 16GB (build to order), Radeon Pro Vega 64X with 16GB (built to order)
Mac Pro: Dual AMD FirePro D500 with 3GB each (6-core), Dual AMD FirePro D700 with 6GB each (8-core)
All of those mentioned above use discrete GPUs, and while they may not be replaced, they are certainly better than the Intel integrated graphics chips found in other Mac models.

The GPU is very important for graphical tasks. Intense 3D games require strong graphic cards, and video editing also requires very powerful hardware. Even watching YouTube videos in HD resolution, especially 4K resolution, will put a strain on your GPU.

Browser gaming is generally a bit lighter on your machine, so playing the latest 3D slots on Casumo online casino will not make your Mac gasp for air the same way playing, for example, Battlefield V would.
You can purchase an eGPU for more gaming power
If your Mac has Thunderbolt 3 ports and is running macOS High Sierra 10.13.4 or later, you can also purchase an eGPU (external GPU). However, you simply can't purchase just any external GPU, such as those available from Nvidia. This is because Apple and Nvidia don't really get along lately, and Nvidia support was dropped in macOS Mojave.

Thus, the current Mac-compatible eGPU choices you currently have from AMD are:
AMD Radeon RX 470 and RX 570
AMD Radeon RX 480 and RX580
AMD Radeon Pro WX 7100
AMD Radeon RX Vega 56
AMD Radeon RX Vega 64
AMD Vega Frontier Edition Air
AMD Radeon Pro WX 9100
Another problem here though is that you cannot simply buy an eGPU and connect it to your Mac, you will also need an eGPU enclosure. These are often sold as empty boxes, though a few come with eGPUs already inside them, but the point is, you have to budget money just for the eGPU enclosure as well as buying an actual eGPU itself.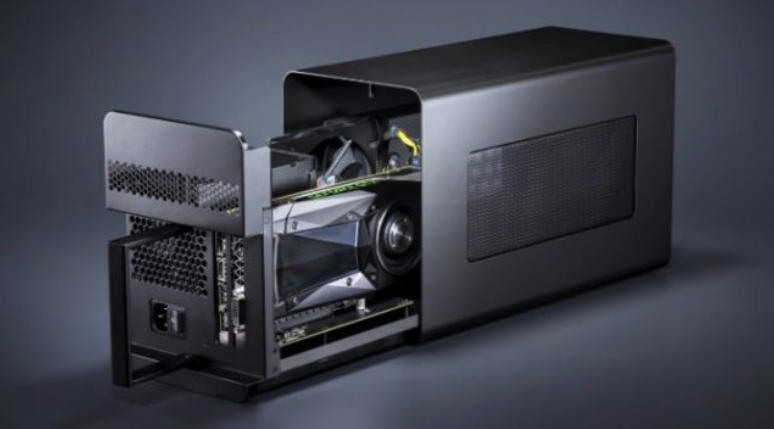 Also, eGPU enclosures are often designed to support only specific eGPU models. Some popular eGPU choices include:

Razer X Core: Supports any AMD/Nvidia eGPU, requiring up to 500w power supply.
BlackMagic eGPU Pro: Supports the Radeon Pro 580 or RX Vega 56
Sonnet eGFX Breakaway Puck: Comes preinstalled with an AMD Radeon RX 570
Akitio Node: Supports most graphics cards that utilize a PCIe (16x) slot, including double-width cards.
This is by no means an extensive list, and there is honestly too much to explain about eGPU enclosures and compatibility in this article, so you might check out a more comprehensive guide to eGPU enclosures for Mac.
Final tips for Mac gaming
For trying to play the latest 3D games on Mac, there isn't much you can do except invest into an eGPU, but there are other things you can do to optimize your Mac gaming experience overall.

This includes running cleaning and maintenance tools, like CleanMyMac X or CCLeaner, to free up system resources and delete unnecessary trash files on your Mac.
Here is a handy step-by-step guide for optimizing your Mac for gaming