Bitcoin casinos are the latest innovation in the online gambling industry. Depending on their licensing and setup, they can offer players anonymity and a way of subverting oppressive anti-gambling legislation in certain legal jurisdictions, or simply offer an alternative deposit option that some players might find preferable for whatever reason.
Bitcoin, for those unaware, is a peer-to-peer, decentralised currency that exists on the internet. It's been nicknamed digital gold by many, thanks to the process of "mining" that takes place on the network, as well as its finite supply. There are no physical Bitcoins, and each is nothing more than data stored digitally. Using Bitcoin, people can transfer value across the globe in seconds cheaply and with no need to request permission from any centralised authority to do so.
Not all online companies currently accept Bitcoin for payments. However, new ones appear daily. For casino operators, Bitcoin represents a way to save money on credit and debit card transactions. In additional, it represents a way to appeal to a growing community of Bitcoin users. Thanks to the volatility of the price of Bitcoin, just holding Bitcoin is a gamble in the eyes of many. It's understandable therefore, that casino operators would want to target a market that is by virtue of its very existence, risk-seeking.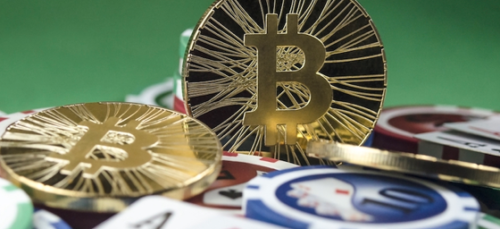 Types of Bitcoin Casinos
There are two types of Bitcoin casinos. The main difference between them is that some exclusively accept Bitcoin, whilst others will take a range of currencies including traditional ones. The Bitcoin-only casinos are largely unregulated and whilst they do represent some dangers to players, they are useful to those with no other access to gamble online. The main concern over these smaller, unheard of casinos is that they'll just disappear without a trace. However, thanks to the nuances of using Bitcoin as a payment method (discussed later), users needn't store large bankrolls with Bitcoin casino like they might do at their fully-licensed counterparts.
The second type of Bitcoin casino is one which accepts traditional currencies too. Some of the advantages of strictly Bitcoin casinos will have been forfeited to accept deposits using a wide range of different methods. These will often include Visa credit or debit cards, and eWallet services as well as Bitcoin.
Whichever type of Bitcoin casino is favoured by the player, most can be trialled entirely for free. That means users can load up games from the provider's catalogue and sample them without needing to deposit any Bitcoin.
Why Use Bitcoin at a Casino on a Mac?
Bitcoin offers several advantages for casino users over more typical national currencies like dollars, sterling, or yuan. Besides the fact that if you'd have dropped any jackpots back in January of 2017, your winnings would be around 6.5x more valuable today, Bitcoin offers users greater anonymity both from the casinos themselves and from banks or governments. There are some precautions that must be taken to ensure the maximum level of anonymity possible. We've detailed how to buy Bitcoin privately below. In addition, players can access Bitcoin casinos from behind VPNs or using TOR browsers. Both are available to Mac users.
In addition, users don't require a bank account to use Bitcoin casinos on a Mac or otherwise. This dramatically increases the potential customer base of casinos and means the casino can offer their services to an entirely new group of potential customers in the third world. This is especially beneficial to poker players using Bitcoin-only poker software. This niche group will be able to play from any country and against players residing in any legal jurisdiction. It also means the casinos themselves can take a truly global approach to their marketing.
Finally, because Bitcoin fees are the responsibility of the sender (subtracted from the total transaction), the casino requires fewer overheads to run their service. Traditional online casinos have the burden of bank handling fees to contend with. Their Bitcoin-only counterparts do not. The saving made should, theoretically at least, be passed on to the customer by way of increased return-to-player rates and juicier bonuses.
The Downside?
There are a couple of drawbacks to using Bitcoin at an online casino. Since they're so easy to set up and such a new phenomenon, few of those trading have been licensed as extensively as the high-street names associated with online casino gambling have been. This invites the possibility that your chosen casino could just vanish overnight. Whilst this would be a concern on more traditional online casino services, the nature of withdrawals from Bitcoin casinos somewhat negates this flaw. Transactions don't usually need to be processed at Bitcoin casinos meaning you can move funds in and out of them quickly and frequently. Whilst there are network fees required to make transactions back to your chosen storage method, they are usually trivial and likely to reduce even further as further scaling takes place on the network.
Another flaw with using Bitcoin at an online casino is price volatility. Being a new, growing currency/asset, the Bitcoin price can swing erratically. Good or bad news can seriously affect the value of your holdings on a day to day basis. Of course, it's brilliant if the price has gone up 20% meaning your winnings just multiplied – not so much when the opposite occurs.
Finally, unlike credit or debit card deposits, Bitcoin transactions are not instant. They usually go through within around 30 minutes but can take much longer. However, current development is underway to improve this situation which will also reduce the necessary fees on the network. Whilst 30 minutes to a few hours is frustrating for those used to Visa or eWallet deposits, they're a marked improvement on the international bank transfer system that some are forced to use in places where online gambling is illegal, and credit and debit card deposits are prohibited.
How to Use Bitcoin on an Online Casino for Your Mac
Storing
It's important to think about how you're going to store your Bitcoin before you buy them. There are various types of storage and each offers a different level of security and operates in a slightly different way.
On an exchange
If you bought your Bitcoin on an exchange, you might be tempted to just leave it there. An exchange wallet offers similar user-facing functionality to the more secure desktop, paper, or hardware wallets. However, the major caveat is their security.
Exchanges represent a large target for hackers. By their very nature, they're huge vaults of value. It's much more efficient to spend time breaching security at one central point than it is to go and target individual wallet addresses. As convenient in the short term as it might seem to use an exchange to store your Bitcoin, it cannot be stressed how foolish it is. Exchanges do get hacked, just like in February of 2014 when the planet's largest exchange at the time declared bankruptcy following a breach of their security. Users of Bitcoin were burned during the Mt. Gox incident and it's only a matter of time before exchanges are hacked again. 
Desktop wallet
A better, although not perfect, way to store Bitcoin is by using a desktop wallet. Whilst your computer is still vulnerable to compromise through ransomware attacks and such, they do satisfy the most important criteria of a secure Bitcoin wallet – that the user holds their own private keys. These private keys are necessary to send money from the wallet. It's vitally important that only those with authority to send funds from a wallet have access to them.
There are many different desktop wallets that have been created for Mac. The most important feature that a desktop wallet must have to ensure peace of mind is that they're completely open-source. Programs that publish their code for peer review or are developed by a disparate community are favoured because flaws in the code or malicious programming is detected and removed quickly.
Electrum and Exodus desktop wallets work great for Mac operating systems. They offer a great user-friendly experience and are simple in their design. They're ideal for those sending payment to and from a Bitcoin casino. Most of their coding is open-source meaning that a process of peer review ensures a secure user experience.
Hardware wallet
An additional step to secure cryptocurrencies is to remove the wallet itself from a computer that could become compromised. For this, various companies have created hardware wallets on which private keys are stored. These include Ledger and Trezor. Funds can be sent and received using a standalone device. Whilst a computer is necessary to transfer Bitcoin and other cryptos to other addresses, the final authorisation needs both a user defined pin number, and access to the hardware wallet device itself. This eliminates the risk of hackers using keyloggers and similar spyware to obtain private keys.
Whilst Ledger and Trezor products offer users far greater security than either exchange or desktop wallets, they are not entirely free from flaws. The primary one is having to trust a third party with anything at all. Sure, Ledger and Nano do provide open-source code for their products which allows the community to review their software for bugs and malicious programming. However, hardware wallets make a strong target for hackers. If they managed to get some security corrupting code onto devices, it renders the wallet entirely useless. There's also the problem of fake units containing malicious coding. Not everyone is adept at analysing programming themselves and even if Ledger and Trezor remain secure, the value in successfully counterfeiting devices is enormous. Users wishing to enjoy the convenience of a hardware wallet and are prepared to take the minimal security risks they pose are recommended to only buy from the manufacturer themselves, even if this means waiting for a while.
Paper Wallets
Finally, arguably the most secure solution for Bitcoin storage is the paper wallet. It might not be as idiot-proof as a hardware wallet, but it removes the risk of counterfeiting and malicious code corrupting devices. Paper wallets are setup by the user themselves. The process doesn't require much expertise, but the multiple steps make it less convenient than just buying a hardware wallet. Users must first completely restore a computer system to its factory settings. Then they must generator a keypair using the computer. It's important that this machine has never been connected to the internet. A full step by step full step by step guide on setting up a paper wallet can be found here.
Once set up, it's vitally important that no one else see the paper wallet. It's a good idea to make multiple copies of it and laminate them against water damage and put each copy in a different fire-retardant safe deposit box. These can then be stored at various locations preferably in different counties or states. This should protect against robbery, fire, water damage, and natural disasters hitting your home.
Paper wallets are fantastic for those who want to store Bitcoin was a long time (over a year). However, each time funds are sent from the wallet, they are generally considered compromised and another must be set up entirely from scratch. This makes them ill-suited for the kind of day-to-day use that casino users will require. For them, any large, long-term investments in Bitcoin are best left on paper wallets and a desktop or hardware wallet would be ideal for balances requiring regular movement. You can always send any jackpot wins over to your paper wallet without comprising it in any way.
Buying
Buying Bitcoin is simpler than many presume. Websites like Coinbase or CEX.io offer a user-friendly way to get some Bitcoin. However, if anonymity is of utmost importance (as it will be for those wishing to use a Bitcoin casino to get around gambling legislation), a peer-to-peer platform is recommended.
A site like LocalBitcoins offers such a private, peer-to-peer service. Users can trade with zero anonymity when using their current accounts and local currency. Alternatively, they can trade with complete anonymity when opting for local cash exchanges. When doing the latter, a TOR browser, VPN, completely anonymous email address, and a selective filling out of registration information are all required. It's then up to individual traders whether they wish to trade with such a secretive person. Many will require a verified account to protect themselves, but some will happily meet up and send Bitcoin directly in exchange for local currency. There may be an additional premium to be paid. The seller sets their own terms.
As with any meeting with unknown people online, care must be taken. Cases where people have agreed to sell Bitcoin for cash have resulted in either party being held up. It's always best to meet in a public place where members of the public can respond in the event of an emergency.
Casinos that Accept Bitcoin Using a Mac
Bitstarz
Bitstarz accepts deposits in both Bitcoin, as well as other currencies. It's a well-stocked online casino that features many popular casino classics: Baccarat, multi-hand Blackjack, Caribbean Poker, Trey Poker, Roulettte, and others. It also features a great live casino package where players have a slightly limited but still extensive selection. The live games have been provided by three huge names in the casino industry Evolution, NetEnt, and Ezugi.
Bitstarz's website and games have been optimised to work well on a variety of devices. These include computers, smartphones, and tablets. Being as the entire experience is based in-browser, they will all perform seamlessly on any Apple operating system too.
The one major drawback about Bitstarz is that they are quite restrictive over where they accept players from. They hold a license with Curacao eGaming and therefore must limit their access to certain jurisdictions. There are a couple of countries that can't use Bitstarz at all – the USA and UK. There's also an extensive list of countries which the company cannot offer their bonuses to.
Joe Fortune
Joe Fortune is based in Australia. Like Bitstarz, they accept both Bitcoin deposits as well fiat currency ones. They offer a huge "triple your first deposit" bonus up to $1,000. This is backed up by a potential further $4,000 in freebies. They also provide all the usual casino games you'd expect to see, and their speciality is their collection of over 400 slots.
Joe Fortune also offer loads of sexed-up titles like "A Night with Cleo" (with noted "mature content") and "Fast & Sexy" (featuring four ladies dressed to make your Grandpa blush on the cover). They also claim to be "Australia's best mobile-friendly casino".
Like Bitstarz, Joe Fortune is licensed by Curacao eGaming. This unfortunately means that similar exclusions apply.
Casino Luck
Casino Luck is the only casino on our list that accepts players from the UK. For these, they offer a slightly different package consisting of games operated by AG Communications Limited. They've been licensed by the Malta Gaming Authority – one of the most trusted bodies in eGaming. They offer just about every deposit option possible too.
UK players and international players are both offered a different generous welcome bonus at Casino Luck. They can use it on table games, live casino games, and of course, slot machines. Both versions of the software have an extensive catalogue of games and whether seasoned grinder, or casual reel-spinner, players have plenty of cutting edge options to select from.