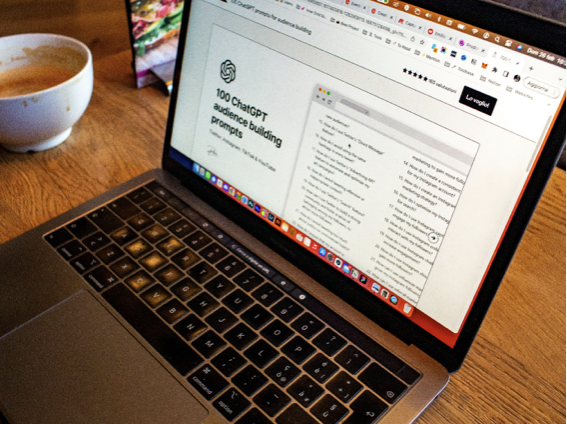 Credit: Emiliano Vittoriosi – Unsplash
Artificial intelligence is the talk of the town. While a bunch of heavily-advertised new technologies, like the metaverse have failed to take off and enter the mainstream yet, AI is already a game-changer. From all-knowing chatbots to computer-generated viral songs, there's no escaping the AI frenzy online. And this burgeoning technology has the potential to transform our lives even further. So, how will artificial intelligence develop? Let's take a look at some AI trends that may be on everyone's lips in the coming months.
Generative AI revolutionizing the creative space
Not a day goes by lately without ChatGPT making headlines. Rolled out last November, OpenAI's massive chatbot put generative AI on the map. And it quickly drew the attention of tech-savvy web users and casual net surfers alike.
According to the news agency Reuters, the conversational tool set the record for the fastest-growing consumer application of all time. Yet, while users started with simple questions to answer and math problems to solve, they quickly found ways for ChatGPT to get more creative.
AI programs can now write as many comprehensive movie scripts as full-on school essays and even generate artworks capable of snatching prizes at art competitions. High-profile artists in the music sphere, such as French heavyweight DJ David Guetta, experimented with creating AI songs from scratch.
And the latest anthem to take YouTube and TikTok by storm, an AI-generated featuring between Canadian superstars Drake and The Weeknd, demonstrated that advanced machine learning was more than able to replicate the voice of world-class singers and put together a catchy track. But with increasing sophistication comes unease within several industries.
Ethical and practical dilemmas arising
Artificial intelligence may well be the way of the future. However, prominent voices are ringing the alarm on the potential risks that the overly accelerated implementation of AI-powered services could pose.
Earlier this year, Elon Musk and other tech juggernauts signed an open letter urging AI developers and labs to pump the brakes on what they call an "out-of-control race." As reported by TIME magazine, these big names fear that advanced AI will be insufficiently planned for and managed, pushing creators to market super-powerful digital minds without understanding the full scope of their capabilities.
Since then, many business leaders and companies have stepped in to press for more AI regulation. A trailblazer in the music industry, Universal Music Group recently demanded that streaming platforms block computer-generated songs, calling for a crackdown on fake tracks infringing on artists' intellectual property.
The U.S. Chamber of Commerce also strayed from its standard anti-regulatory stance last month to advocate for a "risk-based regulatory framework" ensuring the responsible deployment of AI services. This year shall therefore see lawmakers forced to tackle this growing issue.
Artificial intelligence leading to next-level customer experience
Controversies about artificial intelligence and its possible dangers are rife. Yet its proponents argue that this nascent technology is more of a force for good than a threat. In fact, AI-powered services could lead the way to a brighter future for consumers.
The World Economic Forum explored in a lengthy article how AI could benefit the retail sector by optimizing supply chains, bringing down costs, and ultimately increasing customer satisfaction. Meanwhile, tech giants like Apple are reportedly working on ways to power up their health settings through machine learning. Reports indicate that the company may be rolling out an AI-powered coaching service and mood tracker next year, despite no official announcement confirming these rumors.
Other industries have also tapped into the enormous potential of artificial intelligence. Generative AI is steadily making its way into video games, allowing developers to tell a more cohesive story by enhancing intelligence and individuality in non-playable characters. A report by American game development platform Inworld showed an overwhelming consensus among gamers on the AI's ability to herald a new era of immersion. Likewise, generative AI can ease the development of procedural content. Games such as No Man's Sky have already put the technology to good use to offer players trillions of unique planets to explore in its virtual galaxy.
Online platforms are also relying on artificial intelligence for cybersecurity and fraud detection. And gamers can visit casino experts like Vegas Slots Online to quickly filter through the safest casinos around. Recommending trustworthy platforms only, reviewers help newcomers pick the best casino to suit their needs. From secure payment methods to reliable customer support, reviews take many criteria into account. For users unwilling to commit any money, the best reviewing platforms also boast free tabletop games and machine slots to try.
There's no getting around the fact that artificial intelligence is here to stay. Countless users already send prompts to ChatGPT on the daily, from journalists looking for headlines to community managers eager to find a good hook and IT employees speeding up their code-writing process. The democratization of artificial intelligence is hitting creative fields as well, redefining art, music, and even cinema in no time. So, which AI trends will be the hottest topic of discussion in 2023? Time will tell soon enough.