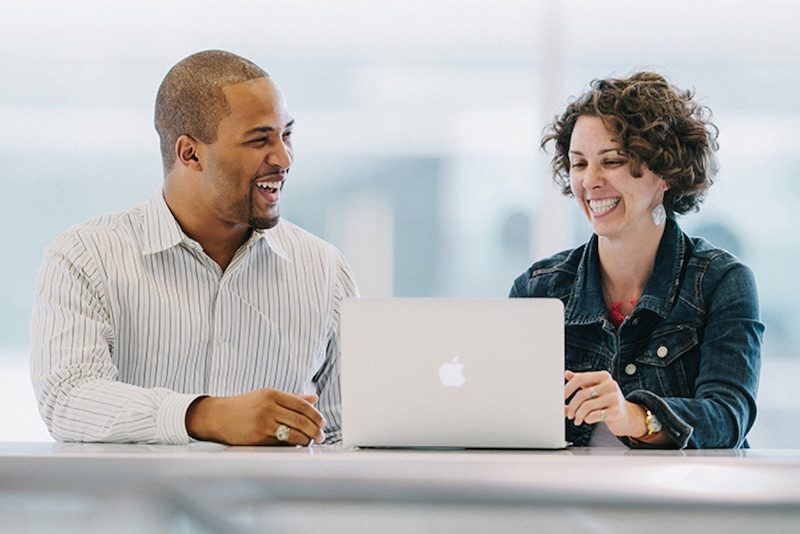 Apple is building a solid campaign to be known as a trustworthy work device manufacturer – not just a producer of playthings. Of course, many educational institutions and businesses have already incorporated Apple into their working lives; however, the persistent perception that Apple is "only for smart playing" seems to be shifting towards implementing Apple productivity solutions within businesses across the globe.
Apple sites are singing the tune of incorporating their devices into working lives precisely because so many people know and love them. The pitch is: not only does incorporating such familiar and loved devices into the workspace make for more productive employees, but Apple is providing purpose-built tech at workplaces – not as a relaxation into leisure time devices, but rather as an improvement for workplace productivity.
"Apple products [today] help employees work more simply and productively, solve problems creatively and collaborate with a shared purpose," the Apple-for-business site maintains. "And they're all designed to work together beautifully. When people have access to iPhone, iPad and Mac, they can do their best work and reimagine the future of their business."
A clear trade on Steve Job's ingenuity notwithstanding, the company does have a point. Indeed, a tidal wave of reimagining business is set to emerge this century. Creativity has never been at such a premium. Perhaps core uniformity with high intelligence is the IT model that will best deliver it.
Putting Apple to work
A prime concern encountered particularly among SMEs is whether Apple devices are "safe" in an IT sense. While many business owners understand the Windows world, Apple often presents as a relative unknown. While employees might be enthusiastic, owners often need a steep learning curve to think of Apple devices as work tech. The logical answer? Hire a proficient IT security company. With support services in play, creating an Apple office can be fun.
Apple maintains its products "are built to be the best for business." Looking through the list of given attributes, Apple gets a tick on "Apple software is powerful and intuitive." For the nervous business owner, the further labeling of their tech as "secure [and] reliable" gets a tick, too. As the pace of life ever quickens, perhaps their statement of "… everything we make works together seamlessly, giving you a mobile experience that delivers the information you need when you need it most," is more than just a blurb, too.
What we know of the immediate future is little, with so many former pillars of commercial life having shifted or fallen away. The rules have changed. IT devices that are best able to adapt and keep running are likely the future leaders. On that point, Apple makes special mention of the fact that "… each iPhone, iPad, and Mac comes with powerful assistive features for vision, hearing, and motor skills, so they're accessible to everyone." Assist the employees to assist the business, while everyone feels smart and has fun, too? It might be a rainbow pitch, but it's ringing bells for many, including working adults.
Apple gear
Apple has always been a closed circle. The company's software runs on the company's devices, a different model to the one that made Bill a wealthy man. Current Apple users are familiar with the "intuitive, personalized experience that no other platform can match." It's very likely that the UX of Apple devices will drift into the business arena, both as an employee consideration and as an improvement of work and comms. Apple's "location and proximity" sensors provide users with an experience they don't want to turn off during working hours.
It would also be fair to say that, as a broad summary, Apple-designed devices are right on the edge of technologies like machine learning and augmented reality. While that might sound like a reversion to Apple as a plaything, it's nothing of the sort. Those terms might seem distant although interesting to business, but they're likely to be as regular as the office photocopier in a very short period of time.
The UNIX foundation anchoring macOS and iOS provides stability, something alternative tech has struggled with for decades. Apple devices crash too, of course, but as Apple enters the workplace increasingly more, it's going to be interesting to review comparative downtime stats.
The biggest challenge facing Apple – hungry for workspace dominion – is the simple human trait of procrastination. For management, switching platforms is intimidating and easy to delay for a thousand compelling reasons. Many businesses don't realise that macOS and iOS will support the "common productivity and collaboration systems in enterprise today," and that includes Microsoft Office and Google's G Suite.
The formerly sharply divided IT world has developed its collaborative abilities quite remarkably over the last few years. Users can switch to Apple products and expect a seamless, in-built migration intelligence, allowing for Windows or Android data to populate their new devices.
Consumers can slap themselves on the back for that much. IT businesses have followed consumer desires in order to stay on top, and it has indeed turned out that we're less hostile and more collaborative than before. At least when it comes to ease of use of our tech! Consumers don't want to be forced to choose a camp, and tech makers have obliged. Today, switching between platforms isn't the nightmare exercise it used to be at the turn of the century.