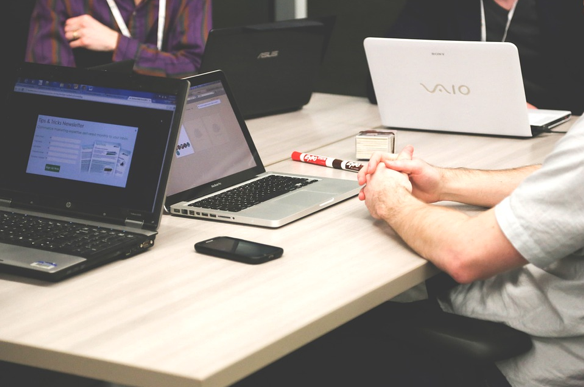 There's no doubt that the dynamics of running a business have significantly changed; spreadsheets and emails are no longer efficient enough for managing all the projects and jobs that a manager needs to supervise. Whether you're managing a small startup, leading a developing company, or running a well-established enterprise, employing a job management software can have tremendous effects on your business.
So how do you know which is the right one for your business? This article will guide you through everything you need to know and will help you make the choice that is right for your business.


1- Resource Management


Resources are items like money, equipment, manpower, and time, among others. How you employ and manage them is key to your productivity. Having an efficient resource management feature is crucial, especially when you have teammates working in different locations or time zones.

Having a good job management software allows you to factor in an employee's availability, working days, and holidays. It enables you to create a feasible schedule, assign realistic tasks, monitor your overall resource utilization, prioritize your projects, and ensure a smooth workflow. It will definitely make your life easier.


2- Workload Distribution


It's crucial to find a management software that allows you to easily compare your employees' availability in relation to the tasks they're working and permits you to flexibly reassign work from one person to another amid your project as needed.

The software should also have a scheduling feature that enables you to set reminders and schedule sign-ins for each team member. This will allow you to spot the source of any problem and ensure that your project is running smoothly. Additionally, you'll want to receive automatic notifications when tasks are completed and be able to add milestones throughout the project.


3- Creating Projects


To balance between thorough planning and speedy execution, it's important to choose a software that supports organized project creation using forms and templates. Project templates allow you to efficiently create new task templates from scratch or modify pre-existing ones. Creating new projects from a baseline reduces the amount of time required and improves your planning.

Choose software that includes customizable requests or work intake forms; this will ensure your team has all the important information without having to waste time asking unnecessary questions.


4- Easy Access to Documents and Files


How many times have you seen someone tear their hair out wondering where they had saved a document or heard someone ask their colleague to send them that file one more time? Everyone's Downloads folder is a graveyard of discarded unorganized documents, and no one would want to go hunting for important documents there when they're short on time.

When investing, look for software that allows you to upload and store files, and sync them across all your devices so that they're easily accessible by anyone who may require them.

The best software allows you to keep all the files and feedback together in one place, tying documents to their associated projects so that everyone knows where to find them.


5- Efficient Collaboration


Efficient communication and collaboration are crucial for the successful completion of any job or task. Hopping back and forth between different communication platforms can slow things down and confuse your employees.

One of the most important features you need to be looking for is the ability to collaborate freely across multiple jobs and tasks from a single unified platform. Whether it's sharing a file, asking a question, or offering feedback, the software needs to provide space for collaboration to everyone involved.

Another important feature that ensures a smooth workflow is real-time alerts. Project managers and collaborators should be able to receive real-time notifications whenever there is a new comment or mention, streamlining communication and guaranteeing effective collaboration.


6- Accurate Documentation


Gathering feedback, processing approvals, and tracking changes are crucial for accurate project monitoring. Keeping a track record of all decisions and changes made provides a reliable reference that can come in handy and save you a lot of time and effort during employee appraisal and payment processing.

Automating the process of data storage and documentation increases the overall productivity and eliminates the risk of human errors. Project or task status updates are key features for tracking and documenting the progression of your job and enable you to keep a close eye on your business and know if there are adjustments that need to be made.


7- Budget and Invoice Control


Implementing an online quoting system in your software offers a smooth transition from the setting of the budget to the completion of the job. When your invoicing is integrated within your system, your invoices will include all jobs' charges and ensure that no items are left out.

Some platforms allow you to create invoices, carry out service checks, and obtain important signatures from your clients. This means that you'll keep track of any incomplete or missing invoices and consequently help you realize your business goals and objectives.


8- Workflow Visualization


If you've tried to schedule projects on Excel, then you know just how complicated and time-consuming spreadsheets can be. Luckily, various job management platforms offer online interactive charts as a more advanced way for you to allocate and track your employees' activity and open tasks as they progress along.

Most job management apps include Gantt charts that feature a drag-and-drop functionality, allowing you to easily update your schedule, create project baselines, add milestones, and more. Overall this provides better visual representation than a typical spreadsheet would allow you. It can be the backbone for scheduling and managing a project.

Any manager or business owner feels the pressure of having to keep up with the ever-changing competitive marketplace and the strain to continually find more efficient tools. While having a management software might be the obvious solution, it's important to keep in mind that there are many choices out there and not all of them are created equal. The key is to identify your needs and accordingly choose a tool that suits the requirements of your business and industry. Keep the above points in mind, and you're sure to come out on top!