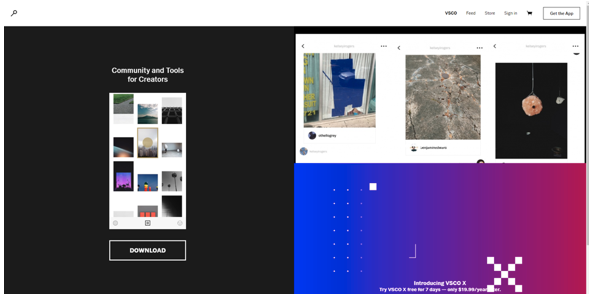 1. I downloaded this app after reading a review and I have to admit that the first time I opened it I was completely lost, and to be honest with you I still kind of am (not the intro you were expecting I'm sure). But before I explain why I found this app a bit confusing, I must assure you that I am not wasting your time with something that it isn't worthwhile. The app's great at what it mainly does – which is editing photos – whatever else it's meant to do or how else it's supposed to be used I'm not so sure, but as far as photo editing goes, this app's fantastic.
Basically, VSCO is kind of like Instagram but not at the same time. Essentially, it's a photography app where you can edit photos and add filters, but in order to use the app, you need to create an account. Moreover, after you edit photos you've uploaded or taken with the VSCO cam, you can either save them for yourself or share them with the rest of the VSCO community. You can also share them on other social media sites like Instagram and Facebook.
Now although this pretty much sounds like Instagram, it actually has very little in common with this app. There are no options to You have images and you can also have collections. You can follow people, use hashtags, save an image as a favourite, but, as of yet there isn't the option to like photos or comment on them.
However, what is also pretty awesome about this app is that every photo you take with the VSCO is stored in a personal archive – you don't need to share it or anything, it'll just automatically save itself and everytime you edit an image and save, a new image is created, which means that you never lose the original image because it's never replaced. This is fantastic considering that I'm always running out of space on my phone too, so I can still get to save my photos in the app!
Bottom line: this app is a must-have. The filters can make any photo look fresh and professional.
2.Shopping Apps
I couldn't possibly pick one shopping app; there are so many different apps to choose from, I have to mention a few.
Ok so first things first, I know I'm going to start with the usual, but considering that I've been using this app for years now, I do consider it to be "an oldie, but a goldie". That's right, you guessed it: it's eBay. eBay is just perfect, and I've never once had any issues with the app itself. I've had it on both iPhone and Android, and I've always found it handy. You can find almost anything you can think of on this app, and from the searching to the purchasing, the process is as smooth as butter. If I don't receive my items within the designated days, I just contact the seller to get a refund or for them to send it to me again. In the rare occasion that I've had a complaint, eBay has always responded within days or even hours. They're also very strict, which I appreciate a lot.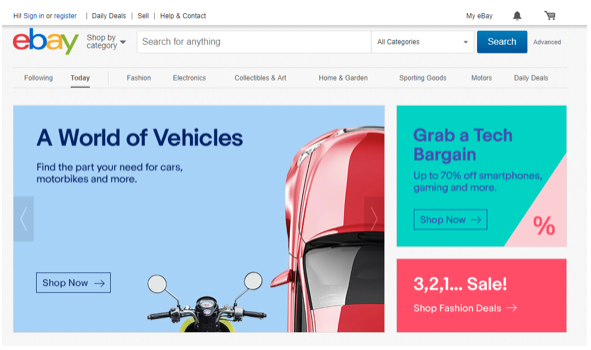 2. Our second candidate is Etsy. Etsy has become pretty popular and it's no wonder why. It opens the door to a world of beautiful, unique and creative hand-crafted goods and vintage pieces. The first time I explored this app, I was in heaven. I kept browsing through the endless selection of gorgeous items and didn't even know where to start. The site (and app) itself is visually appealing. Even the pictures seem like they've been out of a magazine everything, so much so you'll feel like you want to buy everything you come across.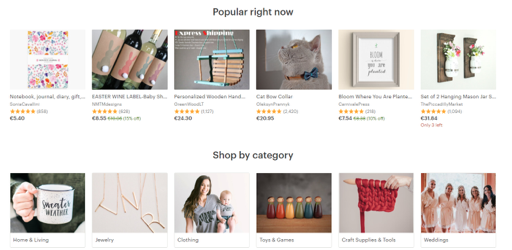 Our third and final candidate is… Rakuten. This app is as cool as its name. Rakuten is a site where you'll find everything you need; home and outdoor, gadgets and electronics, sports and fitness, beauty and fashion etc. It's fairly easy to use and has a lot of great daily deals you can look out for and benefit from. There are also a lot of filters available for you to help you narrow down your options – there's even a filter for "free shipping". This app speaks for itself!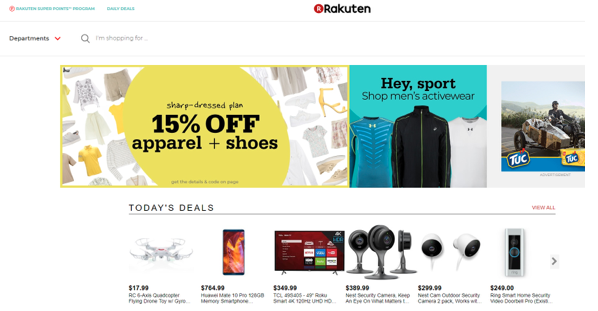 3.Casino Apps
Between working and texting and chatting on social media, I sometimes enjoy playing a quick game on my phone. I enjoy playing all sorts of games like The Sims or Guns of Glory, but I sometimes like to have a go at one or two slot games and if I'm lucky I might get some money to reward myself on one of the above shopping apps (#jackpot).
Again I can't really pick one Casino app, particularly because there are so many games to choose from and it all boils down to preference. Most of the time you'll be able to find popular slots individually on Google Play or Apple Store, but sometimes you might need to download an app that contains a selection of casino games. Whatever works for you really; some good casino apps include JackpotCity, SpinPalace, and RubyFortune.

4. Pocket
Pocket is a very simple but handy app. It basically does what it says, it puts all your stuff in a pocket for you to access them whenever you like. We know how saving a page on Google Chrome or Safari doesn't really work out the same way on our phones – plus what if we want to save a video? This is why pocket is the answer to all our problems. Plus, the guys behind really seem to take public feedback seriously. Recently, due to popular demand, they've added a new feature that shows time estimates for saved articles or videos so you'll know how long it will take you to read an article or watch a video you've saved. So, if you don't have time to read an article or watch a video you've come across while at work, simply store it in Pocket and have a look at it later!