Have you ever wondered what Microsoft is like on an Apple Mac? In the age-old debate of PCs versus Apple Macs, there is the tendency to automatically associate Microsoft with PCs. There is some sense in this, as Apple have always engineered Mac OS X strictly to be used on Apple Mac computers. However, Microsoft products has been compatible with Mac computers since 2006, and support keeps getting better. TechQuarters are a company providing Managed IT Support services and they are also a Microsoft Gold Partner. "We provide the Managed IT Support London needs! A big part of that is provisioning businesses with software licensing" says TechQuarters. "A lot of our customers are in the creative sector and prefer using Macs. We feel that Microsoft 365 only makes the experience of using Apple Macs for business even better."
Microsoft for M1
Microsoft have recently announced that they are releasing brand new versions of the Microsoft 365 apps which run natively on the Apple M1 Chip.
Apple have been using Intel hardware in their Macs since 2006, and in 2020 they began using their new system on a chip (SoC), the Apple M1. When it came out there were some concerns that there would be issues running apps and programs that have always been built for Intel. The Rosetta 2 app was released to solve the problem. However now, in 2021, Microsoft 365 for Mac apps can run natively without the need for emulation. "Our London IT Support engineers are well versed in Microsoft 365 applications, and we have some Apple specialists in our team too" says TechQuarters. "Apple-native Microsoft apps is great for our customers as it means better IT support!"
Fluent UI
The Microsoft 365 of Mac apps also incorporate Microsoft's Fluent UI design system. The purpose is to create a user experience that feels native to macOS. For example, Outlook for Mac, has enjoyed a redesign to fit the look of Big Sur. The Office apps (Word, Excel, PowerPoint, and OneNote) offer a more immersive experience, again with a minimalist design that fits the Big Sur aesthetic.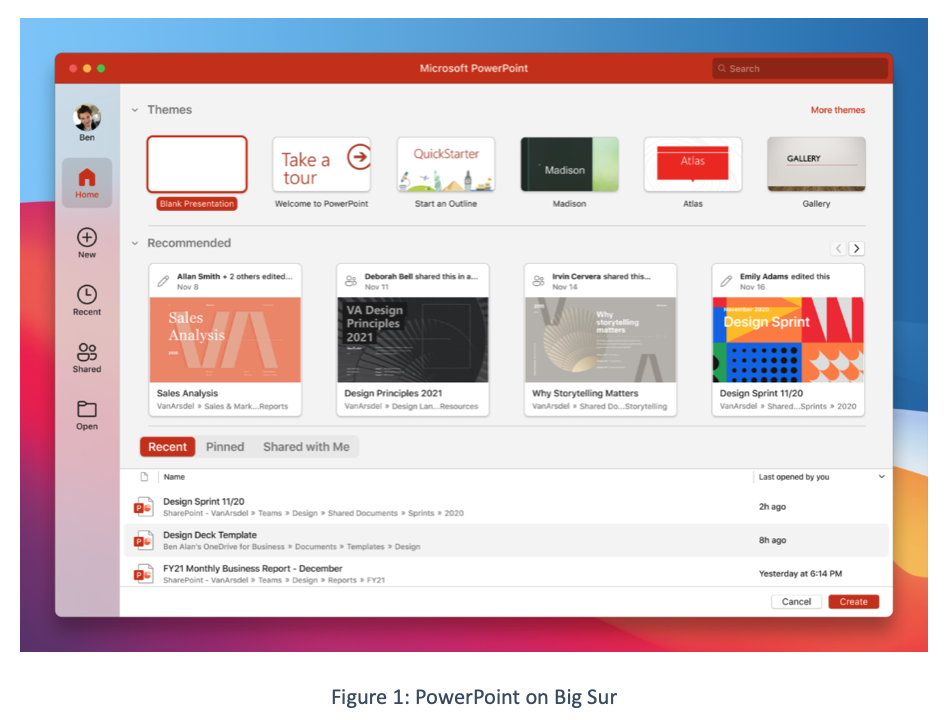 So, if you're a long time Mac user but have never thought about incorporating Microsoft 365 into your digital workspace, you will be pleased to know that it works seamlessly with macOS. "Many businesses in London are native Mac users," says TechQuarters. "Providing both IT Support in London and Microsoft licensing means we've helped a fair few Mac users with Microsoft 365, and none of them have been disappointed so far."