Movavi is widely known for its multimedia software solutions that work well with any operating system, and Mac OS is not an exception. So if you are looking for a program to produce top-notch quality video content on your Mac, then we have something special for you over here. In this article, we will look into the key features of this powerful application for creating high-quality videos of any type and complexity. Keep reading to know about all the built-in chips that Movavi Video Editor for Mac offers.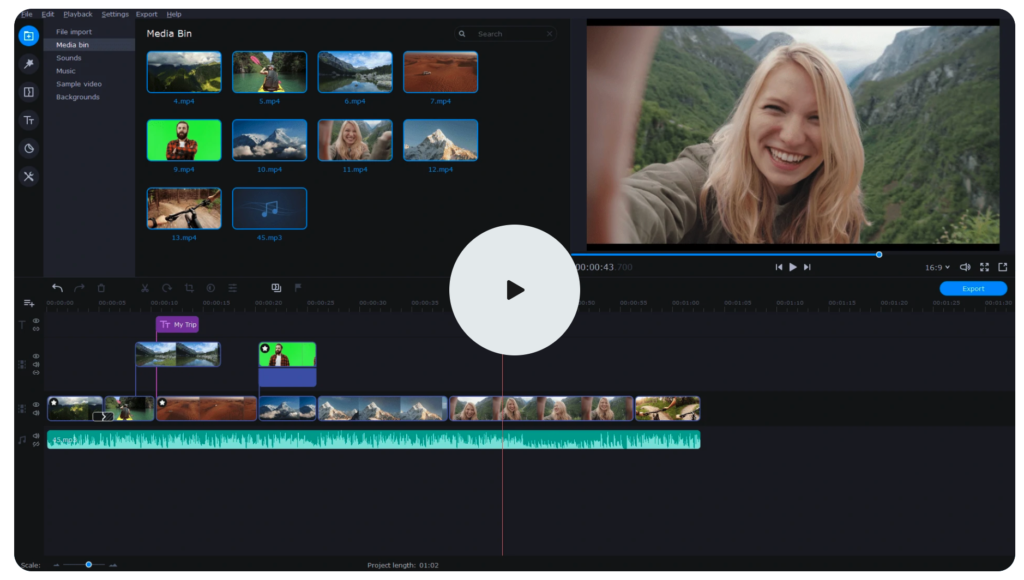 Basic Description
Movavi Video Editor is a powerful set of video editing tools for creating presentations and clips. The program boasts a clear and intuitive interface that even an inexperienced user can quickly figure out and create their first media content in a matter of hours.
The video editing program has a fairly impressive set of tools for a wide variety of purposes in its arsenal. By uploading photos to the workspace of the utility and adding an audio track to them in MP3, WMA, or other formats supported by the application, by simply dragging and dropping the audio file into the program window, you can create a slideshow of photos with music in a few minutes. To create a video using various effects, the tool already has a number of sounds, video clips, and screensavers in stock. Feel free to pick any of the well-redefined presets or download video and audio effects from the network and save them in the project.
Program Tools
Movavi Video Editor has an impressive set of filters for a wide variety of purposes. You can perform both basic video edits and more sophisticated alterations quite easily and fast. Here are some of the video editing manipulations that Movavi Video Editing software allows you to do:
Edit video;
Make color adjustments: easy (automatic filters and LUTs) and advanced (manual settings);
Rotate and crop video picture;
Apply overlays;
Pan and zoom;
Stabilize the picture of the video;
Apply animation;
Do a scene detection;
Add a logo;
Set up a slow-motion;
Add effects and music;
And many more.
Besides that, the app has a powerful tool pack for audio editing. It covers the following:
Audio synchronization (similar tracks from different devices);
Equalizer;
Noise removal;
Multiple audio effects;
Beat detection.
Transitions in Movavi Video Editor
When creating a slideshow of your favorite photos, you want them not only to replace each other with a suitable soundtrack but also to have some kind of visual accompaniment of the change – a transition. A huge number of fades are already offered in the program, but that's not all. The transitions that are not in it can be downloaded from the network. In this case, the utility's capabilities are almost limitless. Depending on the project, various shapes, arrows, frames, and much more can be added to the work file.
Flexible System Settings
When saving a project to the program, there are a large number of settings that you can configure as per your needs. From the program environment, you can upload newly recorded projects on the Internet to the YouTube channel, set up videos for saving and later viewing, or select the "For other devices" format and apply particular settings to the project. If needed, you can also record video from external devices, be it a card coder or a TV tuner.
Ease of Use
The main distinctive feature of Movavi video editing software is its simplicity, functionality, and intuitive, simple operation. Multimedia software like Movavi Video Editor for Mac makes you feel like a skilled video editor, so it will surely attract your attention. With the application, you can create colorful slideshows and videos quickly with one click of a button. You can add numerous effects, any music downloaded from the Internet or PC, titles, and much more. Forget about complicated pop-up menus; it's much simpler with Movavi.
You can download any video and photo file formats and quickly work with them. Crop video, adjust audio volume, rotate the frame, try to combine different frames with interesting animated transitions. There are more than 90 options in the program's database to choose from. In this case, be sure to adjust the quality of the video image by changing the brightness or saturation level. There is an auto-improvement function that will adjust the picture with optimal quality with one keypress.
You can diversify your videos in Movavi Video Editor for Mac with the help of a large number of effects that are in the program's database. You can apply a Chroma Key effect and layer two video streams together based on their color hues. With the help of the timeline, it is very convenient to edit audio and any creative titles, complementing them with animation. At the end of the video editing, the original result can be saved in all the most commonly used video formats, be it the popular AVI or the frequently encountered MKV. There is also MOV and good old MP4. So you will have plenty of options to choose from.
You can export all your projects to all modern mobile devices: tablets, smartphones, laptops, all-in-ones, and ordinary PCs. The operating system of a gadget doesn't matter since the app works with all of them perfectly well. Besides that, it is very convenient to immediately upload the ready-made video to your profile in social networks since Movavi can be synced with them.
Expert Verdict
Movavi Video Editor for Mac is a versatile video editing tool. This simple and functional video editor allows you to edit, improve video quality, apply special effects, add titles and music, adjust transitions between video fragments, and many more. With this multimedia software, you can create slideshows, cut and merge files, voice projects in real-time, save videos in popular formats, share them online, and much more. The program has an intuitive interface and doesn't require any tech or specialized knowledge from users.