$49.99
Microphone tested on an M1 Mac Mini with Hindenburg DAW and GarageBand.
Working from home pretty much requires some kind of microphone for those boring Zoom Calls that you struggle to stay awake through. Sure you could use the built in computer mic and headphone port, but then you just sound like everyone else. Or maybe you're a budding podcaster but don't want to invest a fortune in audio gear that you may never use again.
So where is that Fifine (see what I did there?) balance between performance and cost with audio gear? May I suggest a Fifine microphone that sounds decent and won't break the bank. They have a number of options to chose from in their catalog, but today we're going to focus on the K683A USB microphone.
First a few words and numbers:
Type: Condenser
Pattern: Cardioid
Frequency Response: 50 to17kHZ
Dynamic Range: 75DB
Bit and sample rate: 24/192kHZ

Nothing spectacular (though the Bit and Sample rates if accurate is up there), but this IS a $50 microphone. It does have some odd boosts in the low end and a severe dip at close to 4K probably to help cut down on plosives and sibilance (it's still pretty sibilant anyway). What else comes with it? Nearly everything you need…mostly. There's a trifold metal stand which I've never been too fond of that most inexpensive mics include. Budget for a better desk mount or boom arm. They're pretty cheap or go for the T683A package which not only includes a boom arm, but also a shock mount for $30 more. There's a USB cable that's USB-B on the microphone end and a y-split USB-A/USB-C on the other. It also comes with a pop filter that is quite impressive. I bought a separate one from Fifine and use it on my Rode NT-1.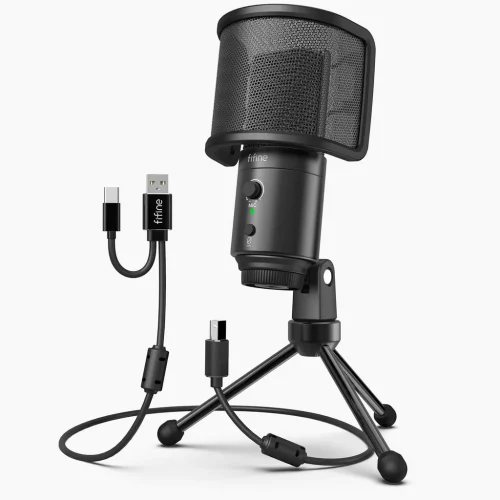 On the microphone itself, you have the USB-B output on the bottom, the small arm attached to the bottom with a 5/8's thread that will fit most desktop stands and boom arms. For those that aren't, you'll need a 5/8's to 3/8's adapter. There's a mute button on the front that is guaranteed to make a bit of noise whenever engaged or turned off so use it sparingly. There's a microphone gain knob on the front that's fairly tight. I found that having it at the 12 o'clock to 2 o'clock position worked best for me but your mileage may vary. The headphone 1/8-inch jack on the back is tight and worked well with no noticeable distortion on the three headphones I tried it with. This microphone also allows for near-zero latency monitoring and you can listen to any and all sounds from your computer through the headphone output.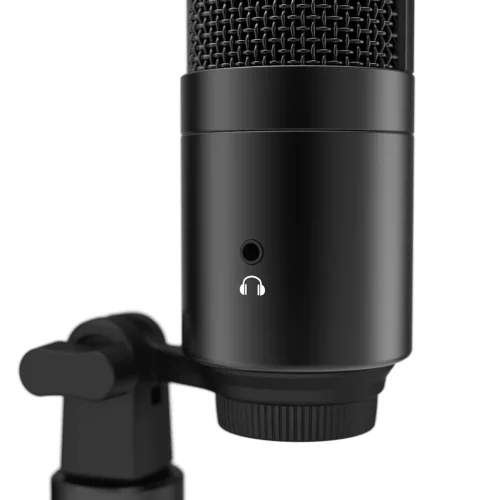 So far so good, but it's not all peaches and cream. The capsule is very sensitive which may be good for you, but I found it picked up a lot of background noise. If you're not in a quiet treated room (I'm not either), then things like hard drive fans, moving the microphone around, breathing too hard directly into the microphone, or typing on a keyboard will likely be picked up. A lot of this can be dealt with by using the Dynamic Processor including in GarageBand or assigning it to the track you're recording in with whichever DAW you prefer. If you're using it through streaming software like OBS, then you may want to put a limiter on it as well to prevent clipping. Proper mic technic will also help. Keep the front of the mic (the most sensitive part) slightly off axis and along with the excellent pop filter will get rid of nearly any plosives you might have while recording.
I'm including an audio sample with some typical experiences that you might have recording with this microphone. It's recorded directly into GarageBand with no filters or effects with the gain on the microphone set at about 12 o'clock. It's output as an MP3 file, 24-bit at a 128 kBit sample rate.
That's pretty much it. For around $50, you get a decent (not great but good) microphone, mount, USB cable, and frankly a really good pop filter. If you want to spring for a little bit more, get the T683A kit for $30 extra and get the boom arm and shock mount.
MyMac rating of 7 out of 10