Como Audio DUETTO Wireless Music System with Internet Radio and Spotify Connect, plus Wi-Fi, FM, and Bluetooth
$399 or $449 U.S. Available in four finishes — WALNUT is the best value and is very attractive
Como Audio's extraordinary Duetto is a one piece masterpiece of sound and design and versatility. It looks great, delivers exceptional audio clarity, and is built to last forever. Duetto has ports and connections for the most wireless and wired sources we have ever experienced on such a compact system. Bluetooth, Wi-Fi, optical, AUX, USB, FM, and Internet radio, plus line out, headphone out, and wireless multi-room options are all standard.

A built-in setup wizard assists first time usage, in addition to printed Quick Start and concise instruction guides and a full online PDF user manual. If you are a bit technical it will help but it's not essential. The company responds quickly to requests for assistance with this premium product. In-home setup service is also available, but savvy customers won't need it.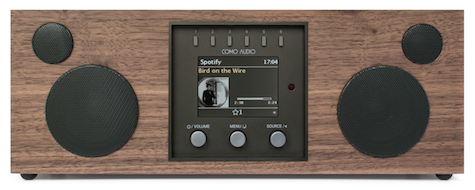 Duetto has a clock and a radio but it is much more than a clock radio. Spotify Premium subscribers and Internet radio aficionados will appreciate the natural way to hear their favorite stations and playlists. Bluetooth audio streamers will experience top tier sonic enjoyment. Plug and play legacy AUX cable equipment and FM radio all work as advertised and better than you knew was possible from such a mighty giant of sound. Televisions all will sound better when connected to Duetto's optical audio port.
The included remote handheld unit and iOS app both work great, as do the knobs on the front. An unusual multi-function low resolution display seems retro at first, and soon you're relying on it and appreciating its range of features. There are six one button presets above the display you can use for your favorite content. You can read the massive full list of Duetto's features at this link by clicking on the tab for FEATURES under the photo of the unit.
The sonic experience is crisp and accurate at all volume levels. Duetto is powerful and can play very loud, so check your volume controls before cranking up your favorite album of metal goth hiphop symphonic grunge.
On the U.S. Amazon site there are many favorable reviews for Duetto. Spend a few minutes reading them and studying other independent coverage of this remarkable speaker to help you decide if it's right for your musical life. $400 is a lot of money and Como Audio delivers much greater value than the cost, especially comparing Duetto to other speakers we have reviewed and heard in this premium price range.
We had some questions for the company about Duetto. Answers below are from Peter Skiera, the Vice President of Product Development for Como Audio.
WHY DOES YOUR MINIMALIST EQUALIZER have only treble and bass? No midrange? Why not a more robust multi-band equalizer?
We included what was available in the platform solution. For the majority of our customers these options are very acceptable. Also, our founding designer, Tom DeVesto, is of the "less is more" philosophy as practiced at his previous companies, Cambridge SoundWorks and Tivoli Audio, to name a few.
I AM NOT ABLE to get "any button" to alter the display brightness. What am I doing wrong or not doing correctly?
There are two options presented in the Backlight men — the backlight level when the unit is on (On level) and the level when the unit is in standby (Dim level). Changes to the On level occur immediately. Changing the Dim level first requires the Time out (also found in the Backlight menu) be set, such as to 10 seconds, meaning any backlight change will take effect 10 seconds after the unit is placed in standby. See the how-to video on our website.
DOES COMO INTEND Duetto to have a directional "wall of sound" presentation, versus obvious spatiality of left right stereo imaging?
With the drivers being closely spaced within the same cabinet there are understandable limitations to the stereo image and soundstage unless we were to electronically modify the signal, which we didn't want to do since many of DSP "wide" solutions are fatiguing and unrealistic sounding. If a customer desires more channel separation and a larger soundstage we recommend Solo + Ambiente (companion speaker), or two Solos with one set to Left and the other to Right (using the rear panel audio switch) for wireless stereo. Our models also support multi-room, so you can place units throughout your home.
COMPARING BLUETOOTH TO WI-FI for the exact same highest quality Spotify content if two units were side by side, which one would sound better? IOW, how much better in real life for well-tuned listeners is one versus the other?
In general, Wi-Fi usually offers better sound than Bluetooth, and without the range restriction of Bluetooth. Bluetooth also doesn't support images (like album art), whereas Wi-Fi does. That said, Bluetooth sounds quite good and ours supports the aptX codec which improves the sound even more. Most customers use Bluetooth as a back-up if Wi-Fi is not an option or if their Wi-Fi becomes unavailable for whatever reason. In the case of Spotify Connect, the service is integrated in all of our models using Wi-Fi which also results in more convenience than streaming it via Bluetooth from the Spotify app. Of course, the quality of the source material is also key. If you have a poor sounding MP3 file, it will sound poor whether it is streamed via Wi-Fi or Bluetooth.
WHY IS THE TEXT so tiny on the PDF manual? Older people need a larger serif text.
The English text size was increased as a running change and is included in more recent versions. The manuals are also available on our website under "Support" and can be enlarged on a computer display as needed.
HOW MUCH DEMAND is there for HDMI audio, in addition to optical and the other legacy ports, and how much would that add to the retail cost of Duetto?
In the 2+ years we've been shipping our products, we have had zero requests for HDMI. Adding HDMI would require both hardware and software changes on top of significant licensing fees and royalties to Dolby and DTS to down convert those audio formats to stereo. You would then also have to include an HDMI output to pass the video on to a TV when connecting a video device such as a DVD player.
HOW STRAIGHT AHEAD does your remote need to be for line of sight operation, versus at an oblique angle?
The approximate angle for the remote is about 30 degrees left and right from dead center. We also have a free Como Control app for iOS and Android which uses Wi-Fi and is therefore not limited by an IR signal.
WHAT DOES COMO THINK about the thoughtful (or cranky) criticisms on Amazon and elsewhere of Duetto, mostly by hard core gear heads?
We try to respond to any negative reviews for any of our models. You should be able to find our comments below the person's review. We also try to respond to questions in the questions section. There aren't many companies that take the time to do this, but we think it's important enough to invest the time and energy to get feedback and try to keep customers happy. Our Musica model has almost all 5 star reviews.
IS IT SAFE to play Duetto at full volume (assuming one's spouse is far away from home)?
I am unaware of any safety concerns beyond possible hearing damage. Depending on the source and volume level, the audio might get distorted.
Our MyMac rating is a strong 9 out of 10 for this excellent speaker system.