Razer Abyssus Essential mouse
Razer.com
$49.99USD from the Razer website The
Razer Abyssus Essential
mouse combines basic functions withlooks plain enough with two-button ambidextrous control (aka laterally symmetrical left and right finger pads), and a center mouse-wheel with button capability. A generous 84" (213cm) long USB Type A connection cord is attached. Razr uses the taglines '
minimalism mastered
' and '
for gamers by gamers'
on the packaging, which is a fair summation of this model's target audience and capabilities. When plugged in, however, the mouse lights up and illuminates its undersurface with glowing and ever-changing palette of color. The availability of a light show feature from a mouse may delight or dismay you depending on your demeanor. Testers of both persuasions ended up being charmed by the calming pulses of color. The technical specification lists true 7,200 DPI optical sensor tracking at 220IPS (inches per second), which the manufacturer claims ensures pinpoint accuracy and precision and makes the device particularly suitable for gamers. The Razer Synapse 3 (beta) software for '
access to advanced control options with the unified, cloud-based hardware configuration tool'
is not available for Apple platforms.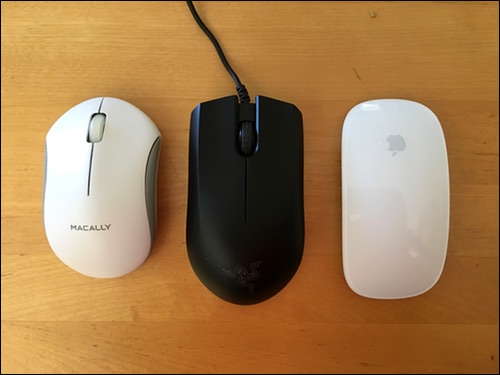 The
Razer Abyssus Essential
mouse worked right out of the box on an iMac. We did experiment with several third-party applications and control panels. None of these was necessary to achieve satisfactory performance, but if you are already using one of them it will probably work with this mouse subject to your specific choice and to many other factors too variable for us to suggest certainty.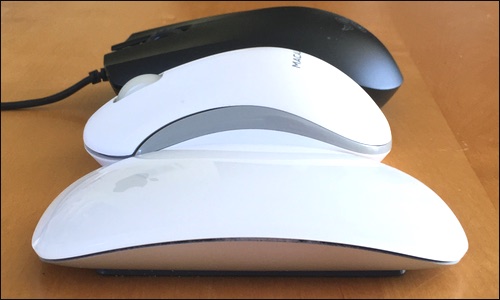 In use the mouse was precise and quick. The heft (2.7oz/77g) was less than an Apple Magic Mouse (3.7oz/106gms), but greater than a Macally RFQMOUSE Wireless Optical RF Mouse (2.6oz/73gms) that we also had on test. The two non-corded mice were weighed with batteries installed.The relative sizes of the three mice vary from 4" to 4-1/2" in length. Their profiles are also shown for comparison. All of these three mice should be comfortable for most people, although you may well have particular preferences. During testing, one user found an anomaly with the
Razer Abyssus Essential
mouse. This was user-specific—not related to hand size—for a tendency to hold the back of the mouse. Held that way, the mouse would give audible and tactile feedback for a mouse action without actually performing the action. The tester reports this happening with other makes and models of mice, so we don't rate it as a design or production flaw, but more as an individual quirk that some users need to be aware of if they use a similar grasp on their mice. Other testers did not experience this as an issue. Experienced gamers probably know just what features they want from a mouse: the
Essential
in the
Razer Abyssus Essential
mouse name conveys that this is a no-nonsense implementation for that sector without any fancy whirligigs—except for that light show! If any of the features fit a particular need for ordinary users, then this mouse would be a good choice.
MyMac review rating 8 out of 10.
A solid, high-spec device with a charming novelty feature.