Marshall Stanmore II Voice Speaker
Manufacturer: Marshall
MSRP: $399 U.S.
The Marshall Stanmore II Voice speaker sounds terrific and incorporates Marshall's iconic guitar amp styling. With its multiple amplifiers and three speakers, it expresses itself with a loud, assured voice. The sound is beefy and muscular, easily filling a room; it could just as easily fill a small auditorium. The 50 Watt class D amplifier that powers the bass reflex woofer emits bass you can actually feel while the twin tweeters are driven by 15 Watt amps that keep the midrange and top-end clean and crisp.
There is nothing flimsy here; the unit is 14 inches wide and weighs a hefty 10 lbs. (4.5kg) Substantial rubber feet keep it vibration-free and it will handle voltages from 100 to 240 V. There is no on/off switch because the unit sleeps when not in use. Since stand-by modes continuously draw a bit of power, I'd prefer to be able to turn it off completely.
Many input variations are included: a 3.5mm audio-in port on top, RCA sockets in the rear, and Bluetooth 5.0 connectivity. Bluetooth wireless is available so that music can be streamed from your phone, tablet or computer. Alexa control via Wi-Fi is also built in allowing you to use voice commands and Alexa's many skills. A far-field microphone array assures that Alexa will recognize and understand you even if the volume is cranked up.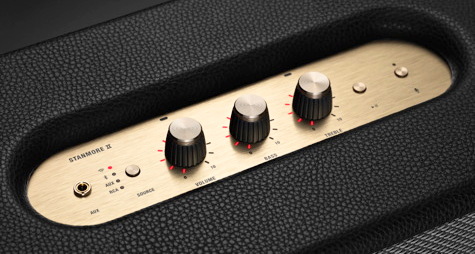 There is a convenient control panel on the top of the Stanmore II Voice. What a treat – real retro knobs! Even though the sound is well-balanced, there are illuminated bass and treble knobs so you can fine-tune things to your liking. I find that at loud levels, the unit sounds great with middle positions but when listening at low volumes, I prefer having the treble increased a bit and the bass lowered. That's just a personal choice; your tastes will vary.
Marshall's iconic 1960s rock band styling in black (or white) and gold may not be to everyone's taste, but it certainly draws attention. The unit is constructed of sturdy, dense wood with a seamless leatherette skin. The grille cloth is firmly backed providing rugged protection for the speakers. The overall build quality is excellent.
In my testing, Wi-Fi streaming, Bluetooth and direct-wired connections work very well. Alexa performs mostly as expected but will only play music from Amazon and other recognized services. Apple Music and Airplay 2 are not yet supported but may be in the future. The user interface of the free proprietary iOS Marshall Voice app is poorly designed, often leading you in circles. However, you can stream any and all music via Bluetooth from your own devices. Don't leave it set on Bluetooth since it doesn't disconnect on its own. Later on, you will hear your taps and clicks when using your phone for other purposes. The Alexa app is still evolving and also needs much improvement. Alexa always exhibits its own quirks but since I'm not a power user, I get by.

The minimalist Stanmore II Voice quick-start manual only says to plug in the speaker and download the Marshall app. A more detailed PDF manual can be downloaded from the Marshall site. As an experiment, I tried two different CD players (one with an RCA connection and one with a 3.5mm Aux-in plug) and there were dropouts and static. This may simply be new technology fighting with older technology. Musical instruments or a mic can be connected using the Aux-in socket.
Getting the speaker set up and trying to negotiate the Marshall Voice and Alexa apps is frustrating. User interfaces shouldn't be this complicated. If getting engaged is this difficult, will the marriage survive?
Marshall's Stanmore II Voice is a serious powerhouse with built-in features not available in most competing speakers. The sound is big and bold. Despite its high price and deficient app, this is a terrific sounding speaker.
MyMac Reviews rating is a strong 7 out of 10. The hardware is good — the software and user manual need work.
Bonus follow-up comments from John Nemo, MyMac's Reviews Editor
I took Curt's review unit home at his suggestion, and I had difficulties setting up the Marshall Voice and Alexa apps. I contacted Marshall's online chat support, and Ian in Canada was responsive and extremely helpful on a Saturday afternoon. They are open seven days each week! It took one hour of back and forth text chat with Ian for everything to work seamlessly, which is acceptable.
Ian had me delete the Marshall Voice app, restart my iPhone, reinstall their Voice app, and the setup began. I connected Stanmore II Voice to Wi-Fi and to Amazon Alexa and I began listening to voice-activated music playback from the Amazon Prime Music catalog. The sound, as Curt describes, is powerful with noticeable DSP, or digital signal processing that I can hear from years of testing and listening to hundreds of different speakers and headphones. DSP is neither a bad or good thing, and it's an acceptable inclusion in a premium speaker like this one.
Most purchasers of Stanmore II Voice will be serious and stylish music lovers who have deep pockets and large rooms. This speaker is AC powered only, so it won't be going to the beach or the woods. The majority of listening will be, in probable order: via Bluetooth streaming, which works beautifully and instantly; via voice activated Alexa to Amazon Music and Spotify, which is impressive to experience; or via an auxiliary physical cable connection.
Marshall's powerful and visually-prominent Stanmore II Voice speaker lives in a converging music playback universe where hardware, wireless connectivity, proprietary apps, subscription services, and voice activation are becoming the new normal. Curt and I had problems with the Marshall and Amazon apps, and Marshall has support staff ready to assist during waking hours. I give Marshall credit for taking a leading roll in hardware and app integration; it will only get better as these converging technologies improve for consumers.
Some excerpts from our chat log:
John Nemo: is there support every day? even Sunday?
Ian: Yes, we're here 7 days a week. Mon-Fri, 6am – 5pm, weekends 9am-5pm All hours are PST, we're in BC, Canada.
John Nemo: Does it get really crazy or not too bad doing chat and email?
Ian: It's okay – we take turns on Chat throughout the day, and answer some of the easier emails while assigned to chat. We handle customers globally, so there are several busy times throughout the day, as European customers get home from work etc. From the Voice App you can change the speaker LED brightness, speaker name, EQ etc. There is an EQ menu in the Marshall Voice App, with more fine tuning options
John Nemo: When I UNPLUG Stanmore II Voice from AC and move to different room will I need to reconfigure or will it remember everything?
Ian: It will remember everything, but needs about 15-20 seconds to reboot when first plugged in. We're all learning about these products too right now, since they are so new. We learn from customers as well as our product development team back in Stockholm.
John Nemo: Another question. If I switch to BT will it mess up all the VOICE and ALEXA info?
Ian: No, you can still link to Bluetooth if you wish. We're a separate division from Marshall Amps, so most of our chats are for our Bluetooth/Multi-Room/Voice speakers, and headphones. This chat was great for me, I've never completed a first time setup with the Voice speakers until recently, so it was great to review with someone thorough.  Please do not hesitate to contact us again with any further questions or comments. You can reach us via live chat or via email, support@marshallheadphones.com. Thanks!