StarTech Thunderbolt 3 Dual-4K Docking Station
Price: $380 U.S.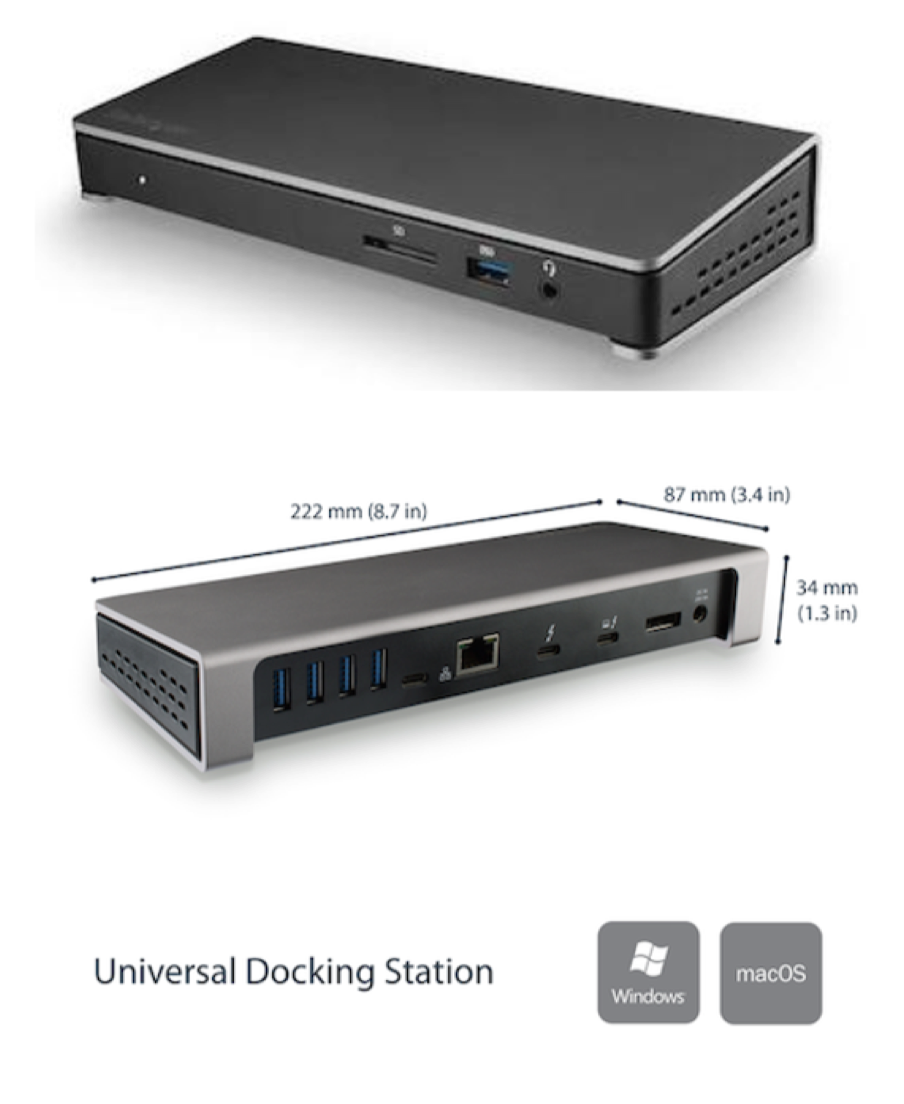 The StarTech Thunderbolt 3 Dual-4K Docking Station for Laptops (model TB3DOCK2DPPD) allows Thunderbolt 3 MacBook Pro or Windows computers to connect two 4K workstations. The dual 4K docking station supports data transfer rates up to 40Gbps via Thunderbolt 3 and 4K resolution at 60 Hz on two monitors. This docking station is good news for those running resource-demanding applications on two displays.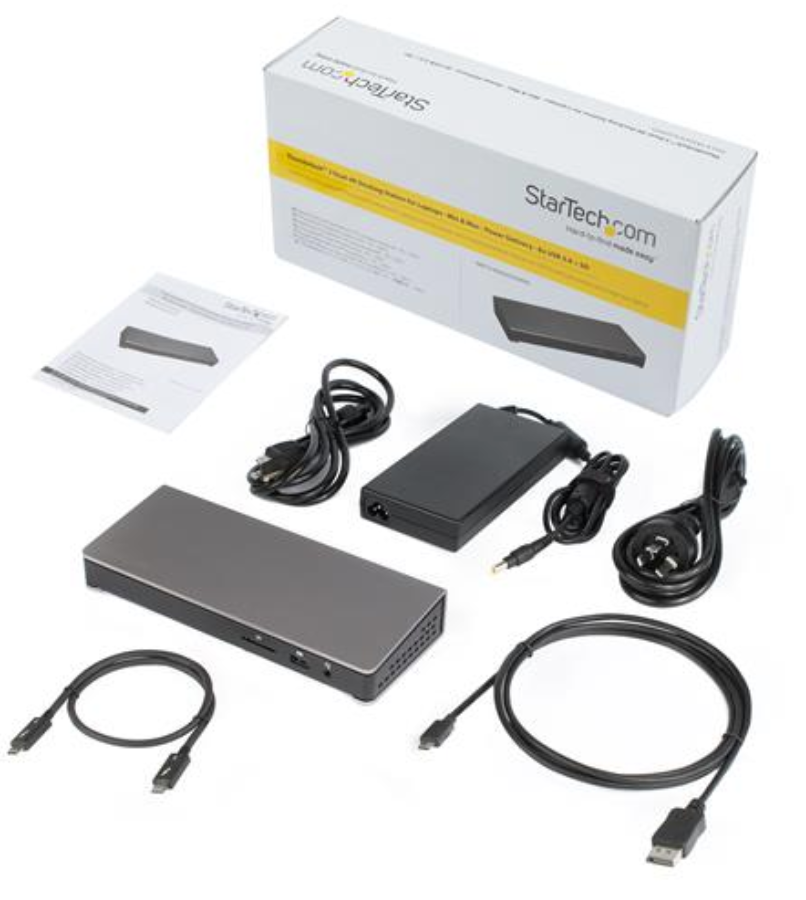 Product Requirements, Contents, and Features
The requirements for use is a host laptop with a Thunderbolt 3 port, DisplayPort or Thunderbolt 3 equipped displays. The laptop operation systems requirement is Windows 10 (32 or 64-bit), Windows 8/8.1 (32 or 64 bit), and MacOS Sierra or higher. The TB3DOCK2DPPD package contents contain the following:
1 – Docking Station
1 – Thunderbolt 3 cable
1 – USB Type-C to DisplayPort cable
1 – Universal power adapter
2 – Power cords (NA/JP and ANZ)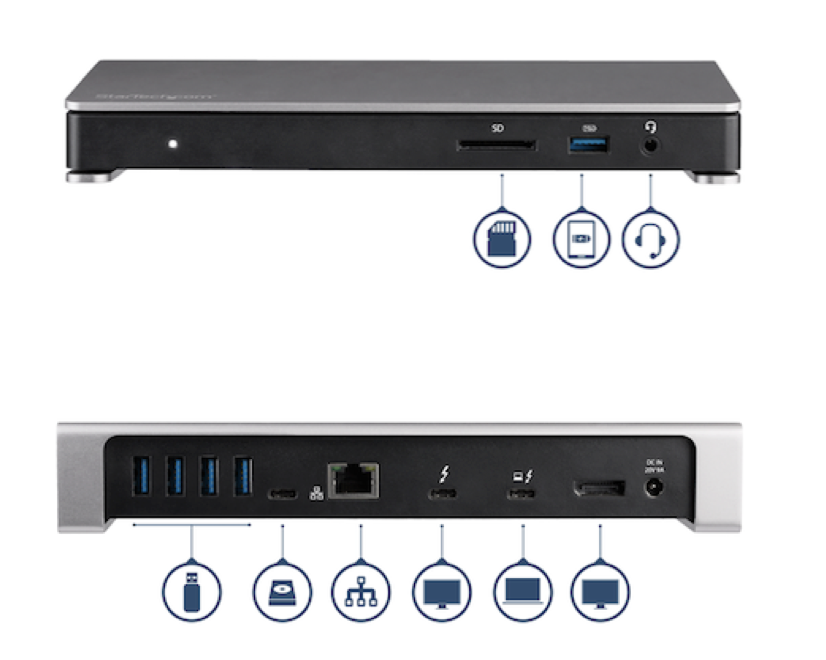 The TB3DOCK2DPPD features are six USB 3.0 ports, which includes a fast-charge port and a USB-C port; a Gigabit Ethernet port supporting PXE Boot and Wake-on-LAN; and an audio/microphone port. An SD memory card or microSD card slot is available providing additional storage and backup capability. The docking station 180w power adapter delivers 85W power to charge your laptop and peripherals. The product has a StarTech 3-year warranty and free lifetime technical support.
Setup/Installation/Configuration
The TB3DOCK2DPPD natively supports connected computers running Windows 10, Windows 8/8.1 or MacOS operating systems. The operating system automatically detects the docking station connected to the Thunderbolt 3 port of the laptop and installs the required drivers.
Once powered the USB-C Power Delivery can be used to charge and provide up to 85W of power. The docking station must be powered via AC outlet because it cannot receive power from the laptop. A great convenience is the front USB 3.0 port which can fast charge devices in compliance with USB Battery Charging Specification Revision 1.2 which applies to the latest iPhones or iPads.
To connect external monitors to the docking station use DisplayPort or Thunderbolt 3 displays. The connection of an HDMI, DVI, or VGA display to the docking station DisplayPort or Thunderbolt 3 USB-C port requires adapters that are not provided. A second display can be connected to one of the TB3DOCK2DPPD's Thunderbolt 3 USB-C ports. Dual displays or additional Thunderbolt 3 peripherals can also be joined in a daisy chain configuration. For instance, the Thunderbolt 3 display can be connected to the docking station's Thunderbolt 3 USB-C port and an additional Thunderbolt 3 display or peripheral can be connected through the first Thunderbolt 3 display.
Operation/Performance
As noted in the TB3DOCK2DPPD user's guide, video resolution support depends on the configuration and supported resolution of the connected monitor or dual monitors, as well as the video output capability of the connected laptop. Therefore, the resolution may be lower than the maximum specified of 4096 x 2160p at 60 Hz for a single display connected via the DisplayPort or Thunderbolt 3 USB-C port and two displays connected via DisplayPort and Thunderbolt 3 USB-C ports. The product specification indicates 4K monitors with 3840 x 1260p resolution is supported. Refresh rates of multi-display configurations should be set the same to ensure the monitors display correctly.
Thunderbolt technology transports video and data bandwidth with video prioritized for display performance. Therefore, connecting dual high-performance displays to the docking station requires additional bandwidth for the monitors, leaving less bandwidth for the other ports. An approximation of the performance with two dual 4K displays is a reduction in download speeds to 8 Gbps from 22 Gbps for single display configurations.
My User Experience
My mid-2014 MacBook Pro does not have a Thunderbolt 3 port, which is an excellent reason for an upgrade. Port envy is a significant upgrade motivator. I did try using the docking station with my Thunderbolt 2 MacBook Pro, one 4K monitor and standard HDMI (no DisplayPort) monitor connected to the laptop HDMI port. I had to purchase a Thunderbolt 3 to 2 adapter or Thunderbolt 2 cable, to connect the docking station to my laptop. The total cost for the cables was $87 which is not bad. However, this setup does not allow for optimal performance of the docking station. Therefore, I asked a friend with a Mid-2017 MacBook Pro which has 4 Thunderbolt 3 ports and two 4K monitors if he would allow me to use his setup in this review.
The setup required connecting the Thunderbolt 3 cable provided to the laptop and docking station laptop port. The Internet router was attached to the Ethernet port and one display was connected via Thunderbolt 3 USB-C and the second via the DisplayPort. The monitors were already set to the same refresh rate and once powered displayed beautifully. My friend was ecstatic about the SD card which he missed when he upgraded to his laptop. He also was happy about the small footprint of the docking station since his desk had very little space. He connected his iPhone X to the USB 3.0 port on the front panel of the dock to test the fast-charging feature. His phone was at 10% before charging and at 90% in 1 hour. The charge rate was good considering it usually took about 2 or more hours to recharge from 25% or less. We attached a Thunderbolt 3 drive, and transferred 1 GB of data files using Activity Monitor to determine the speed. There was no apparent speed loss with one or two monitors connected to the dock.
Our conclusions from the review of the TB3DOCK2DPPD is that I need to update my laptop and that my friend was pleased with the dock. The convenience of using one cable to connect his computer to dual monitors and multiple devices made the dock a must have. He has been enjoying this dock throughout the review process, and he has purchased another Thunderbolt 3 drive to back up his laptop and large photo library. Part of the budget for my laptop upgrade will be a StarTech docking station. The number of ports, ease of installation and small form-factor are just a few of the reasons the StarTech TB3DOCK2DPPD will be on my holiday shopping list.
MyMac Review Rating of 10 out of 10.