Macally RFQMOUSE Wireless Optical RF Mouse
Macally.com
$24.99USD from the Macally website (shipping charge may apply)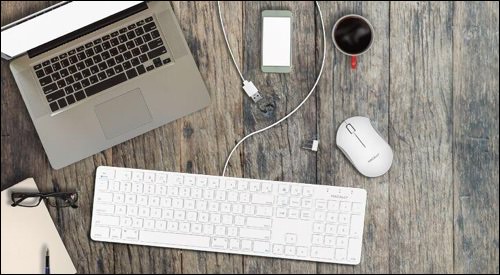 Macally recently added a 1200dpi wireless optical mouse to its well known range of peripherals. The design of the
Macally RFQMOUSE Wireless Optical RF Mouse
matches that of other light-colored devices in the Macally range and combines excellent performance with a sensible price.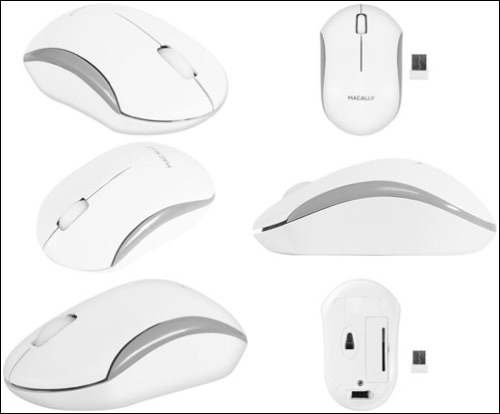 The
RFQMOUSE Mouse
does not have a cord. Instead, it has a wireless receiver stored in a slot in its undercarriage. That receiver plugs into a USB port on your computer and then you are good to go. No configuration is required, but you may want to open [Apple Menu: System Preferences : Mouse] and fine tune your settings. We tested several third party extensions and control panels for enhancing mouse performance characteristics and had no issues with any of them. In use this mouse is a delight. It is small and lightweight without being flimsy. The low weight (2.7oz/77g) and small size give an ideal heft for quick and accurate maneuvering. The
RFQMOUSE Mouse
uses only one battery (AA size, supplied), which helps to keep the weight low. More on that subject later. The ergonomics and soft, quiet buttons and scroll-wheel were a delight. The device was unobtrusive in use, but very responsive to our hand movements and finger presses and flicks. There is one design feature that does stand out, although it is not immediately apparent. The device has no OFF switch unlike the Apple Mighty Mouse and many others. Instead of that method, the
RFQMOUSE Mouse
switches off automatically after a short time. It does so without any indication, so we were unable to measure the lag. Re-starting mouse operation requires more than just shaking the mouse: a button click or a mouse-wheel movement is required. This is mildly disconcerting at first, but our testers quickly accommodated to the method, generally preferring to nudge the mouse-wheel. The design seems to have one big advantage: battery life! Our rudimentary test equipment—sticking the battery in a small flashlight and observing the light intensity—was unable to detect any significant performance degradation after several weeks. That was impressive for a single battery installation.
MyMac review rating is a rare perfect 10 out of 10
. During our extensive testing we came to like the
Macally RFQMOUSE Wireless Optical RF Mouse
so much that we made it our standard mouse.