GN30H USB-C Hub with Power Delivery plus USB 3.0, HDMI, Ethernet, SD, micro SD Ports for newer MacBooks
$57 U.S. Also available in gold, gray, and rose gold to match your MacBook

QacQoc's new GN30H USB-C Hub is the best portable dock for MacBooks and new MacBook Pros we have received for review. It is sturdy, stylish, versatile, and fully-featured for home and on-the-go connecting to your legacy accessories. The physical unit is well-built and thoughtfully designed, with rounded edges, convenient port placement, and a hefty six inch USB-C attachment cable. If you own a new laptop Mac with only USB-C (or Thunderbolt 3) ports, get one of these hubs today and get on with your techie life immediately.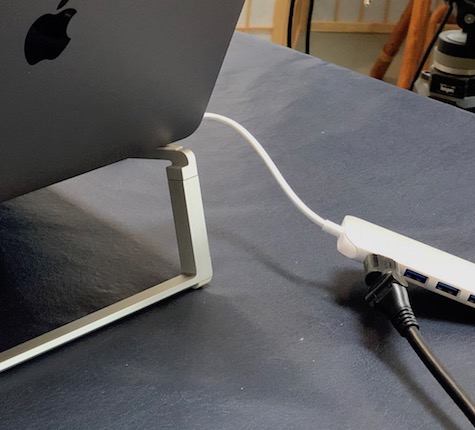 At the far end, opposite the cable, is a pass-through power port and an RJ45 Ethernet port. You will use the former daily, and the latter occasionally, such as in a hotel or office where Ethernet makes more sense than does WiFi, and when only Ethernet is available.
On one of the long sides are both an always-important standard SD card slot and a sometimes-important micro SD card slot. Full size SD cards are ubiquitous in digital cameras; tiny micro-SD cards are not as common with Apple users as they are in alternative devices.
The best and most often used long side on this dock contains one HDMI port (hooray) and three fast blue USB 3 ports (triple hooray). You'll use these for connecting to projectors, televisions, printers, cameras, keyboard, mice, external hard drives, and plenty more. These ports alone are worth the affordable price for QacQoc's GN30H hub.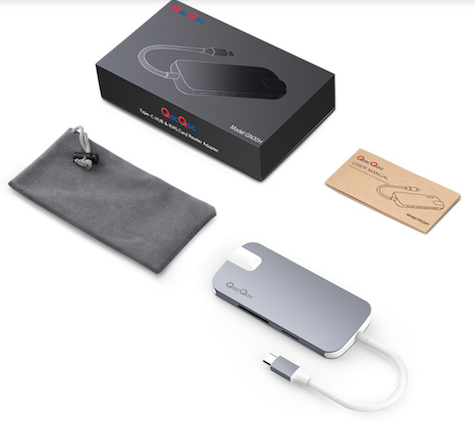 Included in the package are the email address for support, a minimalist printed user manual in six languages, and a fabric tote case for the dock. The entire package speaks to quality of production and care for the customer.
I tested this product on several new MacBook Pros in my regular MacNemo Basics workshops, and everyone finds it to be useful and fully functional. The outer case does get warm when in use, so be aware that is to be expected.
We're pleased to award the GN30H USB-C Hub with Power Delivery plus USB 3.0, HDMI, Ethernet, SD, micro SD Ports for newer MacBooks a MyMac Review Rating of 9 out of 10.