Hammerhead In Ear Headphones for iOS
Company:Â Razer
$100 U.S.
Hammerhead for iOS is a wired headphone for iOS devices. It features a lightning connector, in-line controls, mic, carrying case, assorted sized ear pads and comes in either black or white. A companion iOS app is also available.
Packaging is done nicely. The box contains the headphone, carrying case, extra ear pads, instructions and Razer branded stickers. The ear pads that were attached to the headphones didn't quite fit in my ear so I used the medium sized which felt better. I downloaded the companion iOS app and I was then ready to listen.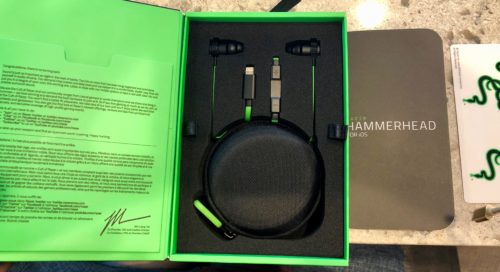 The headphones have a few impressive features. The tips that go in your ears are magnetic and click together if you want to keep them secured around your neck when not in use. The other neat trick is the front of those ends light up and can be set to "breathe" in the app. That makes them turn on and off slowly which makes a neat glowing effect. The black option of the headphones are actual black and green which look really sharp with the effect.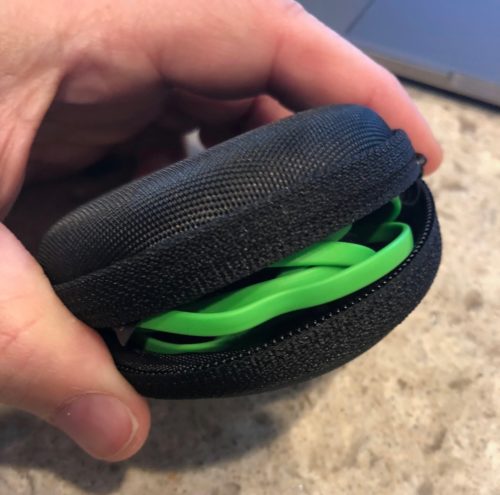 Razer focuses on gaming based hardware. Most of their products keep the gamer in mind when it comes to their use and design and the Hammerhead iOS headphones are no exception. However, these headphones only have a Lightning connector and will only work on devices running iOS 10 or later which limits gaming somewhat. The headphone world is also quickly moving to wireless and cables are becoming less common. In other words these headphone are limited on where you can use them unless you are a serious iOS gamer. Another issue is that you will need an adapter if you want to listen and charge your iOS at the same time.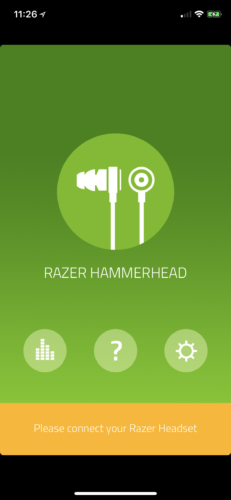 The good news is the reason why these headphones are connected via Lightning is to produce the best possible sound. Razer added a Digital to Analog Converter (DAC) to the Hammerhead which, according to Razer, avoids having to process the output that is found in the 3.5 mm connector. The result is nice clean sound which can be fine tuned using the equalizer in the companion app. Listening to streaming music, downloaded music and podcasts sounded very good. Listening to the new Album called Revamp, which are the songs of Elton John sung by other artists, I heard some instuments I didn't hear before. The bass and treble sounded nice and loud when I used the full bass and full treble preset. I compared them to a pair of the Apple AirPods. Both sounded very clear but I found the Hammerhead a bit louder and a bit less processed. Additionally, not needing to charge them will come in handy in a pinch. The mic and inline controls worked as well and call clarity was on par with most other headphones with the same features.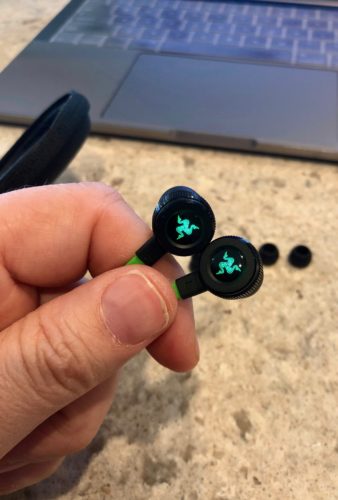 MyMac Review Rating is 8 out of 10. If you want a good looking and good sounding pair of Lightning wired headphones, these will do the job.