ChargeHub X5 5 Port USB Charger
Limitless Innovations
https://thechargehub.com/product/chargehub-x5-5-port-usb-charger/
$50 U.S.
ChargeHub X5 is a round 5 Port USB charger that's available in eight colors. It can charge up to five devices at once at 2.4A per port. The box is well packaged and comes with the charger, power cord, manual, clear lens and a logo branded insert. The company offers a wide range of USB charging devices, including the ChargeHub with three or seven USB charging ports.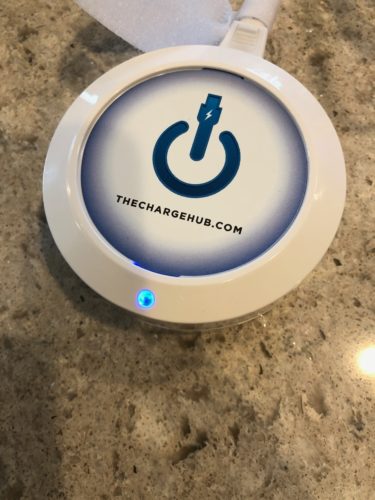 Setup is very easy: plug in the AC adapter into a power outlet and the other end into the charger. A blue light indicates that the unit is on. Then plug in your USB devices and watch them charge. The charger has a picture of its logo on the top which is nice, and it includes a clear plastic cover that can fit over the top. You can print out a photo using their website's design studio and place it in the top of the charger to give it a custom look.
You do need to create an account but once you do, the design studio lets you upload a picture, crop, rotate, change colors and add text and then print. The printout saves as a PDF file and gives you a template of four circles that you can cut out and insert into the charger. Using photo paper will give you a nicer result then sheet paper but the normal paper looks pretty good under the clear lens. You can also purchase made to order cutouts on their website for $4.99 and upload a picture and they will ship you the insert on "polyester based synthetic paper."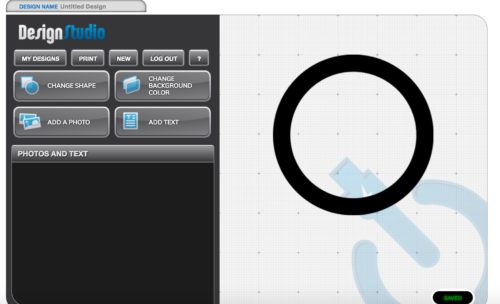 One of the first things I noticed about the charger was the detail to packaging and customer literature. It's easy to see that the company takes its products very seriously. The website is devoted to the ChargeHub and sells carrying cases, car chargers, USB cables and more. The charger is available in eight different colors: black, white, red, blue, pink, purple, orange and green. The AC adapter comes in either white or black depending on color of the charger.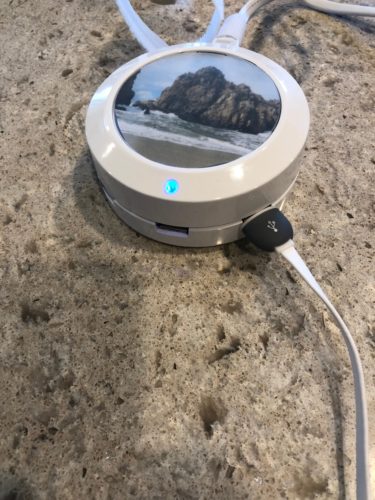 The ChargeHub looks good and works well. It's fairly light wight and small and the power cord is not bulky. The custom insert is a nice touch which I haven't seen on other USB chargers. You may think this product is a bit pricey as similar items sell around $25.
MyMac Review Rating is 8 out of 10. Great looking, very customizable and works well, however a bit on the expensive side.