Metallix Plus Portable Bluetooth True Stereo Water Resistant Speakers
Company: Creative Labs
$50 U.S. per unit; two units recommended for $100 U.S.
Right speaker linked! Those three words are about to change your musical life. Creative Labs does it once again with Metallix Plus. Buy two of them for $100 U.S. and you will have wireless Bluetooth 4.2Â  full left and right stereo audio everywhere, wet and dry, that you listen to your favorite tunes for up to 24 hours.
The physical speaker units are gorgeous black oblong gems that are stylishly designed with rounded edges and rubberized corners. Charge them up using any USB power source, follow the schematic directions for Bluetooth pairing of left and right speakers, and rock your socks, sooth your soul, gas your classics, or get folky and funky for many, many hours, thanks to excellent battery technology.
Sonic performance is naturally outstanding and accurate in the midrange and treble registers, and responsive to equalizer (EQ) enhancements in the bass range. Audio efficiency is very high, meaning loud distortion-free playback is possible using your iPhone, iPad, Macintosh, and every other sound source, up to 30 feet or 10 meters away and from one speaker to another.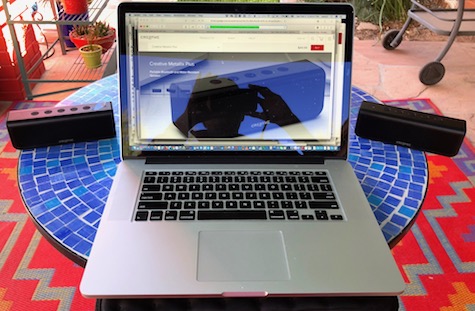 Have you heard Gregg Allman's final album, Southern Blood, with his extraordinary version of the Grateful Dead's song, Black Muddy River? Or listened lately to the remastered song, Both Sides Now, from the collected The Studio Albums 1968-1979 by Joni Mitchell? Prepare yourself to hear portable, compact stereo speaker performance that you never imagined was possible.
Time for a shower! Get wet and boogie while you howl along with Howlin' Wolf. Metallix Plus are waterproof in many situations, adding versatility and value to an outstanding product. Speaking of value, Metallix Plus is the natural ultra-affordable successor to Creative Labs' Muvo and Muvo Mini speakers. Metallix Plus sounds much better than both of them, and is only slightly larger and heavier than the diminutive Muvo Mini.
What are you waiting for, music lovers? Cancel the gourmet coffee order for a couple of weeks, save your nickels and dimes, and get rocking and reeling with Metallix Plus from Creative Labs. Outstanding product from our favorite speaker company with amazingly low prices.
Rare perfect score: MyMac Review Rating is 10 out of 10.