Beautyrest Sleeptracker Monitor
Company: Fullpower Technologies, Inc
Price: $199
Being an aging septuagenarian, I have become more interested in monitoring my lifestyle and general health. Over the past decade I was able to successfully lose nearly 80 pounds and maintain my current weight using a fitbit device and a couple of fitness applications. I currently use an Apple watch and MyFitnessPal to monitor and track my progress, but I found my ability to monitor my sleep was somewhat limited compared to my old fitbit. Unlike my Apple watch, the fitbit device was easy to wear on my wrist while sleeping and didn't require charging every night. Thanks to a recommendation from Leo Laporte on TWIT's iOS Today, I decided to purchase the Beautyrest Sleeptracker and share my results with you.
Visiting the Sleeptracker website and selecting the buy now button, I was linked to the Amazon website that resulted in a $100 savings on the regular list price of $199, including free shipping. The Amazon link provided plenty of details to convince me to go ahead and buy the system. Two days later I received the system and installed it on our queen size bed in the master bedroom. My wife elected out of the monitoring so I only installed one sensor on my side of the bed.
Installation was reasonably straightforward using the enclosed instructions. Since the system connects to your WiFi and your mobile device you also need to download and install the applicable application. I'm using an iPhone so I installed the free application from the Apple iOS App Store. There is also an app for the Android user.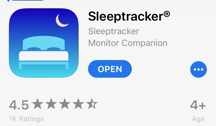 With the application installed and the Sleeptracker sensor physically placed between the mattress and box spring, you simply connect the sensor to the system processor, plug in the processor unit to the power adapter and then into your wall outlet. To complete the installation and link everything into your WiFi and mobile device, you follow the remaining instructions within the Sleeptracker application. I also allowed the system to share information with the health app on my iPhone.
The first night of operation was a success, and everything continues to work very well. I receive notifications when my nightly Sleeptracker health report are available. They are provided through my email and are also available through my Sleeptracker app. The sleep analysis results with my awake, REM (rapid eye movement), light and deep sleep activities for my first night are shown in Figure 1.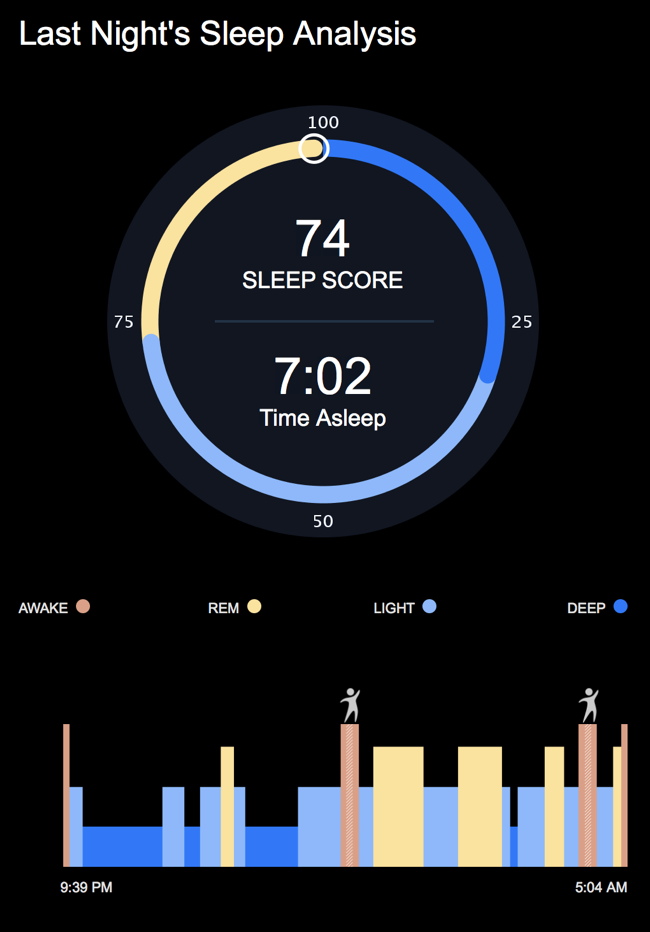 Additional information regarding my heart rate and breath rate are provided in Figure 2.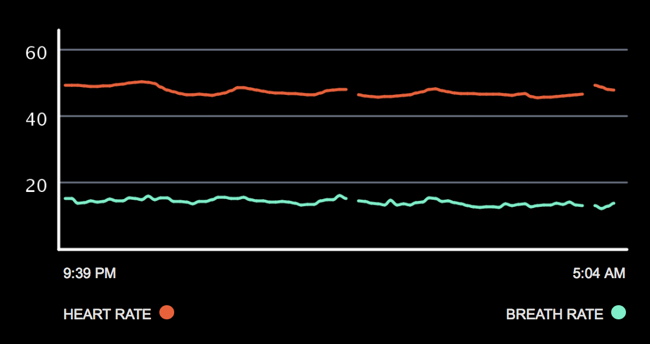 Figure 3 tabulates my results by the number of hours my sleep patterns were obtained. These metrics are defined further at the Sleeptracker support website page.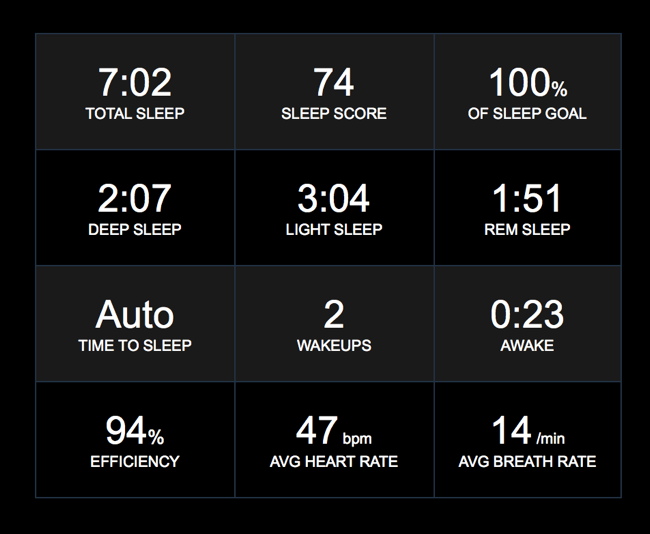 The Health app on my iPhone, under the Sleep Analysis, Figure 4, shows not just my average time of sleep but now includes the the time breaks in my sleep. It would be better if it also included the REM, light and deep sleep information.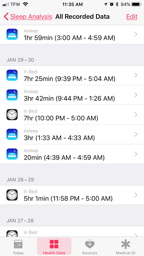 Just what all of this sleep data means is still a work in progress for me. The accuracy of the Sleeptracker device is somewhat unknown but as long as the results are consistent over time I don't think it matters much. Deep sleep is supposed to be the most important for our health so I will be looking to see what in my lifestyle may be influencing my results. I have been striving for seven hours of sleep per night for several years now and don't plan on changing that goal. I also try to maintain a consistent bedtime each night. Sensible diet, entertainment, lighting, and reducing daily stress are variables that I will continue to monitor and adjust to see what impact they have on my Sleeptracker sleep analysis over time.
The Sleeptracker works as advertised, and the Amazon reduced price is very good at the time of this review. It is not a wearable so there is nothing to interfere with your regular sleep routine. The results are available in the app and through email. The app gives you good control of the device and even allows you to use the Sleeptracker with Amazon's Alexa. I give the Beautyrest Sleeptracker a MyMac Review Rating of 8 out of 10.