Bluetooth Keyboard for Three Devices
Manufacturer: Macally
Model: Â SLIMBTKEYC
Retail: $49.99 (Internet pricing: $30.00)
The Macally Bluetooth Keyboard can be paired with up to three devices. This gives you the freedom of using one universal keyboard. In my case, I use it with my iPhone and my iPad and I can pair it with my Mac as well.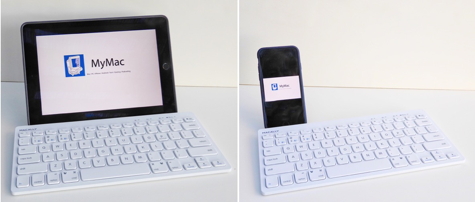 Macally produces well made, reasonably priced products for the Apple user and many of these products are dual platform.  In the case of this keyboard, pairing with a Windows PC or Android device is also possible.
The keyboard is tidy, only 11-1/4 inches (28.5cm) wide. It is easily packable and its footprint is small for preserving a clutter-free desk. It features a 78 key layout that includes Function and most of the familiar shortcut keys such as brightness, audio controls, and a home button. A small on/off switch on the side conserves battery life when the keyboard is not in use. There are two fold-out plastic supports tucked underneath the keyboard; use both to support a tablet or a single one for your phone.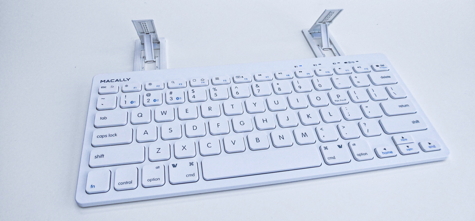 My very first non-Apple keyboard was from Macally. I have always liked the feel of these keyboards. They are plastic but the scissor-key switches provide a sensitive but solid touch that is familiar and comfortable. Some Apple keyboards, especially those on the recent laptops, have keys with very little travel. By contrast, Macally keys are satisfying to use. They are not clicky and there is good solid key movement. Silicone feet on the bottom of the keyboard keep it from skidding.
Wireless keyboards and mice use battery power. This keyboard is powered by two AAA batteries. I'm in favor of devices that use replaceable batteries. Nothing is more annoying than running out of power and realizing that the device needs to be plugged into a charger. Having a couple of spare batteries at hand means you are back up and running in seconds rather than hours.
MyMac Reviews rating is 8 out 0f 10. A nice keyboard and good value. Well done, Macally.