Street Hopper Speakers SH-5PM and SH-6PM
Street Hopper
Price: $149 U.S. (SH-5PM) and $180 U.S. (SH-6PM)
Available U.S. retail here (sorry — no live web buying links for these products yet)
SH5 plus
Microsoft
Fry's
ABC Warehouse
Samsclub
MCX (Military Exchange)
SH6 plus
Fry's
ABC Warehouse
Samsclub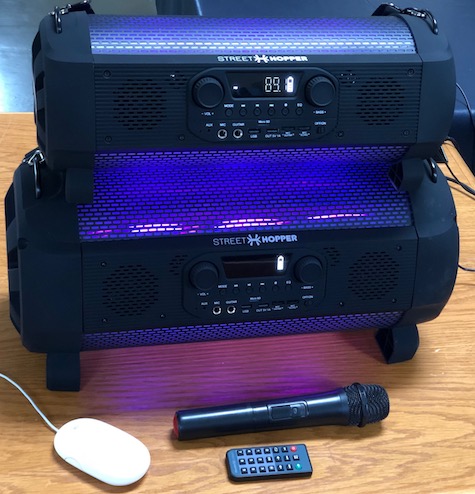 Are you ready for Street Hopper SH-5PM and SH-6PM? I don't think so. They are large, portable boomboxes shaped like cannons that have Bluetooth for wireless audio, plus digital FM radio tuners, LED light show illumination, loud and powerful amplifiers, guitar cable port inputs, 3.5mm and USB and micro-SD inputs for external device playback, USB charging output, wired and wireless microphone compatibility, and an irresistible wow factor when being used.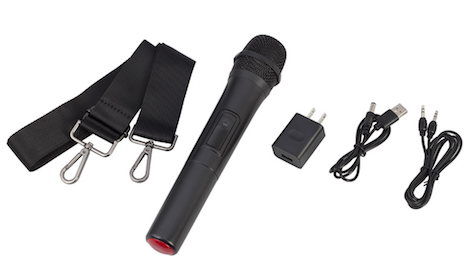 A wireless Bluetooth microphone is included, as is an adjustable carrying strap (toting these boomboxes can get heavy!) and a little splash proof face plate for the front LED control panel. The bigger 6-size also includes a handy remote control unit and a 12-volt car charging adapter. All very impressive and through.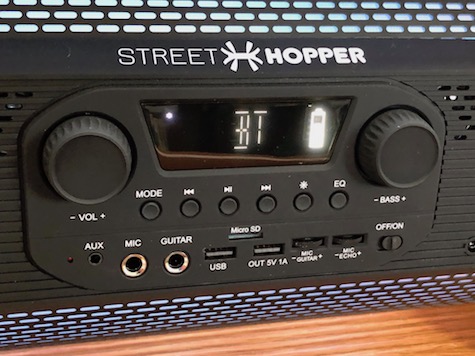 The rechargeable battery will last way longer than your yard party or your kids' birthday bash or your presentation of the outtakes from your Charlie Parker archive. The few generic equalizer (EQ) settings are fine for most listening, and they can be customized with a dedicated iOS app that is a snap to learn. If you move around a lot while dancing to the Bee Gees get the smaller SH-5PM. It's much more portable than its larger sibling that is easy to carry short distances but not the length of O'Hare Airport.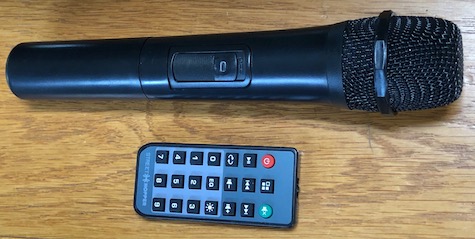 The best single feature of these Street Hoppers is the most basic. Listen to your wireless tunes anywhere and everywhere at volume levels that can bring the cops to your party or the CEO to your staff lunch room. The physical units are like nothing else you have ever seen, especially with a custom light show accompanying your Wilson Pickett retrospective. Don't ever loan your Street Hopper to anyone. You'll never see it again, although you may hear it from two blocks down your street.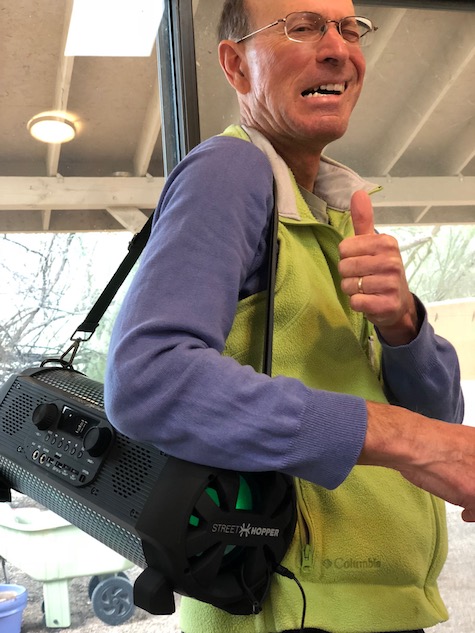 MyMac Review Rating is 9 out of 10. Sonic experience is not audiophile quality, but the wealth of features and ports makes Street Hopper Plus loads of fun for loads of uses everywhere.