MyMac Holiday Gift Guide v.2017-01 by John Nemo and Sam Negri
________________
USB-C and Thunderbolt-3 Hardware Accessories
Thunderbolt 3 Dock
OWC Digital
$299 U.S.
Thunderbolt 3 Dock from OWC provides 13 points of connectivity. The rear of this substantial, full-featured unit has four USB 3.1 ports, an optical digital out port, plus a much-appreciated FireWire 800 port. Also included are Gigabit Ethernet, two Thunderbolt 3 ports and a mini-display port. On the front panel you'll find an SD Card slot, a hybrid headphone/mirophone jack, and another USB 3.1 port.
The physical Thunderbolt 3 Dock is 9 inches wide and 1 inch high and weighs 1.2 pounds. This pro-quality provides endless possibilities for your USB-C MacBook, with a corresponding price tag of $300. The dock is sleek and compact and will take up a minimum amount of real estate on your desk. It can be ordered in a metallic finish to match your MacBook or MacBook Pro. Strong recommendation for people with newer Macs that will benefit from all those ports and outputs.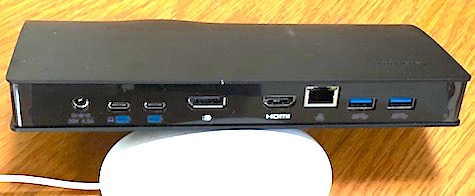 SD4600P USB-C Universal Dock with Power
Kensington
$200 (Check the Internet for competitive pricing)
Kensington's 4600P USB Type C Docking Station with Power provides three USB-3 ports, plus a display port, an HDMI connection, a Gigabit Ethernet port, and also headphone and microphone jacks. It is Thunderbolt 3 compatible, light weight and contained in a compact black case.
The Kensington dock lacks the heft and some of the ports of the OWC Thunderbolt 3 Dock but Kensington's also comes with a more modest price tag. MacBook and new MacBook Pro owners should strongly consider one of these practical docks to extend the limited ports on their precious Apple laptop Macs.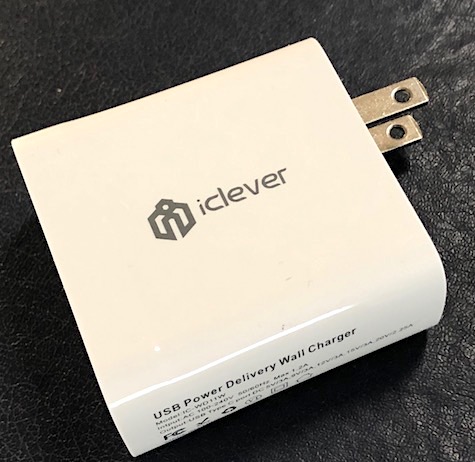 Portable USB Type-C BoostCube 45W Wall Charger
iClever
$26 U.S.
iClever BoostCube is a handy charger for newer Apple laptop Macs using the new USB-C. It comes with a single port and a foldable plug and will work with any device using a USB Type-C Port. The wall charger has various power output capabilities and can be used with non-Apple devices but be sure to check the voltage and current requirements before attaching this BoostCube to your MacBook. For example, you need more power than this unit provides when a new 15-inch MacBook pro needs to be topped up.
________________
Backpacks and Cases for Toting Your Tech Gear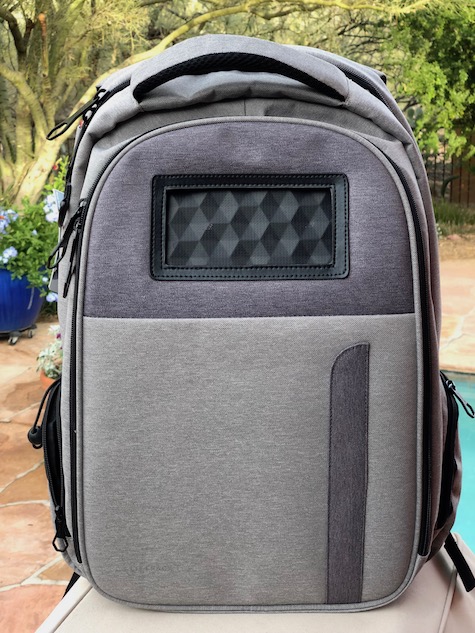 Lifepack — solar powered antitheft backpack with Solarbank 3-in-1 speaker, charger, and USB power output
Solgaard
Available in Stealth Black and Titanium Grey
$179 U.S.
Solgaard Lifepack is a versatile and well-designed bag that enables you to listen to music through a built in solar charged Bluetooth speaker. This unique speaker doubles as a power pack that connects to an outside pocket with space enough for an iPhone. The power pack has two outputs so you can charge two devices simultaneously.
Audio performance from the Solarbank speaker is good — plenty of volume, with sound concentrated in the midrange and treble registers. This speaker is fine for casual and recreational listening to all types of music where a booming bass is not essential.
When not using the speaker, turn it over within the exposed front compartment so that its solar panel faces the sun and it will recharge as you're out and about. Lifepack comes with its own combination lock, well-padded compartments big enough for a 15-inch laptop, plus as an iPad. Carry a water bottle in the other side pocket and use the modest-sized main storage compartment for any number of personal or tech items.
As if that is not enough, you'll find two hidden zippered pockets under the shoulder straps suitable for your passport and other high security items. The Solgaard Lifepack is highly recommended.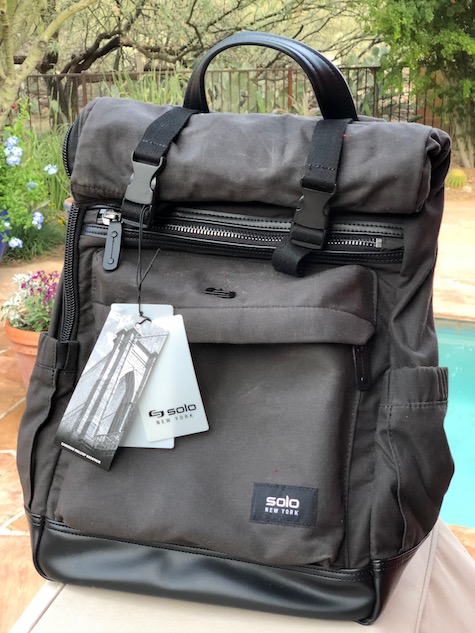 Cameron Rolltop Backpack
Solo New York
$150 U.S.
Cameron Rolltop Backpack is a feature rich, well-designed traveling companion that will accommodate a laptop up to 15.6 inches plus an iPhone and almost anything needed for a commute to work or a day's excursion. All zippers are heavy duty as is the rugged canvas outer coatings. Solo says the exterior fabric is coated with a wax resin that will change colors subtly over time.
The primary interior zone is a long flannel padded sack that seals with a zipper on the top and one side, which is very handy. The front of the pack has two useful zippered flannel pockets for an iPad, office supplies, a passport or boarding passes, and plenty more. Shoulder straps come with a chest strap for added stability. They're adequately but not heavily padded. There are also two expandable pockets on either side for water bottles.
The padded rear of the Cameron Rolltop Backpack cleverly doubles as a pass-through for the handle of your rolling luggage. Also on the rear is a very substantial leatherette top grab handle. Another hearty recommendation to Solo New York.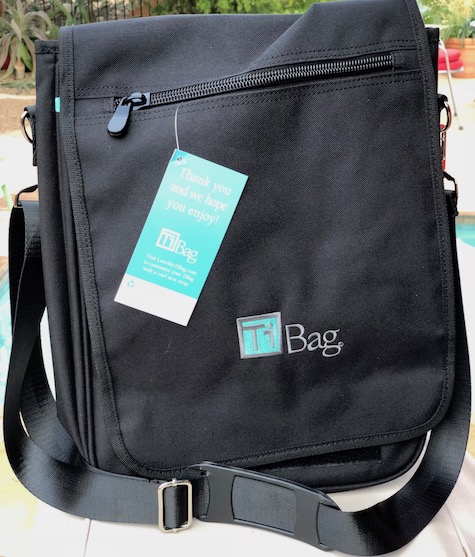 TiBag  —  laptop shoulder carrying case
TiBag
$34.95 U.S.
TiBag is a compact laptop carrying case suitable for a 13" or 15" MacBook Pro. TiBag will also accommodate an iPad and your personal items. Carry it on a day flight and it can be stowed under a seat or in an overhead compartment. This tote bag is lightweight thanks to an absence of superfluous padding.
The manufacturer recommends it for carrying laptops 14 inches or smaller but we found we could easily fit a 15" inch MacBook Pro. There's also a large compartment for your socks and gloves or some magazines or food. TiBag is compact and narrow enough to be unobtrusive whether used as a shoulder bag or cross body. However, the carrying shoulder nonslip pad is narrow and flimsy and there is zero padding, which detracts from its usefulness. Recommended if your should comes pre-padded.
________________
Wireless Speakers and Chargers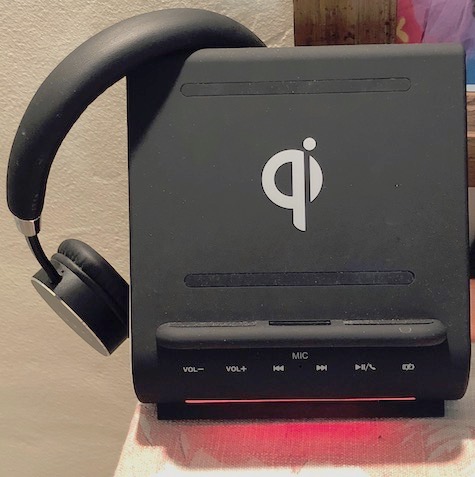 Dockall D100 — Qi charging power source and Bluetooth speaker with micro-SD slot
Azpen
$70 U.S. (check the Internet for current pricing)
Azpen D100 Qi Wireless Charging Station has a side-firing pair of Bluetooth speakers. The two-port rear charger and Bluetooth speaker are part of D100's stylishly designed stand with a stable base and built-in microphone for hands free phone conversations. In addition to the two USB charging ports, there's a rear port for a micro-SD card. The front of the unit has easy to read audio playback controls and one for answering BT phone calls.
Aspen D100 comes with side-firing stereo speakers that are clear and pleasing without a great deal of heft in the bass. For maximum convenience, place your iPhone X or 8 on the front facing ledge and your Qi-compatible iPhone will recharge wirelessly. A pleasant colored light at the base of the unit completes this full-featured product.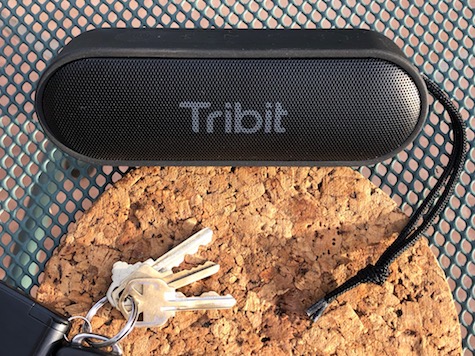 Tribit XSound Go Portable Bluetooth Speakers with 24-Hour Playtime, Waterproof and Built-in Mic
Tribit Audio
$40 U.S.
Tribit XSound Go Portable Wireless Speaker is a surprisingly powerful and compact speaker not much bigger than a hot dog roll. It is waterproof and comes with a built-in microphone for use in Bluetooth communications with your iPhone, iPad, and Mac. Unlike many Bluetooth speakers, XSound Go has a separate BT pairing button on the top of the case with the audio and power buttons.
The downside is that all of the buttons are slightly raised black icons on a black background, offering limited visibility unless you are in a well-illuminated place. XSound Go weighs a hefty 13.5 ounces and accommodates a powerful battery that take five hours to fully recharge and lasts up to 24 hours of stellar playback. Audio is clear and resonant across the spectrum and XSound Go's volume will fill a large room and then some, including a generous and smooth bass along with accurate midrange and treble.
A handy shoelace-style wrist strap and a micro-USB charging cable are included, as is a standard audio port for a wired connection to your music source. Recommended for all music lovers, especially with its super affordable $40 price tag.
________________