Mac Product Key Finder
ONE UP LTD.
$29.95
Recently, my MacBook Pro SSD drive died so I had to install a new one. No problem, I had a time machine backup, so this should be easy, right?  Besides taking a long time to recover, there was one small issue that cropped up several times after the recovery: Launching apps that no longer seemed to be registered. Seems some products do not come back "licensed" when you reinstall then from a backup, and you need the original key. But seriously, I have no idea where most of my original install keys are. So now what? And if I am updating to a new machine, how would I get my existing apps registered on the new machine if I no longer have the license codes?
Before you need those serial numbers again, it is time to get Mac Product Key Finder,  a freeware program with a "pro" upgrade available at a modest fee. This program will list many installed product keys, allowing you to make a backup, or just recover them for future use.
This tool scans your Mac for installed applications and shows you the product keys, info, and serial numbers associated with many of those applications. You can save this list to a file in multiple formats (HTML, XML, CSV, PDF or text files) which can be saved or printed out for later use. And no internet connection is needed to use this program.
At the moment, there are 2 versions of Mac Product Key Finder: a freeware version and a professional versions. The pro version supports more software and has more useful features, such as "Deep scan" to find more info, and the ability to scan networked Macs. The pro version can be downloaded for free as well so you can see what more it will find, but it will block the displayed values until paid for.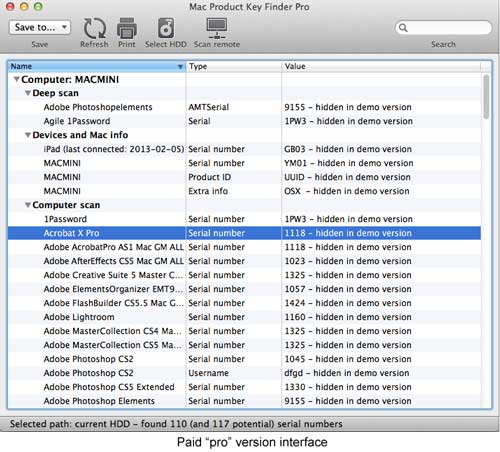 Here are the differences between the two program versions (from their website):
Features
Freeware version
Professional version
Number of supported programs
69
375
Minimum supported OSX version
10.5 Leopard
10.4 Tiger
Maximum supported OSX version
10.12 Sierra
Reveals your Mac OS serial number
Yes
Yes
Reveals serial numbers for your iTunes devices
Yes
Yes
Deep scan
No
Yes
Command-line version
No
Yes
Scan different partition or hard-drive
No
Yes
Scan TimeMachine backups
No
Yes
Scan network Mac computers
No
Yes
Price
Free
$29.95
You can see the list of supported software here for both the free and the paid versions of the program, which includes popular software such as Microsoft Office 2008, Adobe Photoshop CS3-CS5, Parallel's Desktop, Panic applications, and VMWare Fusion.
Mac Product Key Finder not only gets you many of your Mac apps' serial numbers, it will also show you your serial numbers from iPods, iPhones and iPads which you have previously connected with iTunes. The Pro version will also show you attached device's IMEI numbers. This can be useful in case you lost or somebody stole one of your devices.
The "Deep Scan" feature will scan your hard-drive for particular app data entries, like SerialNumber, LicenseKey, SerialNo, ProductKey, etc. and display associated data. But be prepared for a lot of garbage (unrelated to actual product keys) because this is just doing a hard search of your drive for specific strings. And while you may have to sift through a lot of junk, it still might be useful to find some product keys stored in different and unique places. That said, "Deep Scan" may find product keys which normal scan cannot, but some data may be inaccurate.
The pro version also has a command line interface, but I really do not see the need for this. It lets you change some parameters like the save file results, paths, the ability to enter your key, hiding or showing devices, and the deep scan feature. But it seems all this is also available in the app as well.
On the downside, there are some applications that do not work, as their keys are encrypted. These include Microsoft Office 2011 and later (only Office 2008 and beta version of 2011 are supported),  Aperture, Final Cut, Logic Studio, Roxio Toast Titanium, and others. And sadly, apps purchased through the Mac App Store will not work either, as they come without serial numbers. But you can always just get those apps again from the store, so no big loss there.
If you keep all your serial and registration numbers well organized, this software is probably not for you. But if moving to a new Mac, or replacing a drive, the $29.95 price may help save you some time registering some of those apps.
MyMac rating: 7 out of 10
Pros: Access to info that you may not have anymore. A simple way to scan for this info on your machine.
Cons: A lot of software is not supported. If you buy through the iTunes store, this is unnecessary. Lots of junk in the deep scan results.