ATH-DSR7BT Wireless Over-Ear Headphones with Pure Digital Drive plus High-Res USB Audio
Audio-Technica
$299 U.S.
Audio-Technica's new premium Bluetooth wireless over-ear headphones are very good. The construction and design are solid and classic. Fit and comfort are fine for most heads, although eyeglass users will need a bit more time to determine the optimum wearing position. Sound performance is impressive for all types of music, video, and spoken content. Bluetooth connectivity is instantaneous, with typical range of 20 to 30 feet for wireless listening.
Audio efficiency is high, meaning be careful with your playback because at full volume the sound is very loud. I have the volume all the way up on the headphones and then adjust for safety and enjoyment on my connected device.
The sonic experience has slight coloration, but is close enough to neutral that demanding music lovers will enjoy every note they hear at all volume levels. Treble and midrange are crisp and clear, and bass is flat without any annoying booming or cavernous black holes at the bottom end. ATH-DSR7BT's sound is distinctive; similar to some Audio-Technica products but definitely with its own pleasing signature.
USB battery charging is straightforward, and three small white LEDs keep track of charge levels. Small switches for power on/off and volume up/down are easy to locate and use in a well-lighted area. After a week with these headphones you won't need to look for these earpiece controls because they are in just the right places. Battery life is excellent. The battery is not replaceable, although the ear cups are.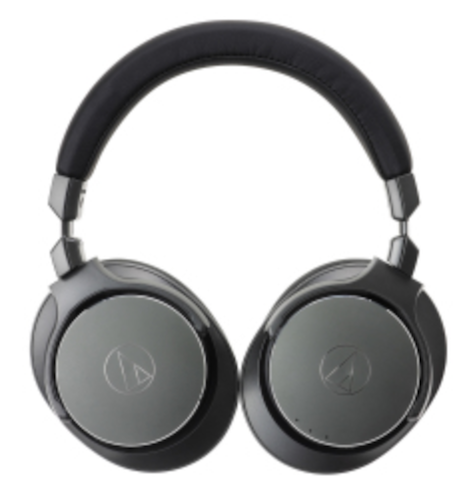 The physical appearance of Audio-Technica's ATH-DSR7BT Wireless Over-Ear Headphones is understated and grown-up, without any frivolous doodads and thingamabobs. A soft black cloth drawstring bag is provided, and the ear cups fold inward for flat travel in a suitcase or pack. There are no other accessories, aside from a generic micro-USB charging cable; bring your own little USB charging brick, such as an iPhone charging plug.
This USB cable can be used for full-spectrum high-res wired playback when connected to a computer's USB port. I just tried it and the sound is close to perfect. Be aware of three possible volume adjustments: system volume, playback software volume, and headphone volume. You don't need to turn on the headphone power switch when listening via USB, as is described in the manual.
A thorough, multi-language written instruction book is provided, and it details some of the features of these headphones that are not immediately obvious. Read this booklet and learn how to get the best use out of ATH-DSR7BT, because you will own them for a long time and use them a lot!
I have several premium over-ear and on-ear headphones, and this new set is a go-to favorite due to its versatile pairing of wireless convenience with splendid sound, plus optional USB high-res computer audio. Bluetooth audio improves every year, and these headphones are the pinnacle of my personal experience with wireless personal listening. The sound is totally digital from your Bluetooth-enabled player of choice, which translates into exceptional clarity.
A built-in ear cup microphone facilitates phone, Skype, FaceTime, and similar spoken communication. This microphone's sound clarity won't win any awards, but it gets the job done and you will be heard at the other end.
Three hundred dollars is a lot of money for most music-loving consumers, and Audio-Technica's new ATH-DSR7BT Wireless Over-Ear Headphones with Pure Digital Drive plus High-Res Audio are worth the sticker price.
MyMac Review Rating is 9 out of 10.
Reference from Best Buy, with: Some user reviews linked from near the top of their page.