Rebelle 2
Developer: Escape Motions
Download: $89.99 (50% upgrade discount for existing users)
Rebelle 2 is a painting/drawing application that uncannily replicates traditional art media. You can work in acrylics, pencil, ink, pastels, marker, airbrush, and other effects but watercolor is where this app shines. You can load up your brush with pigment and water and paint drippy-wet strokes or cut back on water and paint in bold, rich color. You can also select and control the surfaces on which you work—canvas, several textures of watercolor paper, rice paper, and many more.

This is a pro-level app without the big pro-level learning curve. You'll need a graphics tablet with this. I experimented with Astropad on my Mac using the Apple Pencil with my iPad Pro as a graphics tablet with good results. Not all functions are available with Astropad but tools and controls mostly work as expected. I had some slight lag issues but that depends on your computer's processor speed. There is a terrific tracing option for creating paintings based on a photograph. This is the only assistance with drawing that you'll find in Rebelle 2. The rest is up to you—if you are an artist or an aspiring one, you'll love exploring this app. If you are in the "I can't draw" camp, this app is probably not for you.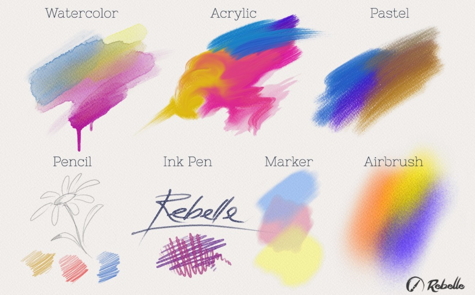 Rebelle 2 includes some innovative new features that have been added since its introduction two years ago. Among them is a new engine for creating custom brushes, full multi-touch support, and layered PSD saves and imports. The killer addition for me is the ability to use friskets, or as Escape Motions calls the effect—Masking Fluid. This refers to a process where a portion of your painting can be masked using your stylus (or Apple Pencil on the iPad with Astropad) so that when you paint, no pigment will be applied within the masked area. You can also invert the mask so that you only apply paint inside it. This is a common technique that I use in watercolor painting. A latex masking fluid is applied, allowed to dry, and then has to be painstakingly removed after use. Being able to achieve the same effect digitally seems almost magical.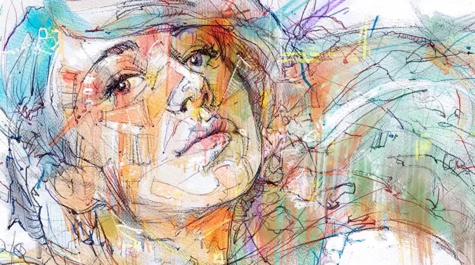 This short video demonstrates Rebelle in use. Watching a professional create a natural media drawing with applied watercolor washes onscreen is mesmerizing. Note the way wet paint can run in any direction by virtually tilting the paper. Virtual air can be blown to move wet paint or dry it. The end of the video shows work by various artists using acrylics, airbrush, pastels, and pencil. Don't expect to achieve results like these immediately, but if you know how to draw or paint, you'll become increasingly proud of the work you do.
Pricing for Mac or Windows is $89.99. A 50% discount is offered to existing users. System requirements – macOS X 10.10 or newer (Minimum – macOS X 10.9). Windows 7, 8, and 10 (Minimum – Vista).
MyMac Reviews rating is 9 out of 10.