Verus II Grand Bookshelf Speakers Pair
Aperion Audio
$759 U.S. with free continental USA shipping
Roll over, Beethoven. Check out these exceptional new speakers. Verus II Grand are the most beautiful looking and sounding bookshelf speakers I have experienced. If you have deep pockets and a love for style and sound, stop reading and order a pair for your home or office. They can be played very loud or quietly with enjoyment at all listening levels.
Verus II Grand are passive speakers, requiring amplification and cables for audio playback. You can use either legacy analog or modern digital amps with 6 or 8 ohm terminals. The sound is fine both with analog and digital amplification. I tested the speakers with cheap cables and with better cables and there was a definite difference. Aperion offers premium cables in custom lengths, or medium quality cable on a 100 foot spool.
Aperion's wooden speaker cabinets are rounded works of sculpture that must be seen to be appreciated. Our evaluation units have a cherry finish that is gorgeous beyond my ability to describe.
The sonic experience is super clean, powerful, accurate, and tight, with a slight emphasis on midrange and treble. Adjust the bass to your specifications, from neutral to intense, although you won't get a massive bottom end with bookshelf speakers when compared to tower cabinets. Allow up to fifty hours of conditioning for Verus II Grand Bookshelf Speakers to achieve optimum playback, although the ripening effect is evident after two or three hours of mixed-content listening.
The company offers a risk-free 60-day in home audition for their speakers, knowing that their customers keep Aperion products, and then buy more of them. Lifetime customer phone support is available, as are a ten year transferrable warranty and a one year speaker trade-up program.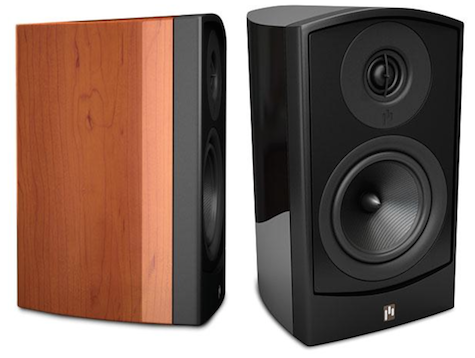 Read satisfied user reviews of the previous model here.
---
I asked Aperion's representative to explain what to look for when considering the premium features of their new Verus II Grand Bookshelf Speakers.
1)Â Sound. Does it reproduce detailed full color sound that will not cause ear fatigue over long listening sessions? Will it provide well balanced sound whether at loud volumes or soft? Do they provide killer stereo imaging?
2)Â Value. Is the cost quality in the sound tangible? Are you maximizing your return on investment?
3)Â Looks. Do the speakers have top-notch aesthetics with a beautiful design and finish?
4)Â Budget. Is this your entry speaker to music and surround sound? Or will you knock it all out in one purchase to keep for the next 15-20 years?
5)Â Music or Movies. Determine which scenario you will most use the speakers for. At Aperion we feel that reproduction of music is most important because the broad range of harmony and melodies in music will reproduce movie soundtracks best.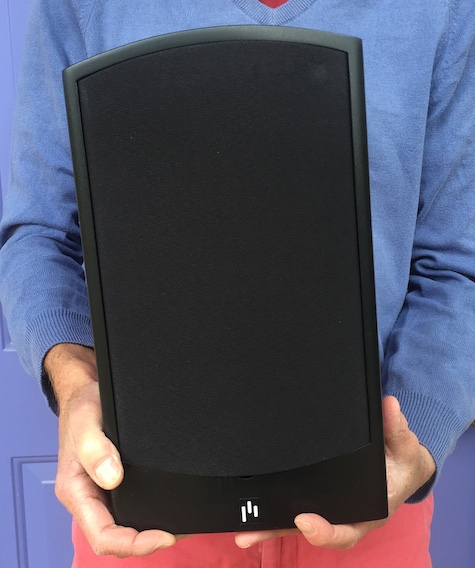 6)Â Size of Home & Space. This will tie in greatly with your decisions from the previous items to consider. The size of your home will determine speaker size and system possibilities.
7)Â Specifications. You can go off the deep end digging through specs of different speakers. In the end the reproduced sound you perceive from the speaker will be what matters most. Without going into much detail, a speaker of any caliber is always going to sound best in a properly acoustically treated room.
At Aperion, these are our top seven considerations for choosing a speaker.
---
Let's get specific. I have an extensive playlist of high quality tracks I use to test audio equipment. These selections need to sound good and I know what to expect when evaluating speakers.
I'd Rather Go Blind by Etta James — Her soulful voice comes through strong and emotive, supported by crisp percussion, rich organ, bountiful bass, tender backup vocals, and rousing horns.
Fanfare for the Common Man by Aaron Copland — Deep timpani opens, followed by precisely muted horns, more timpani, then the orchestra enters. I feel like I'm in a private symphony concert, especially when the gong is struck.
California Blue by Roy Orbison — A genuine wall of sound bursts forth, with Roy's remarkable, gentle echo voice always in front, but never dominating. Backup vocals are set midway back in the mix, as are the strings.
Caribbean Queen by Billy Ocean — This forgotten masterpiece demands full volume and jumping around the room. The stylized vocal arrangement, instrumentation, and synthesizer effects grab my psyche. When the horn enters at 2:30 I'm transported to a jazz jam until the disco beat returns.
Haven't We Met by Kenny Rankin — Swinging waltz tempo with a tight jazz combo excelling at chords and solo segments. Lovely vocal performance. Groovy scat vocal break near the end. Brisk tempo propels this brilliant gem.
•••
Throughout this evaluation period I dove into the music. Verus II Grand Bookshelf Speakers look beautiful, and sound just as good.
Our MyMac Review Rating is 9 out of 10 when aesthetics of design match your goal of crisp audio and a lifetime purchase.